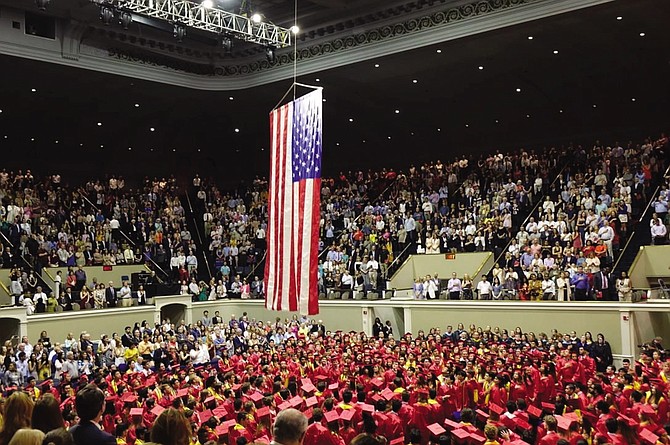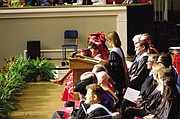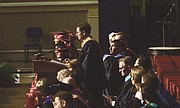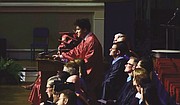 Five hundred and thirty-eight McLean High School seniors graduated on Monday, June 3, at DAR Constitution Hall in Washington, D.C. One-hundred and seventy of these students were honor graduates.
"Time goes by in the blink of an eye," editor and chief writer for the Fact Checker column of the Washington Post, Glenn Kessler, warned the students seated before him.
Kessler joined the graduates in the celebration of their new chapter with a powerful keynote speech. The occasion was extra special, he noted, because his daughter, Mara, was a member of the graduating class.
In addition to his eight years of work for the Fact Checker column of the Washington Post, Glenn Kessler has had numerous beats, ranging from airline safety to Wall Street correspondent to chief State Department reporter over the past 30 years.
"You will experience more freedom than you've ever had before," he said. "Freedom to experiment, to explore, the freedom to make mistakes."
KESSLER urged the graduates to make the most of this new freedom, and to make every moment count.
To those going on to higher education, Kessler said, "too many students go to college thinking only of their future careers. But college is not just about careers. You go to college to hone your ability to think critically and creatively. That's what will help you to get a job and excel at it."
To those who plan to enter the workforce now, Kessler said, "remember that you can never stop learning."
Kessler recalled when he told his father he wanted to be a journalist. Instead of receiving support and advice, he was met with the question: "How are you going to make a living by doing that?"
While this inquiry made him angry and upset, he chose to make it his driving force. Kessler became determined to prove him wrong.
"You can't plan on the future. You can't plan on success. It often depends on luck, fate, timing, and the occasional dash of voodoo," he joked. And with that, Kessler offered the students three tips for managing the future.
"First, have a clear sense of your goals. Two, don't be afraid of failure. And three, find your passion."
He recounted the numerous goals he stuck to throughout his journey. "I've had a terrific career because I never lost sight of my goals," he said.
"You may not always have the success of meeting your goals. Many of you may not have goals yet. But it is important to develop goals, both for the short and long term."
When it comes to failure, Kessler urged the students to not hide from it, but to embrace the lessons it presses upon them. He reminded them that every successful person has experienced failure to get to where they are now.
"You will learn more from your failures than your successes," he said. "If you have not failed at something, it often means you have not taken a chance."
HE ACKNOWLEDGED that not every job is going to be incredible, and many will not be rewarding financially or intellectually. However, if you find something you are personally passionate about, you are destined for success.
"The key to success is not an IQ score, and certainly not your SAT score," he reassured the students. "It's about having passion and being hardworking, demonstrating perseverance even in the face of failure, about keeping your eye on the goals you set for yourself."

Kessler left the graduates on a serious note, reminding them to be responsible in their consumption of information in the rapidly changing world.
"Newspapers and news shows once provided Americans with a common point of reference," he noted. "Now, we are increasingly sorted into ideological cul-de-sacs, able to decide if we want our news slanted left or right.

"Diversify your social media feeds," he encouraged the graduates. "You will learn more from people who challenge your assumptions and preconceived notions."
Most importantly, Kessler says, "It's your turn now. Congratulations to the class of 2019."