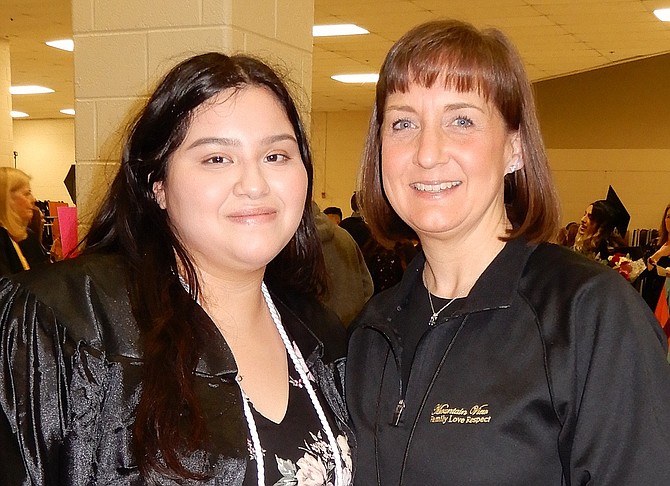 Mountain View High graduation ceremonies always tug at the heartstrings – and with good reason. Students there have received second chances to make something of themselves, and they do so eagerly.
In fact, Mountain View holds two graduation ceremonies a year. And last Wednesday, Feb. 6, it held its winter graduation at Centreville High before family, friends, teachers, counselors, administrators and School Board officials.
"It's the school's 45th commencement ceremony," said Assistant Principal Claudia Pirouzan-Jones at the outset. She then told the students, "You share the common bond of being part of the Mountain View family and displaying the traits of perseverance, strength, grit, drive and resilience."
Next, Principal Joe Thompson presented his commencement speech (see below), and then two student speakers shared their stories of hardship, courage and, ultimately, achievement. First was 21-year-old Keny Salvador, who grew up without her parents.
"I was raised by my grandmother in El Salvador," she said. "And between ages 7 and 11, I lived with a friend." But, knowing that wasn't the way things should be, she was unhappy and despondent. And, she said, "When I felt overwhelmed, I cut myself."
When Salvador was 14, her grandmother died, so she went to the U.S. to live with her father and his new family. "They were people I'd never met before, and I had to cook, clean and care for my younger siblings," she said. "Then shortly after my 16th birthday, my father said I was a woman now and I had to move out."
Three years later, she became pregnant. "But I was excited because I'd finally have someone in my life," said Salvador. She lived in New York for a while, but eventually moved to Virginia with her son. Wanting to set a good example for him, she was determined to return to high school.
"At Mountain View, everyone was very nice and kind, like a family," she said. "And I liked the support and encouragement they gave me. I learned that my childhood didn't define me – and that, if we're kind, people respond to us kindly. And now, I feel hopeful about the future."
The second student speaker, Ashley Martinez, is also a young mother. "My parents separated when I was little and, when I became pregnant at age 16, my siblings stopped talking to me," she said. "My mom and I weren't talking, and my family said I'd ruined my whole future and would never graduate from high school."
Eventually, though, she and her mother bonded again, and Martinez made an important decision. "I never liked people telling me I couldn't do things," she said. "I knew I was capable of finishing school, and I became determined to prove everyone wrong."
Like Salvador, Martinez's son motivated her to better herself, so she enrolled in Mountain View. "I wanted him to know that you can accomplish what you want," she said. "Mountain View was so welcoming to me, and I was and still am so grateful."
She, too, said the school became her "family, even during the difficult times. It's a place where you're accepted, no matter who you are. The teachers are so supportive, and the students are there for each other. Many times, I wanted to give up, but I'm so glad I didn't – I'm proud of me."
Martinez then advised her classmates to "Never give up on yourself and your dreams. There's no timeline that's right; life is messy. I started my family first, then finished school and now will go after my career. It's your decision to go after your future. I'm not Superwoman; I'm just a normal person. So if I can do it, you can do it."
After the speeches, awards were presented to three, outstanding seniors. The Citizenship Award is given to students who've helped build a positive, school community. And physics teacher Jeff Jones gave it to Julia Cruz Henriquez. Said Jones: "She brings people together to achieve a common goal and makes learning more enjoyable for her fellow students and teachers."
The Personal Achievement Award, given to students who succeed while, at the same time, dealing with family, job and other adult commitments. Social studies teacher Pete Garvey presented this honor to Salvador.
The Faculty Award goes to students achieving the greatest academic and personal success, despite significant obstacles. And Science Department Chair Susan Culik presented it to Charles Valiente.
"His teachers describe him as a joy to have in the classroom," she said. "They also called him a stellar student with a kind heart and a giving spirit, and someone driven by natural curiosity and a passion to learn. At Mountain View, he earned a 3.9 GPA and won multiple scholarships."
But besides that, said Culik, Valiente is also an "outstanding person who works toward class goals with students of all different backgrounds. As a person of Filipino heritage who was raised in Italy and came to the U.S., he says we must learn to connect to each other, and we're so proud of him."

Then Chuck Woodruff, president of the nonprofit Mountain View Foundation, noted that, over the years, this organization has awarded more than $700,000 in post-secondary-school scholarships to Mountain View students. At the recent awards ceremony, he said, "Students received nearly $23,000 in scholarships." And, he added, "What makes this school great are the faculty members, both past and current."
'You'll Go Forward to Do Great Things'
Mountain View High holds its winter graduation.
As Mountain View's new principal, Joe Thompson gave his first commencement speech to the graduating seniors, last Wednesday, Feb. 6. Yet it was as heartfelt and passionate as if he'd been part of that school for years.
He said he first became aware of Mountain View, more than 20 years ago, as a young teacher at Oakton High. He had a female student who was bright, had goals and a great attitude. "But she was struggling with school," said Thompson. "There always seemed to be roadblocks that got in her way of progress."
She was ready to quit school but, once she toured Mountain View, she realized it was the place for her, transferred there and graduated. Since then, said Thompson, he wanted to come to Mountain View, too. And his dream became reality when he took over the reins in November.
"So it's a genuinely great honor for me to be here with you today," he told the students. "I'm proud to be part of this celebration of your accomplishments and proud to be part of the Mountain View tradition. As graduates, you represent the best Fairfax County has to offer, and I'm confident you'll go forward to do great things."
Recalling how a traffic accident on his first day as principal forced him to find a new route to the school, Thompson said he realized then that, for many years, "rerouting" wasn't an option for students. He said they all had to follow the same path, deal with obstacles on their own – and, if they couldn't, many dropped out of school and gave up on ever reaching their goals.
But Mountain View, said Thompson, has "a tradition of helping students find a path to success," and each graduating senior "had to change the path you were on, in order to arrive at graduation." Nowadays, he said, alternative routes are celebrated, and people realize that not everyone has to follow the same path.
And while the grads won't miss the school food, long bus rides or tests, he said they will miss "the comfort of knowing you were important, that you belonged, that staff supported you and worked – to not just teach you the curriculum – but to also build lasting relationships with you."
Thompson then advised them that, while the road ahead will contain twists and turns – and, at times, require them to reroute – they should remember their graduation. "Remember that you had the resiliency and intelligence to find a different path," he said. "And that alternative path led you to a major success in your life."
So no matter the struggles they may face, he said they shouldn't forget to search for alternative ways of reaching their goals and should never give up. He also assured them that their school will always be there for them.
"At Mountain View, we try hard to embody our motto of Family, Love and Respect," said Thompson. "There's no path you should have to go down alone, and we at Mountain View are your family. If you find yourself alone or helplessly lost in your journey, call us. It will be our honor to help you."
"I'm confident you'll take the lessons learned here and go forward to positively impact our community and others," he continued. "You'll spread the ideas of Family, Love and Respect that have helped shape the success we celebrate today."
Thompson also urged the graduating students to thank all those who helped them reach this point. "Congratulations to all of you from the Mountain View faculty and staff," he said. "We can't wait 'til you return someday with stories of your successes. Go, Timberwolves."