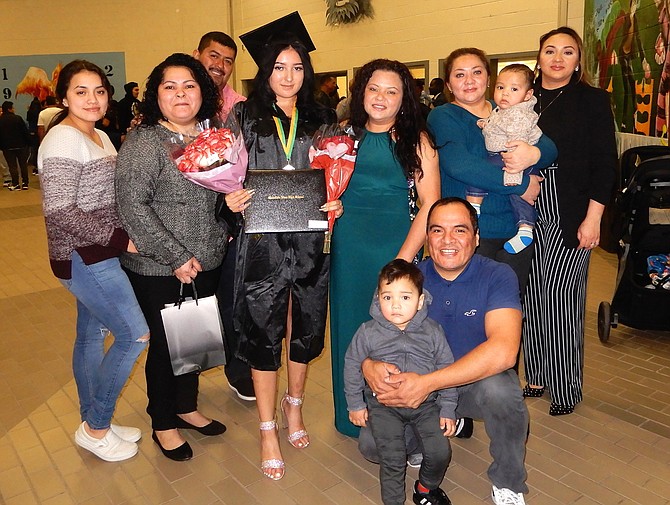 In a school of second chances, nothing is taken for granted – neither the support of the teachers and administrators, nor the hard work and dedication of the students. And for Mountain View High, all this effort and caring culminates in two graduations a year.
This year's winter graduation was held last Tuesday, Feb. 4, at Centreville High. Students Devonte Knott and Matthew Benson reflected on what Mountain View has meant to them and their classmates, and then Principal Joe Thompson addressed the graduating seniors (see below).
Next, student speaker Walter Sweeney shared his personal story, telling the hurdles he had to overcome to reach graduation day. Four years ago, he was working on boats in Antigua, just a year away from graduating. But after getting into an altercation with a teacher, he was kicked out of school.
"I moved to Virginia to live with my sister, and she convinced me to return to school," he said. "At Mountain View, people welcomed me and smiled at me; they seemed more interested in my success than I did. I worked night shifts at Fed Ex to pay my bills, and I didn't want to get up and go to school. I was always finding a way to get out of class."
But the Mountain View teachers and staff refused to let Sweeney slide and were determined to not let him throw away the chance they were offering. "A few staff members talked to me about the importance of perseverance," he said. "One day, a staff member asked me, 'What's your plan after graduating from school?'"
"I had no plan," said Sweeney. "I was 19, I couldn't stay with my sister anymore and I didn't think I'd be able to pay for community college. I didn't even have a car. But thanks to an amazing social worker at Mountain View, I was able to get into housing. But also because of that, I had to stay in school."
BACK HOME in Antigua, he said, "When I went sailing, we'd do tacking – sailing the boat against the wind, moving it back and forth, slowly but surely, to the destination. I've not always progressed in a straight line or done what people expected me to do.
"But I've learned it's OK to have setbacks. You can tack back to your course where you need to be. At Mountain View, I completed my credits and will now graduate. And this June, I'll head to boot camp to become a United States Marine." Sweeney's words were met with loud applause from the audience. He then said, "Thank you to everyone for all your support, and congratulations to everyone," and received a standing ovation.
Afterward, the school honored four seniors with special awards. The Citizenship Award is given to students who've helped build a positive, school community, and this one was presented to Milovan Espino.
The Personal Achievement Award goes to students who succeed while, at the same time, dealing with family, job and other adult commitments. And the recipient was Brianna Canales.
The Faculty Award is given to students achieving the greatest academic and personal success, despite significant obstacles. This time, two students received it. School counselor Mike Todd presented first one to Sameer Ahmad.
"He's an intelligent, young man who's thoughtful and questions everything," said Todd. "He's originally from Pakistan and has a great deal of respect for education and educators. Sameer wants to play soccer and go to college, and he got nearly all A's in his classes, while working at Macy's, 40 hours a week. He's a model of how hard work leads to success."
Career Center specialist Jenelle Lee presented the second Faculty Award to Annmarie Mansaray. "She's originally from Sierra Leone," said Lee. "And when she was 15, she broke free from a forced, polygamous marriage to a man three times her age. She also watched people die during the Ebola crisis and advocated about how to prevent the spread of Ebola."
In 2017, Mansaray came to the U.S. and to Mountain View to reconnect with her mother and get an education. "Annmarie worked two jobs to help her family financially," said Lee. "Her hard work, dedication and persistence are why she's here today. She won three, Mountain View scholarships totaling over $5,000 and plans to attend NOVA to obtain an associate degree in nursing."
SPEAKING NEXT, just before the students received their diplomas, was Chuck Woodruff, president of the nonprofit Mountain View School Foundation, which enables people to donate, tax-free, toward scholarships for the students. Since 1999, he said, "The Mountain View Foundation has given over $700,000 in scholarships to over 500 students."
He then encouraged people to go to the Website, https://www.mtnviewfoundation.org/, to learn more about it and donate. "Mountain View is a great group of people who make Family, Love and Respect more than just a motto," added Woodruff. "Congratulations, graduates."
'Respect for Others Makes Life Better'
Mountain View principal gives advice to grads.
Before Mountain View's winter graduation last week, Principal Joe Thompson spoke to the grads. He expressed his pride in them and shared some sage advice to guide them through whatever their future holds.
"I want to offer my sincerest congratulations and thank you for all the positive contributions you have made to the Mountain View culture," he said. "Collectively, the resilience and commitment to meeting the diploma requirements that you students have demonstrated reward us, your educators. Because we believe all students can learn, and because it's our mission to find a path to success for all, your accomplishments today honor that work."
Noting that it's not easy to obtain a diploma from Fairfax County Public Schools, Thompson said, "There are no shortcuts and no giveaways – you have to earn it. And you have earned this accomplishment. The great thing about earning something, rather than having someone give it to you – even when it means taking an alternate route – is that what you have earned cannot be taken away."
He said he's confident that, going forward, they'll experience success in the many endeavors they'll choose. "I'm certain of this because I see the proof of your hard work today in this ceremony," explained Thompson. "Nobody can deny that you have achieved greatly by earning your diploma.
"While it may not be hard to forget the bumps and bruises you have endured on the path to this stage, please don't forget also that you were able to respond to adversity, set goals, and connect with people that care about you in order to overcome difficult times and succeed."
THOMPSON then advised the grads to, "Most importantly, remember that success is rooted in [the school's motto of] Family, Love and Respect. When you encounter new and different challenges in life, use the lessons you've learned here with us to connect to people that will help you. Find the ones you trust, the ones you can have faith in, and then help them as they help you. Those people that you count on for help, you should consider them your family."
He said they're bound to face future setbacks and failures that will test their faith in themselves. "When those tough times come, remember the staff here at Mountain View valued you for all the amazing things that make you, you," said Thompson.
"When you came to Mountain View, there were people that believed you were too valuable as a person to experience only failure," he continued. "No matter what the problem was, there were adults who thought you were important enough to find a solution and experience success. At Mountain View we call this love. Never forget you are important, you are valued, and you deserve success."
Finally, said Thompson, "Remember to show respect to the people you encounter in your future, just as you have here. If you're lucky, you'll be forced to encounter people from all walks of life throughout your adulthood. Some will be your soulmates and a perfect match. Others will hold only views that are opposite of yours."

AT THIS SCHOOL, he told them, "You've been part of a very eclectic group of individuals. In your class projects, in your group presentations, and even in your simple greetings passing by each other in the hallway, you've demonstrated an amazing ability to respect each other as individuals. This world is desperate for your skills in respecting others. Take the lessons learned here and teach those around you that respect for others makes life better."
Since the concepts of family, love and respect are so integral to the fabric of life at Mountain View, Thompson felt compelled to discuss them one more time before the new grads went out into the world. He also wanted to remind them of the value of these notions when viewed as the blueprint for their future achievements.
"You deserve the success that you have earned, and we will be waiting here at Mountain View to hear all about it," he said. "Congratulations again to the graduating class of 2020 on all your success today and those yet to come."