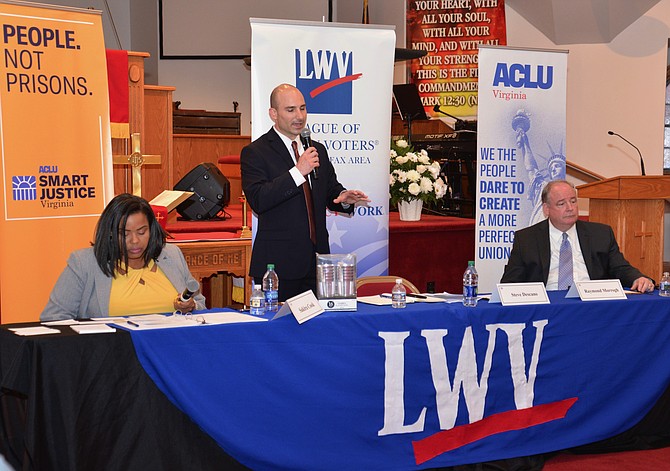 The Democratic incumbent and the challenger for the Commonwealth's Attorney of Fairfax County and the City of Fairfax had one last opportunity to present their cases before gathered voters at the First Baptist Church of Vienna on Monday night, June 3.
Hosted by the League of Women Voters of the Fairfax Area in partnership with the ACLU VA, ACLU People Power, Virginia Interfaith, and the Fairfax County NAACP, the forum saw incumbent Commonwealth's Attorney Ray Morrogh and his rival for the position, Steve Descano, answering questions from moderator Sakira Cook, director, Justice Reform Program of the Leadership Conference on Civil and Human Rights and the Leadership Conference Education Fund.
MORROGH has held the top prosecutorial spot in the county since 1983, and has expressed pride in a record that has brought the local jail population "to its lowest in decades." The same reduction in numbers holds true for the juvenile detention center.
"It shows that our programs are working," said Morrogh, "especially our efforts to break the school-to-prison pipeline that adversely affects many, but mostly minority youth."
In his opening remarks, Descano often counters, as he did at this event, that without true measurement methodology in place, success cannot be repeated with any guarantees, and problems cannot be traced to their roots and addressed — especially the systemic racism that Descano says is evident in the numbers of minority arrests, convictions, and offenders awaiting trial or in a supervised release program.
Morrogh says he is open to commissioning a study if the funds can be found and said he would redouble his efforts to secure an analyst for his office to collect and evaluate information and that he was willing to "share every bit of data."
"Respectfully, you've had 12 years to get the data and it hasn't happened yet," Descano responded. The challenger says he has already made contact with several people willing and able to do such data analysis work "for free" and that he would not only share it publicly, but engage in public outreach to inform residents and gather feedback.
Many of the questions surrounded the issue of cash bail requests. Moderator Cook offered the statistics that 40 percent of those in jail and awaiting trial were black, 60 percent were arrested on misdemeanor charges, and 15 percent were incarcerated for probation violations. Many are unable to find the funds for their cash bails and so remain in jail "away from families, jobs, their lives, and continuing the cycle of poverty and prison."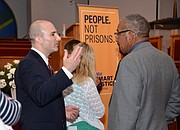 DESCANO is an ardent anti-cash bail advocate, saying "it's antiquated, it penalizes the poor."
Morrogh insists his office "never asks for cash bail, for the very reasons our moderator mentioned," but that it is up to the judges to determine bail and under what conditions. Murrough also noted that in some instances, the defendants themselves or their attorneys request bail versus supervised release or rehab programs.
"I won't make excuses," said Descano. "I will end cash bail." He also recounted that there was an occasion when Morrogh was quoted as questioning the end of cash bail.
Morrogh argues that on this issue, like others, including pledging not to prosecute simple marijuana possession cases, or committing to never seeking the death penalty, Descano is showing his own naiveté about the position.
"It's more complicated than he thinks," said Morrogh. "Some of these promises cannot be kept because it's the law. I may not like it, but I will enforce it … we are a nation of laws … and can't pick and choose what to prosecute or what laws to uphold." Morrogh cited several recent examples where such discretionary prosecutorial action was found to be beyond the scope of the Attorney General in question's authority.
The restoration of voting rights for felons who have completed their sentences and other conditions of their release is another area where the two men clash. Descano continues to accuse Morrogh of being against the restoration, noting that the Commonwealth's Attorney had joined a Republican-backed lawsuit against then-Governor Terry McAuliffe when he proposed such legislation.
Morrogh rebuts that his opposition – shared by a "bipartisan group, by the way" – was never about denying voting rights to ex-convicts, but rather about the fact that the bill also included restoration of gun ownership that was "just too all inclusive." Treason or terrorism are the only acts that Morrogh sees as absolute barriers to the restoration of voting rights, but allowing convicted felons to own firearms should not be a "simple 'Yes,'" but something that would require individual consideration or at least, denial for certain categories of crimes.
McAuliffe has endorsed Descano.
There were areas in which the two agreed.
To the laughter of the audience, Descano acknowledged he "agreed with everything you just said!" referencing Morrogh's stance on the use of surveillance technology by law enforcement. Both see individual privacy as "sacred" and that the use of surveillance is a "tricky area of the law" that needs careful consideration and probable cause in order to be used.
The certification of youth as adults brought more agreement, with both saying it should be a rare instance. Morrogh did cite some examples of particularly horrific crimes in which he felt such certification was warranted, and denied Descano's accusation that his office has threatened adult certification in order to secure a plea deal from youth offenders.
Both Morrogh and Descano are opposed to the use of solitary confinement in prisons, seeing it as inhumane, and causing additional unnecessary trauma. Morrogh conceded that solitary confinement might be necessary for short periods in extreme circumstances, but that prisoners should be treated with dignity.
And then it was time for the closing arguments.
Descano went first, and reminded voters that he was "the only one with a published plan, available for anyone to see" on his website, including the promise of real data by which to operate the office and the system and to bring about true reform. Asking for the public's confidence and vote on June 11, Descano said that voters had the opportunity to "be on the right side of history."
"You live in the safest county of our size in the nation," was Morrogh's opening line to the wrap up. "We're a model for so many programs for the state and beyond."
He repeated some of the achievements of his office since he became the Commonwealth's Attorney.
Morrogh asserts that Descano doesn't have the experience needed to serve as Commonwealth's Attorney.
"He's not qualified. I'm sorry to say it, but he's just not," Morrogh concluded.