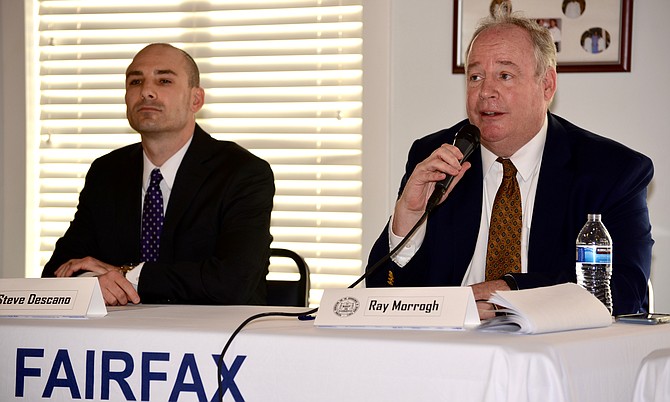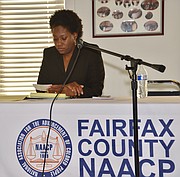 The two Democratic contenders for Fairfax County Commonwealth's Attorney traded barbs at a forum on Saturday, March 16, held at the Chantilly Baptist Church, presented by the Fairfax Branch of the NAACP with partners the ACLU People of Power Fairfax, the Northern Virginia Black Attorneys Association and OAR - Opportunities, Alternatives and Resources.
Incumbent Ray Morrogh has served in the County Commonwealth Attorney's Office office since 1983 and has held the top spot since 2007. He is being challenged by Steve Descano who spent six years as a federal prosecutor under the Obama Administration, first as a Special Assistant to the U.S. Attorney for the Eastern District of Virginia and then as a trial attorney in both the Criminal Taxation Division and the Consumer Protection Branch. Descano also served on the Fairfax County Police Civilian Review Panel.
In the two-hour session moderated by attorney Vanessa Jordan, a member of the Northern Virginia Black Attorneys Association, Descano lost no time in categorizing Morrogh's office as a "black box" devoid of significant data that can be used to develop policies and inform the public.
"The people I talk to, even personnel in our local government, say they don't know how to get hold of anyone in that office," said Descano. "That's not leadership."
Descano prides himself on "always being out and about in the community," saying that the public needs to see their leaders' values in action, in their lives, on a daily basis.
Morrogh shot back with examples of his involvement on numerous committees and task forces and with a number of civic organizations.
"My door is always open," he said, and maintains that he and his department continue to educate themselves on issues and best practices while engaging the community to learn of their concerns.
MORROGH HIGHLIGHTED what he describes as a lack of "relevant, realistic experience" by his opponent.
"In our department we handle thousands of cases with often life-and-death consequences. We don't have the years [that a taxation prosecuting attorney has] to build a single case. Our work is more immediate."
Morrogh alluded that some of Descano's "pledges" about what cases to prosecute and how to address certain issues, cannot be met, either because they are not within the scope of the position's authority, or they are "simply not allowable under the law. And I am sworn to uphold that law for all citizens."
Moderator Jordan asked a series of questions on topics ranging from implicit bias in the criminal justice system and in local policing, dealing with undocumented persons, and those who come in contact with the courts with mental health and drug abuse issues, restoration of voting rights for convicted felons, cash bail inequities, the larceny dollar threshold, the handling of juvenile offenses in schools, and more. Each candidate was given 60 seconds to answer, and cautioned to stay on topic.
"Please don't use your time to present a rebuttal to your opponent's answer. The people here want to hear your answers to the questions we are posing," said Jordan.
Speaking on diversion programs aimed at keeping people out of jail, Morrogh insisted that his prosecutors work to do just that, but "I will not put violent offenders in such programs." For those facing drug convictions, drug court is an option, but Morrogh noted that many choose not to enter the program and accept fines or jail sentences instead.
"That's understandable," responded Descano. "The program is hard. We need to offer incentives to people to help them choose the path of recovery instead of incarceration." Descano cites that lack of incentives as a reason why the number of offenders in such programs is relatively low.
Descano also accused Morrogh of allowing offenders to languish in jails because they could not raise the cash bail imposed.
"People who have not been convicted of anything are kept from their families, their jobs, their lives, even though they have been declared eligible for pretrial release," he said. "Don't punt this ball. Don't ask for cash bail in those instances."
Morrogh countered: "We may ask for detention in serious instances where we believe the offender to be a danger, but I do not ask for cash bails and have not done so in 35 years."
Descano shot back that Morrogh had supported cash bail in a Washington Post article, to which the incumbent replied, "It's a complex issue, more so than you realize. We can't simply do away with cash bonds as you seem to suggest."
On the question of advocating to raise the dollar limit for which to prosecute a crime as a felony, Descano agreed to "take the pledge" that Jordan asked about.
"I will take that pledge, not to prosecute less than a $1,500 value as a felony."
While Morrogh says he has long advocated for raising the felony/larceny threshold, he declined to pledge to never prosecute below $1,500 as a felony.
"That would be a dangerous precedent," he warned, saying that from his many years of experience he can attest there are "people who steal, over and over again, or scam our elderly again and again. I cannot say that because of one instance of loss below $1,500 that it would not be appropriate to file charges as a felony offense."
The audience seemed to have no trouble following the arguments of the candidates on the question of Brady Material and discovery reform.
Brady Material comes from a 1963 Supreme Court ruling that says that "suppression by the prosecution of evidence favorable to a defendant who has requested it violates due process."
On this topic, again the two men differed and traded verbal jabs.
Once again, Descano made a pledge, saying that anyone on his staff who was caught failing to provide Brady Material for the defendant "would be gone."
Morrogh said "no system is perfect. We prepare Brady Material for the defense, but if there was an issue, I would investigate and weigh the circumstances before making a decision."
The two exhibited the most agreement during the "lightning round" of questions, most probably because Jordan allowed only a simple "yes" or "no" answer to less controversial questions and gave the candidates only one sentence to explain their responses. Both supported body cameras for police, decriminalization of marijuana, detox diversion for drunk in public; neither supported diversion for driving under the influence.
THE LAST SECTION of the forum posed written questions from the audience, and there were a lot of them.
The two tangled over the restoration of voting rights for felons. Descano accused Morrogh of being against the restoration, noting that the Commonwealth's Attorney had joined a lawsuit against then-Governor McAuliffe when he proposed such legislation.
"Read my remarks," countered Morrogh. He contends that he objected to the attachment of gun ownership rights to the legislation.
"There are too many guns, and too many victims of gun violence … and I am not hearing the word victim mentioned enough here today."
Morrogh cited examples of released felons, convicted of violent crimes or paedophilia who were able to purchase guns upon their release from prison.
"I support restoration of voting rights, 100 percent," he said. "In fact, I think those incarcerated should be allowed to vote. Treason should be the only reason a person should be barred from voting."
On the question of police involvement in juvenile issues in school, both men supported allowing school authorities to handle the situations wherever possible, though Descano charged that Murrogh has not been visible on this front, while he has. He also indicated that juveniles have been threatened with "certification as adults" in some instances.
Morrogh disagreed. "We never threaten adult certification. We act if so warranted."
Wrapping up, the two again enumerated their own strengths and fitness for the office that holds significant power over the citizens of the community. Descano continued to deprecate the incumbent's leadership, saying it was "time to move beyond the same old, same old," while Morrogh emphasized his own experience and his opponent's lack in this arena.
As NAACP President Kofi Annan urged, voters should take every opportunity to listen to them as they outline their visions and explain their approaches.
"You may not know the real role of the Commonwealth's Attorney. I admit that once I did not really understand the role of this job, but I have come to understand its importance and its impact as the gatekeeper to protect our citizens and our rights."