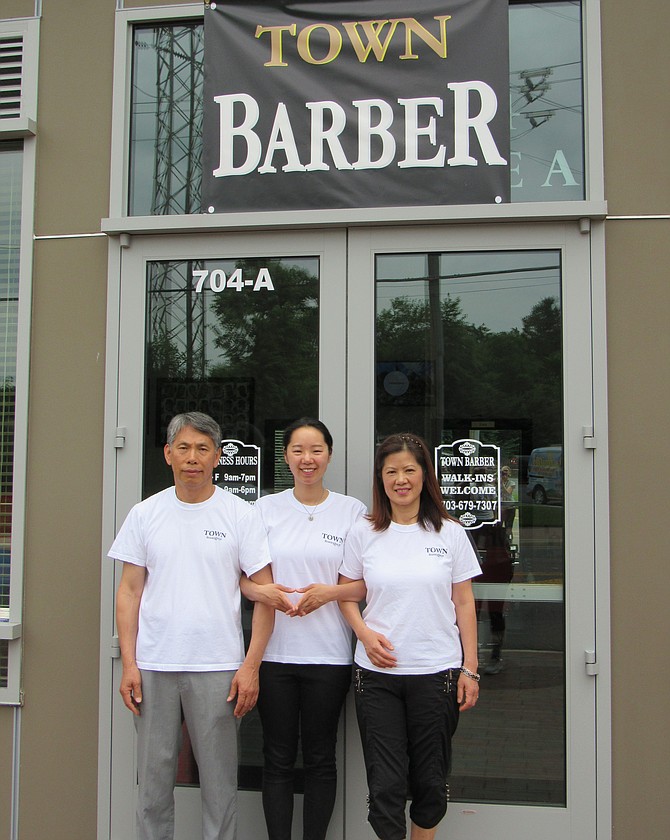 With a classic, old-fashioned barbershop experience in mind, hot towels, neck massage and all, Luis and Sun Lim opened their dream business last week. Called simply, "Town Barber," the shop is located in the historic downtown district, steps from the Old Town Hall on Elden Street yet in the new mixed-use retail development Junction Square.
The Lim family decided to offer a line-up of affordable services for both men and women. Sun Lim said she and her husband Luis picked downtown Herndon as the site for their new barbershop, "because we lived here," she said.

The sign on the wall stated: Men's cut $17- discount to military, police, fire, and seniors; Woman's cut $20. Alberto Diaz of Herndon sat in the Luis' chair. He admired his cut and tipped Luis. "I know what it's like to open a small business. It can be tough," Diaz said.
Sun Lim said that the family used to live in the town, but sold their single-family home to afford the purchase of the two retail spaces in the new mixed-use development, one of which they are renting out. Lim said that their son is serving at Osan Air Base, a United States Air Force base in Pyeongtaek, South Korea. Daughter Joyce just completed her degree in social services and is searching for a job. "The Town of Herndon is very stable and peaceful," Lim said as she stepped outside the new business to admire the door signage, Town Barber 704 A Elden Street.