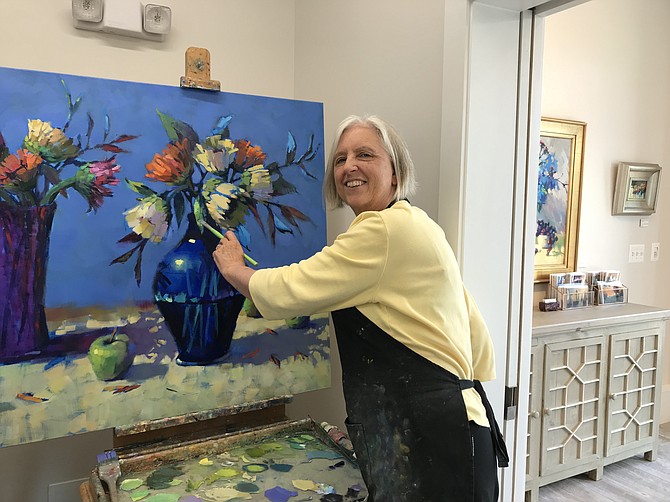 Award-winning local artist Trisha Adams made history in the Town of Herndon as the first individual to open a gallery/studio in the historic downtown Herndon Arts District. The Town Council approved the District by ordinance amendment Jan. 12, 2016. "I'm all in on the Town of Herndon," said Adams, whose gallery is also the first retail space to open in the Junction Square 55,000 square foot mixed-use residential and retail development.
The fine art gallery featuring Adams' bold and colorful, impressionist oil paintings is located at 708 Elden Street, Suite A. Adams is already painting there. Works for sale rest on easels looking out onto Elden Street. For Adams, locating her art business in the downtown and the designated Herndon Arts District was a win-win position.
According to Zoning Code, the Town of Herndon offers "Arts District Incentives," waiver of fees for qualified arts businesses, and the town will "provide identifying signs or markings to delineate and identify any art district created."
Qualified arts business will be afforded "a 100 percent reduction of planning, zoning, and building permit application fees up to $2,000 total for any single project incurred in the initial establishment of the business, or expansion of the business, in an arts district.

"I'm so proud to be one of the first arts businesses in the Arts District downtown Herndon. I'm open by chance or appointment, but there is a very good chance in the afternoons I'll be painting and taking commissions. Feel free to call me at 540-454-5922 to make certain I'm here." The Herndon location is Adams' fourth gallery, with the other three located in Richmond, Watch Hill, R. I. and Sarasota, Fla.
Other businesses are also poised to open in Junction Square at 708 Elden Street. VB Juice Bar offering organic and cold-pressed juices has their logo painted on the door, and a barber shop and hair salon have chairs and mirrors installed in their suites. For more information about Trisha Adams Fine Art visit, https://trishaadams.com.