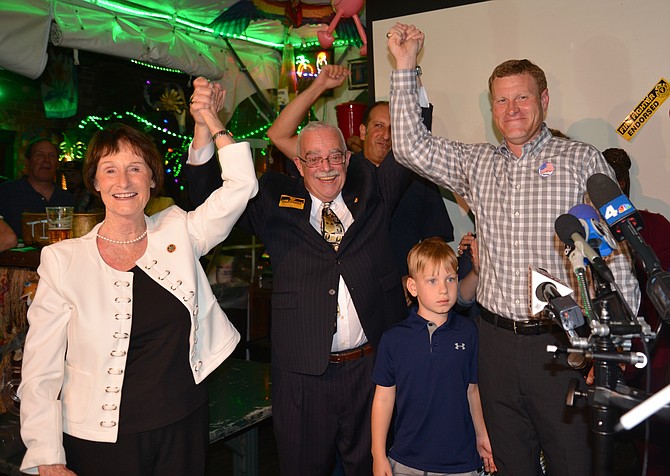 In an election night that will deliver major change to Fairfax County, voter turnout was just 10.2 percent of the county's more than 700,000 active registered voters.
It was not a general election, nor was it an election during a Presidential election year — events that generally bring the largest number of voters to the polling booths — but a higher turnout was expected given the unprecedented number of seats up for grabs on the Board of Supervisors, including the chairman's position. Some of these races hadn't experienced a primary in decades.
IN THE UNOFFICIAL RESULTS posted by the Virginia Department of Elections, Jeff McKay, the current Lee District representative on the Board of Supervisors, beat out his three opponents — Ryan McElveen, At-Large Fairfax County Public Schools Board member, Georgetown law professor Alicia Plerhoples, and developer Timothy Chapman, for the chairman's spot, taking 42.48 percent of the vote. Plerhoples was his closest rival with 31.34 percent and was the obvious favorite in several precincts, particularly in the Reston, Herndon and Vienna areas, with Chapman a distant fourth at 9.80 percent, despite outspending the McKay by more than $350,000. Both Plerhoples nor McElveen campaigned with far less money. The Virginia Public Access Project (vpap.org) reports $87,327 spent by McElveen; $147,791 spent by Plerhoples; $503,169 by McKay; and $853,399 by Chapman.
McKay promoted his 11 years of experience on the board — and the relationships he has built over those years — during his primary campaign. Previous experience did not win the day for all of the candidates, but seemed to weigh in his favor with the Fairfax County electorate.
McKay will face Republican Joseph Galdo in the general election on Nov. 5, but supporters at his election Watch Party at Kilroy's Sports Bar and Restaurant in Springfield — including U.S. Rep. Gerry Connolly (D-11) and current Chair Sharon Bulova — were more than ready to declare McKay the chair-elect.
"Things aren't perfect," acknowledged McKay supporter Henry Dent of Springfield at the McKay Watch Party, but the retired federal contractor said McKay won his vote because he has seen "progress in the right direction on the real issues … like affordable housing and pay raises for teachers and first responders and working on the traffic problems." Like McKay, Dent doesn't think that now is the time to "take a chance on people without any experience."
McKay's progression toward the chairmanship of the board leaves his current Lee District seat vacant. Four Democratic hopefuls contended: Planning Commissioner James Migliaccio; attorney Kelly Hebron; lawyer and nonprofit Melwood chief of staff Larysa Kautz all fell to Rodney Lusk, the Fairfax County Economic Development Authority national marketing director. Lusk won with 46.21 percent of the votes. With no Republican or Independent candidates having filed for the seat, the primary win will send Lusk directly to the board in the new year.
James Walkinshaw, the former chief of staff to Connolly, won his race for the Braddock District Supervisor to replace Supervisor John Cook, who announced that he would not be seeking re-election. Walkinshaw defeated Irma Corado 67.22 percent to 32.78 percent, but unlike Lusk, Walkinshaw will be back on the campaign trail in just a few weeks as he will face two opponents in November — Republican Jason Remer and Independent Carey Campbell who is running for the position for the fifth time.
"I will take a few minutes to catch my breath and say 'hello' to my wife again, then it's back at it," said Walkinshaw at the Kilroy's event where he celebrated his victory along with McKay. "I can't take anything for granted. I have to get out there and keep listening and offering my message."
The impending retirement of long-time Supervisor Catherine Hudgins brought out five candidates seeking to replace her in representing the residents of the Hunter Mill District, a contest which featured some unusual elements.
Walter Alcorn, who has served on the Fairfax County Planning Commission for 16 years, took first place in that race, with 47.17 percent of the votes. Reston resident, long-time activist and child advocate attorney Laurie Dodd was the runner up with 24.94 percent. Shyamali Hauth, Maggie Parker and Parker Messick ran third, fourth and fifth, respectively.
THE HUNTER MILL RACE made election headlines on a number of occasions. For starters, there was the wide disparity in campaign dollars spent. Winner Alcorn shows a total of $75,926 in campaign dollars expended, while fourth place Maggie Parker spent $246,368, according to the Virginia Public Access Project.
Bulova and others raised First Amendment concerns when Parker displayed large signs at the Wiehle-Reston Metro station while her opponents were barred from campaigning there. Parker works for Comstock Companies developers, the company that built the station with Fairfax County in a public-private partnership. The question of access remains to be resolved.
The Hunter Mill contest also included the youngest candidate in any of the Board of Supervisors races in Parker Messick who is just a few years beyond his college graduation.
PROVIDENCE was another district that saw five Democrats on the Primary ballot to replace Supervisor Linda Smyth who, like Hudgins and Bulova, announced that she will retire at the end of the year. In the unofficial results, FCPS School Board member Dalia Palchik's 39.79 percent of the votes tops Planning Commissioner Phil Niedzielski-Eichner's 23.40 percent; court officer Erika Yalowitz's 13.97 percent; former Vienna Town Council member Edythe Kelleher's 12.73 percent; and consultant Linh Hoang's 10.12 percent for the seat.
Next up, Palchik will face Republican Paul Bolon in November.
Dranesville Supervisor John Foust and Mount Vernon Supervisor Dan Storck appear to be unopposed in November. In the Springfield District, Republican Pat Herrity will face Democrat Linda Sperling; in the Sully District, current Supervisor Kathy Smith will see Republican Srilekha Palle on the ballot; and Democrat Penny Gross will be challenged by Republican Gary Aiken.
PERHAPS THE BIGGEST SURPRISE to some was the defeat of longtime Commonwealth's Attorney Ray Morrogh. Challenger Steve Descano, a former federal prosecutor pressed a progressive agenda for criminal justice reform, winning with 51.04 percent of the vote.
Morrogh has served for 35 years and has held the top prosecutorial spot in Fairfax County and Fairfax City since 2007, prosecuting a number of high-profile cases.
Descano is a West Point graduate who spent 6 years as a federal prosecutor in the Obama Administration, first as a Special Assistant to the U.S. Attorney for the Eastern District of Virginia and then as a trial attorney in the Criminal Tax Division and the Consumer Protection Branch. He served on the inaugural Fairfax County civilian panel providing oversight to the Fairfax County Police.
The two men met at public forums several times during the campaign. Morrogh often described his opponent as "unqualified."
Descano said Morrogh lacked a vision of where reforms — particularly to combat systemic racism and bias — need to occur.
Former Gov. Terry McAuliffe endorsed Descano, as well as the reform minded challenger in Arlington, Parisa Dehghani-Tafti, who defeated incumbent Theo Stamos there because the two incumbents signed on to a Republican effort to block restoration of voting rights of former felons who had completed their sentences. Both Descano and Dehghani-Tafti received large donations from the same Political Action Committee, giving them a financial advantage.
With no other declared candidates to be faced in November, Descano will be the new Commonwealth's Attorney.
The number of races and candidates and the contentious nature of some of the campaigning for Board of Supervisor positions and for Commonwealth's Attorney may have stolen the election limelight there were also primaries for several members of the General Assembly. Incumbent Barbara Favola handily defeated Nicole Merline to retain her position as the nominee for Virginia State Senator for the 31st District.
Jennifer Boysko did the same with her challenger M. Sharafat Hussain for Senate District 33.
Sen. Dick Saslaw (D-35), the Senate minority leader, had a tougher time of it. In the first challenge he has faced in decades, Saslaw held off human rights lawyer Yasmine Taeb by only 362 votes. Taeb is the first Muslim woman to be elected to the Democratic National Committee. A third candidate, Karen Elena Torrent, received 697 votes.
At the victory party, Saslaw admitted that things got a "little closer than I thought it was going to be."
In the Democratic primary races for the Virginia House of Delegates, the incumbents Kaye Kory (D-38) and Alfonso Lopez (D-49) triumphed over their opponents.


Virginia Democratic Primary Unofficial Election Results


Commonwealth's Attorney (FAIRFAX CITY-FAIRFAX COUNTY)
Steve T. Descano 35,247 votes 51.04%
Raymond F. Morrogh 33,813 votes 48.96%


Chairman-Board of Supervisors
Jeffrey C. McKay 29,691 votes 42.48%
Alicia E. Plerhoples 21,905 votes 31.34%
Ryan L. McElveen 11,458 votes 16.39%
Timothy M. Chapman 6,848 votes 9.80%


Member Board of Supervisors (BRADDOCK DISTRICT)
James R. Walkinshaw 6,410 votes 67.22%
Irma M. Corado 3,126 votes 32.78%


Member Board of Supervisors (HUNTER MILL DISTRICT)
Walter L. Alcorn 5,385 votes 47.17%
Laurie T. Dodd 2,847 votes 24.94%
Shyamali Roy Hauth 1,746 votes 15.29%
Maggie D. Parker 1,010 votes 8.85%
Parker K. Messick 429 votes 3.76%


Member Board of Supervisors (LEE DISTRICT)
Rodney L. Lusk 3,173 votes 46.21%
Kelly M. P. Hebron 1,424 votes 20.74%
James T. Migliaccio 1,227 votes 17.87%
Larysa M. Kautz 1,042 votes 15.18%


Member Board of Supervisors (PROVIDENCE DISTRICT)
Dalia A. Palchik 3,634 votes 39.79%
Phil A. Niedzielski-Eichner 2,137 votes 23.40%
Erika Milena Yalowitz 1,276 votes 13.97%
Edythe Frankel Kelleher 1,163 votes 12.73%
Linh D. Hoang 924 votes 10.12%


Member Senate of Virginia (031)
Barbara A. Favola 3,227 votes 72.02%
Nicole K. Merlene 1,254 votes 27.98%


Member Senate of Virginia (033)
Jennifer B. Boysko 1,828 votes 86.39%
M. Sharafat Hussain 288 votes 13.61%


Member Senate of Virginia (035)
Richard L. "Dick" Saslaw 5,605 votes 48.55%
Yasmine P. Taeb 5,243 votes 45.41%
Karen Elena Torrent 697 votes 6.04%


Member House of Delegates (038)
L. Kaye Kory 3,493 votes 63.23%
Andres F. Jimenez 2,031 votes 36.77%


Member House of Delegates (049)
Alfonso H. Lopez 995 votes 77.98%
Julius D. "JD" Spain Sr. 281 votes 22.02%


Source: Virginia Department of Elections