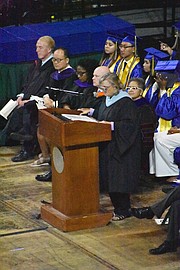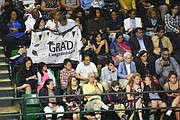 At 59th commencement ceremony of Robert E. Lee High School, almost 400 students received diplomas.
Of those students, several groups were specially recognized by Principal Deirdre Lavery in her address. She first thanked those who committed to serve in the military after graduation. She also commended the 61 honor graduates who earned a grade point average of 4.0 or higher. The students who completed two years of International Baccalaureate curriculum and were IB diploma candidates were also praised for their hard work.
She then congratulated the class as a whole. After listing some achievements of sports teams, theater productions, art groups and other clubs, she said, "'you have experienced success, happiness and triumph along the way."

To close her speech, she gave advice to the students. "Be passionate, be creative and be bold. Work hard for what you want," she said. "Be strong. Be courageous. And above all else, believe in yourselves."
Following Lavery, Justin Wilson, the mayor of the City of Alexandria, gave the commencement address. As a 1997 graduate of Lee, Wilson was welcomed warmly by the audience.
He first spoke about leaving Lee as a less-than-perfect student. "My grades were mediocre. I did not have a large social circle. I crashed my mom's cars three times before I graduated." he said. "I spent the last few weeks of my time at Lee scrambling to get my Latin grade high enough so that I would meet the graduation requirement for language."
But graduating allowed Wilson to start anew. In college, he became more involved in school and extracurriculars than he had been in high school. He told the audience that after high school, "the game reset," he said. "And I was able to chart a new course."
This change of schools was extremely beneficial for him. He encouraged the students to see change as opportunity. "The people that are successful in the world," he said, are those "that not only endure change, not only embrace change, but… celebrate change in its every form."
He told the students that having a positive outlook on change in necessary in the fast-paced world they will enter. "You're constantly going to change careers," he said. "Find that change, and celebrate the heck out of it."
Before closing, he gave a final piece of advice. He recounted being too intimidated by the track coach to join the team in high school. Now an enthusiastic runner, Wilson has completed several marathons and regrets being scared of the sport as a teenager. So, he urged the class to "be absolutely fearless and laugh while you're doing it," he said. "Fear and taking yourself far too seriously is going to hold you back."
He wished the students well, saying, "congratulations on your achievement. Celebrate today." But, he also reminded them that change is imminent and important. "Reset the game and move on to what is next," he said.