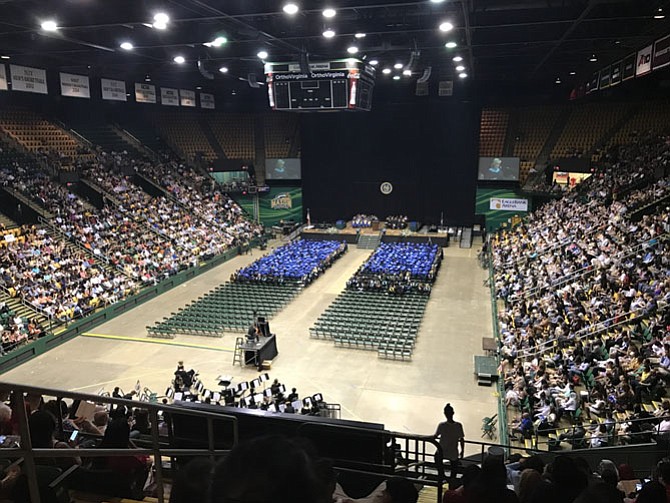 "Go all in, don't hold back," Robert E. Lee High School Principal Deirdre M. Lavery told the graduating class of 2017.
"The purpose of life is not to be happy, it is to be useful…to be compassionate," she said.
On June 20, at Eagle Bank Arena at George Mason University, 395 seniors stepped onto the Eagle Bank stage, shook hands with Lee administration and faculty, and received their diplomas.
High school at Lee, Lavery said, is one of "the sum of your experience[s]… that have defined and shaped you."
Lavery then presented the Lancer Award, an award voted on by Lee seniors, to two graduating seniors —Joan Chen and Mai Linh Tran Ho — for demonstrating outstanding service throughout high school.
Lee, which is an International Baccelaruate (IB) school, had 28 IB candidates graduating this school year. The rigorous program requires students to take majority IB courses, a Theory of Knowledge (TOK) course, write a 4,000-word "extended essay" and do 150 hours of service of some kind. The diploma is based on a point system and students do not find out if they receive the IB diploma until after they graduate.
Andy Mensah the Graduate Address speaker remarked on the rigor of the IB program when taking the IB History of Americas course, which taught him perseverance and the importance of pushing through. He also reminisced on entering his last year of high school as he and his peers stepped into a "year of lasts" — last pep rallies, football games and homecoming dances.
"You always have a family at Robert E. Lee," Mensah said.
Mensah then introduced the class of 2017's commencement speaker, Karen N. Walker, a lawyer and partner at Kirkland & Ellis LLP in Washington D.C. Walker grew up in Prince George's County and received her J.D. from Harvard Law School.
"You haven't always had it easy," she said to the graduating class. "Sometimes it was hard." Walker noted that though today's generation can often be labeled as lazy and "having it easy," many of them balanced work and school, studied hard for standardized tests, participated in sports at school, stayed up late and suffered from lack of sleep to get assignments done on time.
"Maybe, just maybe, that's why today is so special," Walker said.
Students then headed to the stage as their names were called and they individually received their diplomas and took one last look at their friends, faculty and family that encircled them throughout their four years at Lee.
"We wish you success in all you do and we wish our warmest congratulations to the class of 2017," Lavery said.