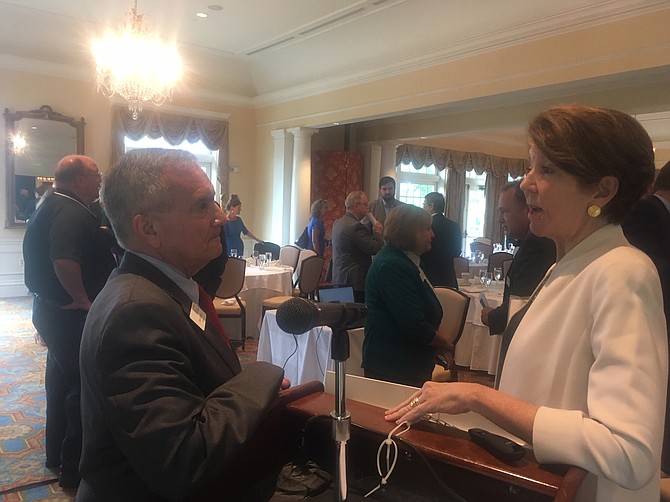 When Amazon moves into its Arlington location, there will be no shortage of bananas for anyone who happens to be passing through the new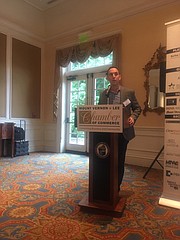 campus.
The campus will be similar to its location in Seattle, said Brian Moore, a representative from Amazon who was speaking at a Mount Vernon-Lee Chamber of Commerce event. The similarities go all the way to the banana stand they have in Seattle and plan for Arlington as well.
"A community banana stand, people can just grab a banana and go," he said.
Along with the stand there will be glass buildings with third-party retail on the first level, glass globes that contain vegetation, bike facilities and employees who will concentrate on "being out and connecting with businesses," Moore said. "Our employees don't sit in our offices all day."
Amazon was at the Mount Vernon-Lee Chamber of Commerce breakfast meeting with David Baker from Virginia Tech and Rachel Flynn, the Fairfax County deputy executive. Ever since the announcement was made that Amazon was coming, people have been looking for answers to a myriad of questions concerning the area including the business community. "The entire DC area has been abuzz with the Amazon relocation," said Chamber President Stan Koussis.
With Amazon comes an estimated 25,000 jobs, 300,000 room-night stays at area hotels, 4 million square-feet of energy-efficient office space with the opportunity to expand to 8 million square feet, and 600 bike parking spaces. "Talent was the number one reason we chose here," said Moore. One of the buildings will have a dog park on the roof. "We're a dog-friendly company," said Moore. "Urban campus" was the buzz word he used.
Education is part of that talent and Baker from Virginia Tech talked about the future innovation campus they're planning for a spot in Potomac Yard. "A highly educated workforce was already here," he said. Research and development will be a focus, and he looked at their current FutureHAUS as an example. This is a "net zero," house with a "list of technologies," for energy savings and environmental stewardship that has already won awards at other showings, he said.
When it comes to transportation, the Amazon and Virginia Tech locations will feed off the Metro stations that are in place and coming Potomac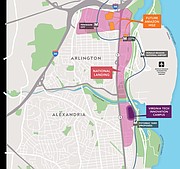 Yard station, the existing road network, and the airport right across the parkway. But Arlington's dedication to biking and other non-traditional commuting methods were mentioned as well. "Maybe scooters, who knows," said Flynn.
The wheels of progress are in motion at Amazon and the planning has already started.
"In Crystal City, we're going to be occupying leased space this year," Moore said, and that includes a leasing spot they are eyeing next to the Whole Foods in Pentagon City. In 2020, Virginia Tech plans on having their first classes, and their first building will go up within five years. Tech is looking at a 15-acres piece of land just south of the Four Mile Run stream near the proposed Potomac Yard Metro Station.
The ripple effect of these two additions is expected to impact housing too, said Flynn, and she mentioned multi-generational set ups and micro units. "Many of these Amazon employees will live in Fairfax, it's a big issue for Fairfax County," Flynn said, but, she added, "housing costs might go up," which got a chuckle from the audience.
Redevelopment opportunities will be looked at for older neighborhoods she said, which could include parts of Mount Vernon. Supervisor Dan Storck (D-Mount Vernon) noted that "we're just at the other end of Richmond Highway," he said.
Partnering with other industries will be needed. "We're all in this together," Flynn said.