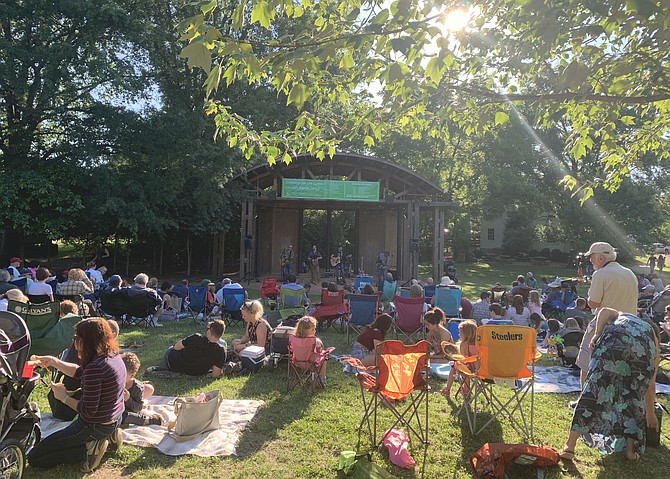 On June 14, the Town of Vienna continued its summer concert series, with local Beatles tribute band Nowhere Man. Vienna residents and neighbors attended the retro performance enjoying a summery evening on the green.
Vienna's Summer on the Green is an annual effort to promote local Northern Virginia bands and encourage community fellowship.
Lilly Widman, Special Event Coordinator for the Town of Vienna, notes the concerts have become incorporated into the Vienna tradition as they have been hosting this event for over a decade.
Concert-goers sang along to Beatle classics like "Ticket to Ride" and "I Wanna Hold Your Hand." Nowhere Man's acoustic line-up had both old and young generations dancing to the laid-back beat.
The outdoor theater that Vienna locals commonly refer to as "the green," held 70 to 90 at their third concert of the series this past Friday. Many passing bikers like Ayse Alpaslan, a Vienna resident of three years, appreciated the free concert and how "engaging" it was for residents.
Widman admires the spirit behind the Summer Concert Series, saying "this is having an opportunity to bring the community together and for everyone to celebrate with friends and neighbors."
In preparation for the summer events, Town of Vienna staff carefully select band applicants' months in advance. Throughout the month of January, local Vienna and Northern Virginia bands are encouraged to apply to the pool of musicians. Desiree Tuftana, Town of Vienna's customer care specialist, described their intricate process of choosing their line up by doing "random selection" to avoid any biased decisions.
The events occur consecutively every Friday night throughout the summer and will continue until Sept. 20.
All concerts begin at 6:30 p.m. at the Vienna Town Green, 144 Maple Avenue E.
Summer 2019 Concert Schedule
June 21 -- Chillin' on Church featuring the Deja Gruv Band
June 28 -- Sarah Bennett Swanner (Country and Blues Covers)
July 5 -- U.S Navy Band: Commodores (Big Band Jazz)
July 7 -- Special Sunday Concert – 6:30 p.m. U.S Navy Band: Country Current (Bluegrass)
July 12 -- Fat Chance (Rock)
July 19 -- Chillin' on Church featuring Mudlark
July 21 -- Special Sunday Concert – 6:30 p.m. Vienna Community Band
July 26 -- US Army Band: Swamp Rock (Louisiana Jazz and Folk)
Aug. 2 -- The Rockits (Rock and Motown)
Aug. 9 -- Shenandoah Run (Folk)
Aug. 16 -- Chillin' on the Church featuring Big Bad JuJu
Aug. 23 -- Wayne Typanick Trio (Jazz)
Sept. 20 -- Chillin' on Church featuring Hard Swimmin' Fish