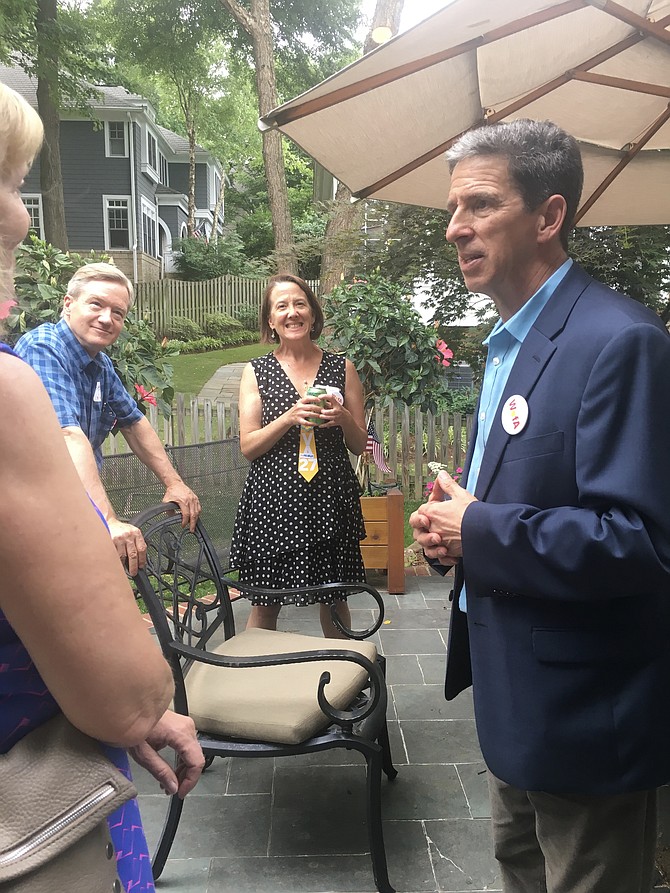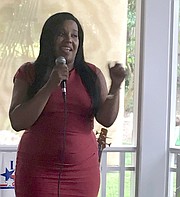 Charniele Herring (D-46) got up to address a crowd of more than 70 Larry Barnett supporters on Saturday afternoon, and if some in the room did not instantly recognize her, they would not soon forget her. The Minority Caucus Chair, and the first woman to hold the party chairmanship, was passionate about her subject: supporting candidates like Midlothian candidate Larry Barnett, running to unseat Del. Roxann Robinson (R-Chesterfield). Herring talked about the kind of politician she is and why: homeless at age 16, she depended on state funding to get her through college. She became a firm believer that everyone deserves a chance. "The things we saw come through the Assembly since I was elected in 2009 were ridiculous," she said. "Laws that required an ultrasound of a fetus before an abortion could be performed." But for Herring, it's more "about what we haven't done: we haven't passed legislation on fair housing," for instance. She introduced the two men who were defeated in 2017 by as little as 99 and 128 votes, respectively: Donte Tanner, who is not running this year for family reasons, and Larry Barnett, who is running hard. "I'm going to see you on the other side, brother," she said. "This election is so important." Tanner followed with a humorous anecdote about how he had convinced Larry Barnett to run again.
Del. Rip Sullivan (D-48) took over the crowd Herring and Tanner had warmed up, telling the group, "Don't anyone think that what happened in Alabama couldn't happen in Virginia," to murmurs of "that's right."
Barnett, who had brought his family to the event, thanked them for supporting him, and after talking about his background as a mental health professional, said he had been spending a lot of time going door-to-door in Chesterfield County listening to what people want: they want health care, they want a solid and safe education for their children. "That's what I hear at the door," he said. "I hear a lot about women's rights and protecting the environment too, but always, health care and schools. Many people I spoke to didn't know who their delegate was."
The incumbent, Del. Roxann Robinson (R-Chesterfield), was appointed to her position in 2010 and won a special election in 2011. She ran unopposed in 2013 and had a Democratic challenger in 2015.
The "fun-raiser" took place at the home of Diane and Tom Hazzard, and was organized by local women with the help of: WofA, PEACE, Arlington Blue Families, Alexandria Democrats to Go and Indivisible Del Ray. For more information about who the delegates are in the Assembly, see: https://www.govtrack.us/congress/members/VA or to find out how to support candidates in the upcoming election, see: https://www.vabluewave.net/.