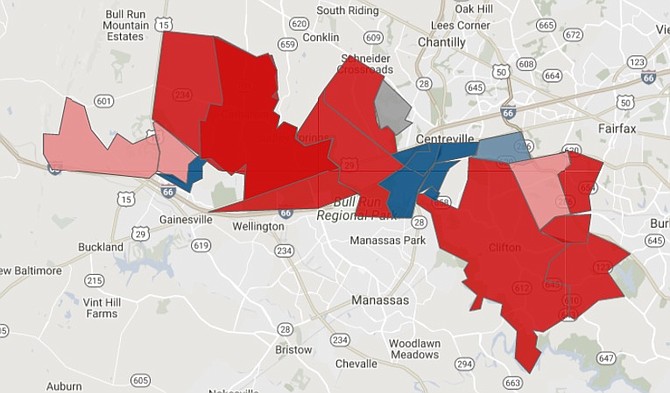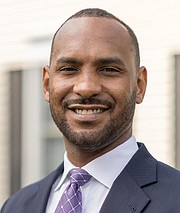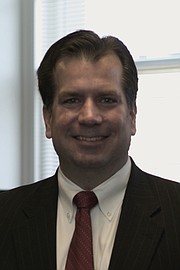 Del. Tim Hugo (R-40) was behind Donte Tanner (D) by 68 votes on Election night. Then, as canvassing continued at the elections offices the day after, Tanner was behind by 115 votes. All the results were unofficial as The Connection sent pages to press on Wednesday at 2 p.m.
If Tanner were to win, it would provide one of the more surprising victories of the night, showing the reach of the wave Democrats were riding this year.
The canvas will be complete in the two counties (District 40 spans Fairfax and Prince William counties) on Monday, Nov. 13 and results sent to Richmond for certification, said Steve Hunt, an election official in Fairfax.
The race would be eligible for recount if the difference between the two candidates was one percent or less, or about 300 votes in this case, but the apparent losing candidate would have to request and pay for the recount. If the difference is less than one-half of a percent, or about 150 votes in this case, the recount could continue without the candidate who was behind having to pay for it. Any recount must be requested before certification.
First-time candidate Tanner campaigned on a platform of expanding Medicaid and creating an independent redistricting commission — a message that resonated in deep blue Northern Virginia.
Hugo won the parts of the district that are in Prince William County. But Tanner put together large margins of victory in the Fairfax County part of the district.
"As both a small business owner and Air Force veteran, Donte Tanner has made his dedication to community and country clear," said Virginia House Democratic Caucus Leader David Toscano and Caucus Chairwoman Charniele Herring in a written statement. "Throughout his campaign, Donte has proven to be a fighter for the needs of all Virginians."
Tanner surprised many Democrats with his skill on the campaign trail and his ability to raise money. He took in more than $600,000 over the course of the campaign, an impressive haul for a first-time candidate. But he was going up against the chairman of the House Republican caucus — a delegate since 2003. Hugo raised a quarter of a million dollars this election cycle.
Tanner, 37, is a native of Washington, D.C. He has a bachelor of science in foreign-area studies from the Air Force Academy with a concentration in the Middle East. Tanner was in the Air Force from 2001 to 2005, specializing in acquisitions and communications. After separating from the Air Force, he became a defense contractor and eventually started his own firm, Forward Innovation Group. He has lived in the district since March 2015, attracted by the Fairfax County public school system.
"Both of my parents are police officers, and based on our family of service what we're trying to do is give back to the community. That's why I decided to join the Air Force," said Tanner. "One of the core values we talk about in the Air Force is 'Integrity First, Service Before Self, Excellence in All We Do.' And I want to focus on the service before self side of it."