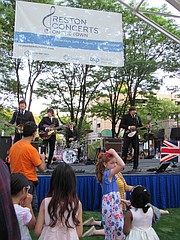 Beatlemania hit Reston Town Center hard Saturday night, June 22. Well before 7:30 that evening, concertgoers, many with their dancing shoes on, crowded under the iconic Pavilion, onto adjacent sidewalks, across Market Street and directly in front of and even behind Mercury Fountain.
They were there to enjoy the re-creation and excitement of a live Beatles concert as Reston Concerts on the Town Summer 2019 presented the Tribute band, "Hard Day's Night," hailing from Cleveland, Ohio. Band affiliate Heidi Muratore, wife of band member Michael Muratore said that Hard Day's Night was rated among the top national Beatles Tribute bands and invited to International Beatleweek Liverpool 2019 in England.
Dedicated to keeping Beatlemania alive, band member Michael Muratore as John Lennon shared the stage with his father, Frank Muratore as Paul McCartney, Patrick Gannon as Ringo Starr and John Auker as George Harrison. Each wore exact replicas of the Chesterfield suits made famous in the early years of the original Beatles. Hard Day's Night focused on performing songs as the Beatles did, four musicians onstage in character as the English rock band of the 1960s and 1970s.
BEFORE THE PERFORMANCE, Michael Muratore commented about the quality of the Reston audience. "We love Reston. We love the people; we love the energy. It's a date we circle on the calendar every year," Muratore said.
Hard Day's Night sound engineer Nate Lockwood stated that even though he was charged to keep the iconic and revolutionary sounds of the Beatles alive during the performance, he had a higher, "personal" goal, "to give concertgoers an even better sonic experience than in the 1960s, one with brilliant sounds. …And less screaming," Lockwood said.
According to concertgoer Stuart Gibson of Reston, accompanied by Rosemary Tran Lauer of Reston, Lockwood succeeded. Asked what he thought of Hard Day's Night, he replied, "We love them."
Rich Correia and Janet Gore of Fairfax echoed Gibson remark. Correia added: "The concerts are fantastic for the community."
Concert presenter, Dana Talesnik, previously of Alexandria said that for the past 22 years, she coordinated the summertime Saturday evening series held at the Reston Town Center Pavilion and became its producer this year. "Our bands are culturally and geographically diverse and span a range of musical genres, from swing, jazz and blues to salsa, zydeco and African rhythms—and that's just part of what's in store this summer. So much advance work goes into producing the series. At each show, when I see all the dancers and the joy on so many faces, it makes it all worthwhile," Talesnik said.
COMING TO RESTON Concerts on the Town 2019, on June 29 is Plena Libre, founded in San Juan by bass player/composer Gary Núñez. The ensemble of virtuoso musicians re-invents Puerto Rico's plena and bomba traditions through its Afro-Rican sound. The group recently earned four Grammy nominations and a worldwide touring schedule according to last.fm.
Held rain or shine, Saturdays through Aug. 24, 7:30-10:00 p.m., Reston Concerts on the Town 2019 is presented by Reston Town Center Association, Reston Town Center and bxp Boston Properties with artist hospitality by Clyde's. For general information visit, restontowncenter.com and concerts@restontowncenter.com.