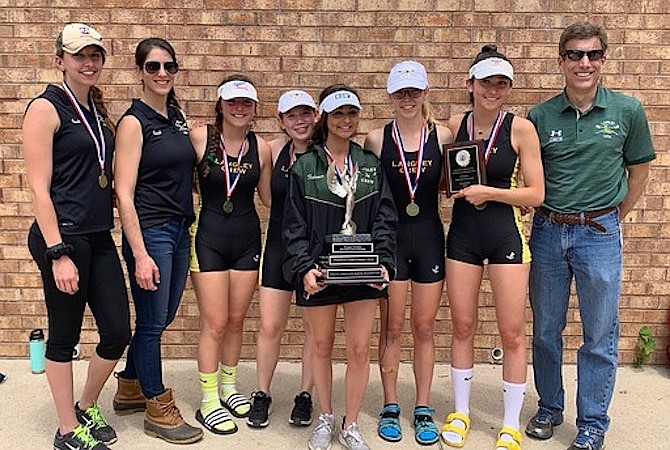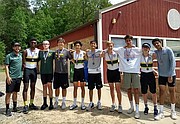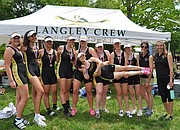 The Langley High School Crew Team had asuccessful season this year, with three boats competing in Nationals, excellent placement for three boats at States, several athletes named to the U.S. Scholastic Honor Roll. A few athletes will row in college.

The team had a number of strong contenders in their lineup of boats this year, and the girls' lightweight four won the Virginia State Rowing Competition. The team's junior eight on the women's side won an impressive third and the junior eight on the men's side placed second. All three of those boats competed well at Nationals in Ohio in May as well.
Coach Joshua Baum is very proud of the team. "This was a unique year with more canceled regattas due to weather, but the team made the most of their opportunities," Baum said. "I tell the rowers that there are a lot of things that they cannot control, but they can control their attitudes and what they are going to do in the moment. At States, the rowers focused on the opportunity and took their shot."
Langley's Crew team is known for scholar-athletes and this year is no exception. Mia Uitz and Elaine Zeng were named to the U.S. Rowing Scholastic Honor Roll with Patrick Corrigan receiving an honorable mention. Two athletes will continue rowing in college: Emily Elkas at the University of North Carolina, Chapel Hill, and Lilliana Fedewa at the University of Miami.
Coach Julie Sutliff also takes a forward-looking approach. "Langley Crew has continued to show the ability to be competitive at all levels," she comments, "We have a young squad and are already looking forward to all of the talent and dedication representing the future of our team next year."
Langley's Learn to Row program for new athletes will begin in early September and the winter conditioning ahead of the spring water season begins in late November. For more information, go to https://www.langleycrew.com/ or email langleycrew@gmail.com