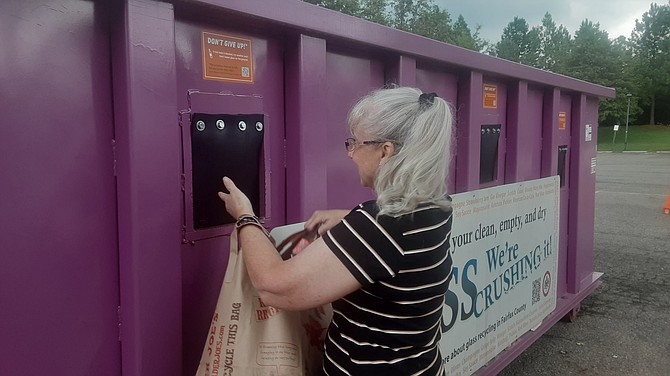 It was a good sign when several cars pulled up to the Springfield purple dumpster for glass recycling and the portals were nearly overflowing with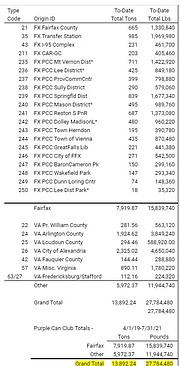 glass. People were recycling their glass, with a little finesse, they still managed to fit the glass in.
"I love it, glad they do it," said Enna, a Springfield resident. "It's definitely working," she said.
Another woman from Kings Park West managed to throw her bottles in too. "I live in a cul-de-sac and collect for three houses, this is a wonderful service," she said.
Bottles and glass aren't accepted with the curbside recycling in Fairfax County anymore, so the purple dumpsters located on county property are the option.
In fact, "the program is doing well, and we're pleased with the numbers," said Sharon North, at the Fairfax County Department of Public Works and Environmental Services. North had a chart that showed over 13 tons of glass had been recycled since the program started in April 2019. Fairfax County was responsible for over seven tons of that, and the rest was in other area jurisdictions like the City of Alexandria, Arlington County and Fredericksburg to name a few.
It all started on Oct. 1, 2019 when the county stopped accepting bottles and jars in curbside recycling bins, and gave consumers the choice of throwing the used glass in the trash with other trash, or going to the purple dumpsters. There were 21 dumpsters at first, and they are evaluating other sites for more.
Supervisor Pat Herrity (R-Springfield) backed the program since it started a few years ago, and found support from nearby residents. "It's wildly successful," he said.
Fairfax County says "collecting glass separately in a purple container will reduce contamination levels in single-stream recycling. All colors of clean glass bottles and jars are accepted in the purple containers. Glass items not accepted include lamps, light bulbs, ceramics, porcelain, mirrors, windows, and sheet glass."
The overflow in Springfield shows the program's popularity. "People really embraced glass recycling," Herrity said, but did note that it requires a
"People really embraced glass recycling."
--Supervisor Pat Herrity (R-Springfield)
drive to the dumpster and to physically put the bottles in the chutes. The drive is "the biggest complaint," he said but some streets have one person that voluntarily makes the drive, like the woman from Kings Park West. The Springfield dumpster is behind the police station on Rolling Road, and the Lee District dumpster is located out front of the Franconia Government Building.
Glass collected in purple containers is delivered to the county's glass processing plant in Lorton, the only glass processing plant in the region, the county said. Glass is crushed for use in a variety of projects and beneficial applications, such as pipe bedding, filter material and as a mix with asphalt on certain roads.