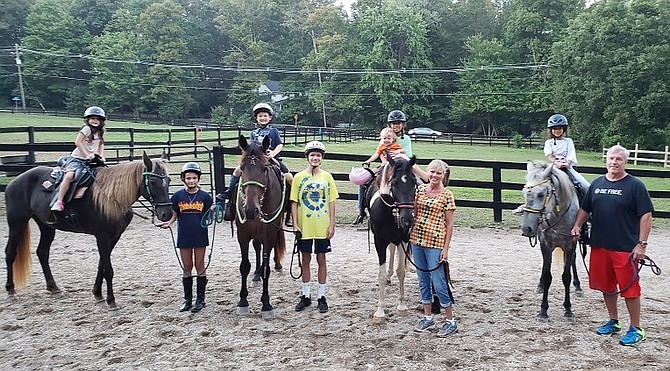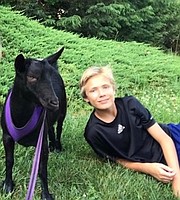 Although our family has many amazing pets, which include: sugar gliders named Luna and Eclipse; a bearded dragon named Juggles; a German Shepherd named Rieka; a Boston Terrier named Maggie; three horses named Morgan, Traveller and Cocoa; seven chickens; plus three Nigerian dwarf goats named Ninja, Bambi and Cali, I am writing this article about the special bond between my son Christian and his goat, Ninja.
My son Christian has high anxiety and some social anxiety issues. When Christian met a Nigerian Dwarf goat, Ninja, at the farm across the street, it was very apparent that this goat brought a comfort and easiness to his stressful days. As he visited Ninja more and more, it was obvious by many; teachers, counselors, and coaches, etc…that she was really helping him come out of his shell, have a little more confidence and become more relaxed. When Christian found that the farm was going to sell off some of their livestock (as most farms do) Christian got very concerned Ninja would be one of them, so he offered to buy her. The owner of the farm contacted me and told me what Christian had offered, she said that Ninja was not for sale but witnessing the bond they had she would be willing to sell Ninja to Christian. He purchased her and boarded her at the farm; although we were allowed to have horses, our HOA did not allow cloven (split) hoofed animals.
This bond almost came to an end when the owner of the farm decided to move putting the farm on the market. Christian begged that I had to do something so I reached out to our HOA explaining the needed bond for Christian's wellbeing and submitted documents and asked for an exception to the restrictions for a reasonable accommodation. After all we own 5 acres and our house is on the outside of the neighborhood not technically in the neighborhood so why wouldn't they allow this; but after several attempts and denials of our request I had to reach out to HUD. After careful consideration and a very thorough investigation it was deemed that the HOA had to allow a reasonable accommodation that would allow Christian to keep his goat Ninja. As extremely stressful as this whole process was and the battle we had to endure, I now believe that it possibly happened for a reason.
I believe the reason is that the new (going to be) owner of the farm across the street, Joseph Lombardozzi, was buying the property in hopes to open a Therapy Center to connect people with the healing nature of animals and find a partner to help with this endeavor. Because of what was happening with our HOA battle, he heard about me and then reached out to me to see if I would be interested in partnering with him.

After witnessing the very special bond and healing power of Christian and Ninja's bond, I decided yes, what a wonderful thing to be able to allow others the opportunity to experience nature and animals. With that, Live, Laugh, Relax Therapeutic Center is now open and is a rewarding experience for our whole family including our children, grandkids, friends and visitors. The center currently has 2 bunnies, 4 horses, 7 goats and 4 chickens at the farm and hope to add more once we are able to afford it. Many children and adults, with and without disabilities, are benefiting from the calming nature of farm animal interaction. Some connect with the chickens or bunnies some prefer the horses, most love the goats! Both Christian and Ninja now work at Live, Laugh Relax Therapeutic Center.
Christian says "it's not about what type the animal is, it's the calm feeling you get when you find the right animal connection!"
Tina Maier of Fairfax Station is mother of 5, grandmother of 5, owner of multiple amazing pets and co-owner of Live, Laugh, Relax Therapeutic Center in Fairfax Station.