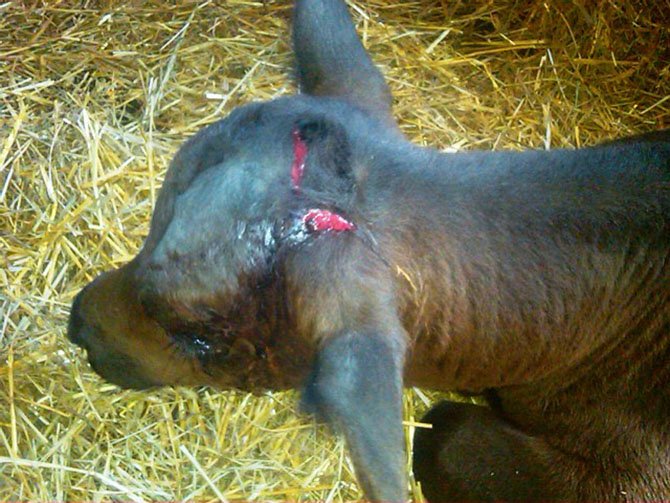 In the wake of a stabbing of three horses on April 26, more barnyard animals have been injured by an unknown assailant at the Kidwell Barn at Frying Pan Park in the Herndon area. Two goats, a calf and a chicken were cut by an unknown object during the nighttime hours between 5 p.m. Saturday, May 26 and 7 a.m. Sunday, May 27.
Farm staff discovered the injuries around 8 a.m. when they went to feed the animals. The calf and one of the goats are both under a year old and bottle-fed. They have no fear of humans and would approach anyone who came near thinking they might be fed.
Animal control officers, detectives and private veterinarians responded to the barn and are continuing the investigation. The animals' injuries do not appear to be life threatening.
It is unknown whether or not the April 26 incident is related to today's crime. The horses were being housed in a barn that is adjacent to the Frying Pan Park and were not on park property. An arrest has not been made in that case and the investigation is ongoing.
Anyone with additional information to provide or recalls seeing anything or anyone suspicious is asked to contact Crime Solvers by phone at 1-866-411-TIPS/8477, e-mail at www.fairfaxcrimesolvers.org or text "TIP187" plus your message to CRIMES/274637 or call Fairfax County Police at 703-691-2131.