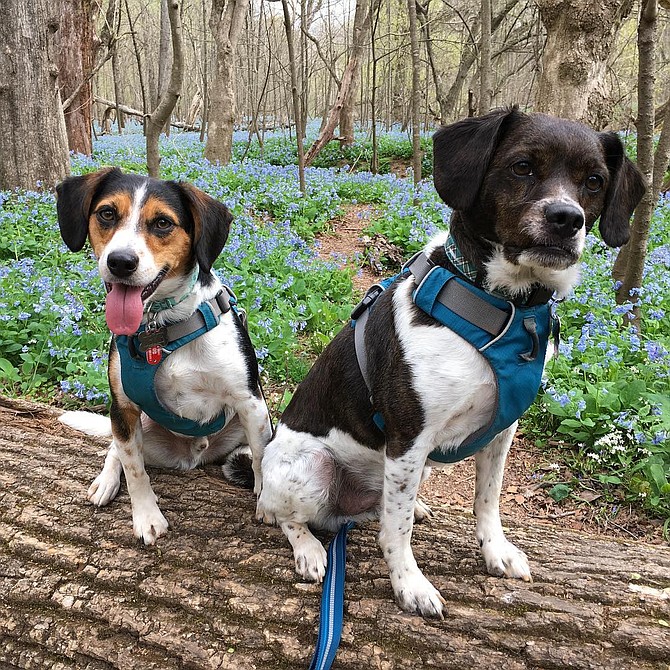 Zoey: From left is Griffin Leinbach (Zoey's uncle), Katie Arnold (holding Zoey), and owners Rachel and Parker Leinbach. This photo was taken on Oct. 13, 2018 at the Old Well at UNC. Zoey was at UNC to tailgate for the Virginia Tech vs UNC football game which Virginia Tech won 22-19. She is the biggest Hokie fan and dreams of one day getting a picture with the Hokiebird. Zoey was born on July 6, 2018. We picked her up from Golden Rock Farm in Goochland, Va. on Aug. 25, 2018. She is a golden retriever with a beautiful cream coat. She is the most friendly dog and loves every person and dog she meets. — Rachel Leinbach
Fenway Hits a Home Run: When the Wright family, of Manassas, lost their treasured dog, Fletcher, 13 years old, to cancer just before Christmas, they weren't sure how they would climb out of the gloom of his passing. Fletcher was the first "son" who helped to raise the human children who came later, and was included and celebrated as family. Anyone who has welcomed a pet into their life can empathize with the grief that comes at the end of a dog's story. And the combination of the sadness of his death with the presumed gaiety of the holidays was an added burden for the family.
Then along came Fenway! With that magic that puppies possess, he healed hearts, as he stoically "suffered" through more hugs than any puppy could be expected to endure. Not a replacement for Fletcher … he's moved down the family line-up to the position of "youngest," but a home-run hitter in bringing joy and laughter. High fives for all the Fenways in our lives! — Susan Laume
Living the Dream: I always had a dream of managing or working at a small hobby farm or working more with my hands and animals. I believe tasks that involve manual labor and being outdoors are good for the soul. I started volunteering at the Northern Virginia Therapeutic Riding center to test my theory that I really want to be around animals and I have been doing it for 3 years now and really like seeing the joy that horses bring to individuals with disabilities, youth-at-risk and recovering military personnel.
My dream was finally realized after 20 years of consideration when I purchased a 6.3 acre farm in Fairfax Station. I didn't have a lot of experience running a farm and I knew I wanted a partner and I was concerned about investing so much in a farm at a time when I didn't want to take on more expense. I found a neighbor also interested and passionate about animals, barns, and animal therapy. We both believe in the healing power of nature and animals. We found many interested people to help out and that is motivating.
My neighbor and I took a chance and teamed up and we now have four amazing horses (Morgan, Ruger, Cocoa and Traveler), seven mischievous but loving Nigerian Dwarf goats (Ninja, Bambi, Cali, Moose Tracks, Sally Leonora, Suzy Q and Snowball), four friendly chickens (Henrietta, Veronika, Erika, Giesela) and two rabbits (Thumper and Henry) and one parakeet (Javier).
My neighbor and I have a vision to bring pleasure to people that love animals, nature and being outdoors. We have seen the smiles on faces of children and adults that come to the farm. We want to bring joy to people that need a escape from daily pressures of life.
We are just getting started! We are only looking to do small group gatherings (the smaller the better) to keep the experience special. The animals bring me so much joy. They melt hearts.
We plan to offer horsemanship lessons, riding, birthday parties (small group), goat yoga and intimate farm tours.
Check us out on facebook at Live, Laugh, Relax Therapeutic Center or call 703-989-3883 for more info. — Joseph Lombardozzi
Rex: Springfield District Supervisor Pat Herrity's faithful companion, Rex, who graduated from tubing at over 20 mph with family members (bottom) to jet skiing with Pat (top) at 50 mph this past summer at Lake Anna. Rex loves people, treats and the outdoors. During the winter, you will also find Rex sledding and playing in the snow with his friends in the Little Rocky Run, Clifton.
Dog Cousins: These doggies are all BFFs and cousins who love to play with each other. Sadly, Namche went over Rainbow Bridge earlier this year and we miss him dearly. From left, they are: Messi (Golderman Pyrgywhip), Magnolia (Border Collie), Namche (Golden Retriever), and Hobbes (Golden Retriever) — Brooke Paldao of Fairfax