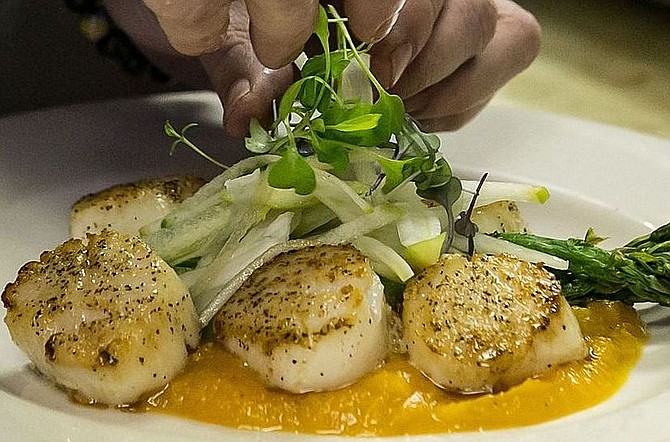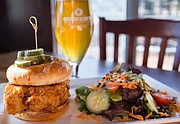 Grab your taste buds and come to the City of Fairfax for its second annual Restaurant Week. Running from March 3-9, it will enable diners to experience and enjoy a wide range of delicious and imaginative cuisine from all over the world.

"This year, 23 restaurants are participating," said Danette Nguyen with the Office of Economic Development. "We've got a wonderful representation of the City, showcasing its diverse culinary scene. People can feast on everything from classic American to Korean to Italian to Indian to Latin cuisine and more."
Participating restaurants include: High Side, Hamrock's, 21 Great American Bistro, Coyote Grille, Crazy Crab, Bellissimo, The Auld Shebeen, The Wine House, Marumen, Dolce Vita Italian Restaurant and Wine Bar, Curry Mantra, Ornery Beer Co., Tandoori Nights, Kim's Kitchen & Bar, Zandra's Taqueria, Pampa Sa-Zone, 29 Diner, Patriots Pub & Grill, Epicure Café, Senior Tequila's, P.J. Skidoos, Courtside Thai and Meojka Meojka.
During Restaurant Week, which begins this coming Sunday, each restaurant will be offering special, fixed-priced menus. These three-course meals will cost $20 for lunch and $35 for dinner. For details of what each restaurant will serve, go to https://www.fairfaxcityrestaurantweek.com/.
"Restaurants are places where people experience community, where they spend time with their families and friends when having a meal together," said Fairfax Mayor David Meyer. "These eating establishments are perfect for our City because Fairfax is a place where people do, in fact, affirm and celebrate being with each other – especially around a table with great food."
"Fairfax has become a destination for high-quality dining for the region," he continued. "The restaurants in our City represent an important part of our local economy and a significant investment by the owners, who decided to locate here because there is synergy in this creative, dining locale."
Besides all that, said Nguyen, "What also sets our Restaurant Week apart – in addition to the diverse types of cuisine – are the themed events planned for each night:
• Sunday, March 3 – Participant Appreciation: Each participating restaurant will be visited by a representative from the event sponsors – Greater Fairfax Chamber of Commerce, Fairfax City Economic Development Authority and/or the Mayor and City Council members – and will receive a Restaurant Week participation plaque and firsthand thank-yous.
• Monday, March 4 – Mason Monday: Participating restaurants will offer special, Restaurant Week menu prices of $18, lunch, and $30, dinner, to those who show their George Mason University I.D. or wear GMU gear to lunch or dinner.
• Tuesday, March 5 – Local Product Features: Locally sourced products will be highlighted on the menus and in the restaurants.

• Wednesday, March 6 – Meet the Makers: Diners will be introduced to the "makers" behind a brand or product used in each restaurant.
• Thursday, March 7 – Charitable Giving: Participating restaurants will donate 20 percent of that day's gift-card sales to a local charity.
• Friday, March 8 – Live Entertainment: Diners will be able to enjoy various live performers at each restaurant.
• Saturday, March 9 – Drink Pairings: A special-value, add-on, drink-pairing menu will be available to diners.
Adding to the festivities, a new Fairfax City Restaurant Week App for iPhone users will launch ahead of this year's event. Diners may earn points through the app every time they eat out at a participating restaurant or share their experiences with a social-media shout-out. Diners who reach 10 points can earn a $25 gift card from a participating restaurant.
"We want to showcase Fairfax City as a regional dining destination," said Nguyen. "And last year's event was so successful that we want to continue it and solidify Fairfax City's great culinary reputation even more."
Economic Development Director Chris Bruno is also eagerly looking forward to Restaurant Week. "In Fairfax, you're guaranteed to discover a range of family-friendly experiences, independent chef-driven restaurants and a whole world of diverse cuisines packed into one, historic city. Join us to experience something new in our community, to support local and independent restaurants and, most of all, to have fun."