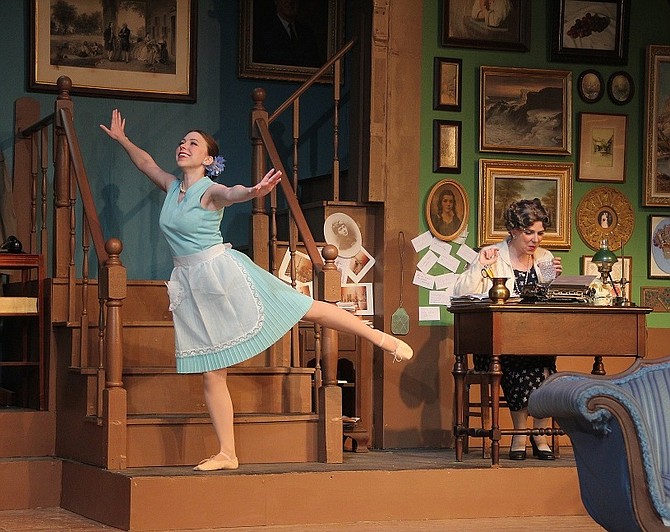 The Little Theatre of Alexandria (LTA) is presenting "You Can't Take It With You" from now through March 16. Over 80 years old, this off-beat, quirky, Pulitzer Prize-winning comedy, written by Moss Hart and George S. Kaufman, follows two families whose lives are thrown together when their children become engaged. This take on life, family and love reinforces the idea that you can only live life to the fullest by doing whatever makes you happy.
Director Stephen Jarrett said his "first job was to give audiences a chance to laugh at one of the warmest, funniest plays of the American theater. The second job was to transport the viewers to mid-1930s Manhattan and an extended family of cheerful, other-directed misfits living a childlike communal existence, utterly free from the constraints of the workaday world of that surrounds them," he said. "Today we might say they are following their bliss. They are all passionate hobbyists, and their goal is self-expression, fulfilled through playwriting, painting, ballet, playing the xylophone and the little fireworks manufactory in the basement. The plays will never be produced, the ballet will never be performed and that matters not. The end is in simply the joy of doing of it. It's a metaphor. We're in an urban Garden of Eden."
He continued: "But, of course, there's a serpent in the form of the staid, posh, joyless parents of the boy the younger daughter has fallen for. Their presence forces the family to see themselves through unsympathetic eyes. What we have is a classic dichotomy: loose vs. strict; joy vs. duty; Dionysian vs. Apollonian. One more illustration of the aphorism that drama is the conflict of two truths."
He said it's a big play with 19 characters and lots of moving parts; some of the challenges were the three acts, multiple costumes for at least half the cast, and its extensive prop list.
"Another very specific challenge is an outdated cultural attitude about race," he said. "This attitude could be seen as completely affectionate in 1936, but today it seems paternalistic and patronizing. Working closely with our African-American actors, and with the assistance of the entire acting company, we have worked hard to ameliorate the problem. A handful of lines have been dropped, and we have adjusted a few dramatic acting and directing choices."
Jamie Blake, who is a co-producer along with Eileen Doherty, said: "As producer of any LTA show, we bring the director's vision to life with the best designers in the area. This show is no different. We have talent behind the scenes that equals what you see on stage from sound, lights, costumes, props, the set, the set decorations, the set builders, the set painter, the special effects and least but not least our stage managers and assistant stage managers. It takes a village and our audiences only see what is on stage. We all do it for the love of theatre and the creativity each of us brings to the show."
Ted Culler is playing the role of Paul Sycamore, the loving husband and devoted father of two daughters. "He was educated to be an architect, but left that behind when he married into the quirky Vanderhof family. He is fascinated with and creates with his sidekick, Mr. DePinna, his own fireworks for sale and for fabulous Fourth of July displays. He has a live-and-let live personality with the belief that people should do whatever brings them joy," he said.
Steven Rosenthal is playing the role of Mr. DePinna, who was delivering ice to the Vanderhof home years ago and just decided to stay. "He is a craftsman who helps Paul Sycamore in the fireworks that they manufacture in his cellar. He is also an amateur historian who revels in impersonating Roman soldiers and in fawning over the Russian aristocracy. Although he is often overlooked by the rest of the family, he is trustworthy and loyal and always there to help his adopted family members whenever he can," he said.
Melissa Dunlap is playing the roles of Gay Wellington/Grand Duchess Olga. "Gay Wellington is an actress that Penny asks to come read plays. Gay enjoys giggling, gin and singing. She has an interesting visit with Penny and her family," she said. "The Grand Duchess Olga Katrina fled Russia at the time of the Bolshevik Revolution. For the past several years she has lived and worked in New York. She is good friends with Essie's dance instructor, Kolenkhov. She mostly socializes within her circle of Russian family and friends but is delighted to be invited to have dinner with Kolenkhov's friends."
Mary Elizabeth (Emmy) Leaverton is playing the role of Alice Sycamore. "Alice is a Sycamore through and through, whether she's willing to admit it or not. She is desperately in love with the boss's son and wants nothing more than to be accepted and acknowledged as worthy of his love in return. She never forgets for a moment how much she loves him, or how much he loves her. It's the battle between the stubbornness of her head, the passion of her heart, and the approval of the Kirby's that she must overcome," she said.
Chris Halverson is playing the role of G-Man #3, whose ominous attention is caught by Ed's printing hobby. "I came into the production only two weeks before opening, so the biggest challenge was trying to play catch-up, both as a member of the cast as a whole, and in building up my performance to the same standard of quality as the rest of the actors, especially since rehearsal time that late in the process has to be dedicated much more to fixing the details of already well-established work," he said.
The Little Theatre of Alexandria is presenting "You Can't Take It With You" from now through March 16. Show times are Wednesdays through Saturdays at 8 p.m.; and Sundays at 3 p.m. Tickets are $21 and $24. The venue is located at 600 Wolfe St., Alexandria. Visit www.thelittletheatre.com or call the box office at 703-683-0496.