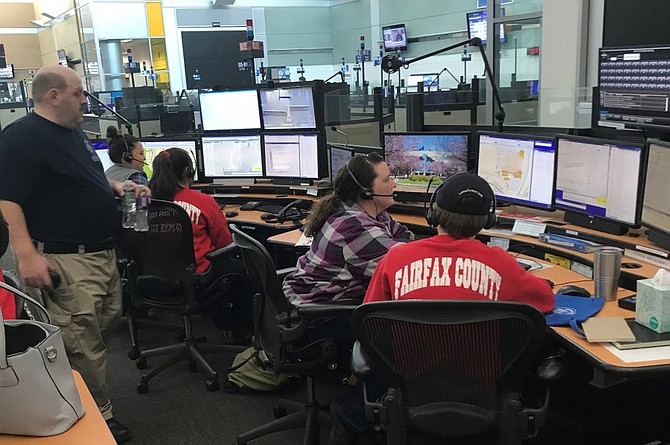 Fairfax County Fire and Rescue Explorer Post 1949 members recently had an opportunity to learn how the 9-1-1 system works and the importance of communication.
The Explorers started the day off with team building exercises at the fire and rescue academy. They then went to the Department of Public Safety Communications (DPSC) building, also known as the 9-1-1 Center, and received a tour of the Emergency Operations Center (EOC). Battalion Chief (ret) Al Mullins provided a 30-minute presentation of how the EOC operates and the collaboration that occurs between county agencies during an emergency incident.
Lieutenant Heath then met the group and gave a presentation of how the 9-1-1 system operates and why communication is so important between fire and rescue units and 9-1-1 dispatchers. The Explorers then received a walking tour around the building pointing out the different agencies that operate out of the building. It ended on the floor where the call takers and dispatchers operate.
The Explorers then were allowed to sit with the call takers and fire dispatchers to witness firsthand the important job they do. There were two groups that switched after a while so everyone had an opportunity to experience both. The Explorers were very excited for the opportunity to be able to experience this. They wanted to stay longer and said by far that was their favorite part.
This experience gave the Explorers an understanding of how important the role of the "first of the first responders" is from taking the 9-1-1 call to also efficiently dispatching police, fire and emergency medical services.