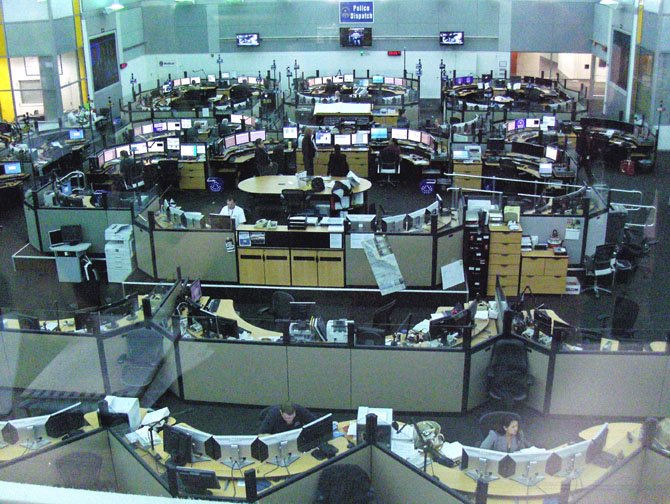 Call-Taker Job Details
*Applicant must successfully complete a battery of hiring tests, plus panel interview. Must also:
*Be 18 and have a high-school diploma or GED.
*Have a clean police record.
*Pass a polygraph and background investigation.
*Comprehend the English language well.
*Type 30 words a minute and be able to multitask, prioritize and make decisions.
Callers receive 10 weeks classroom training, plus 6-12 weeks on-the-job training.
Shifts are 6:30 a.m.-7 p.m. and 6:30 p.m.-7 a.m.
Starting salary is about $38,000/year.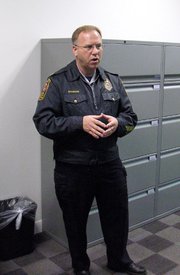 Being a dispatcher in Fairfax County's state-of-the-art, 911 center sounds like an exciting job. It's also stressful, tiring, rewarding and, at times, harrowing.
"Not everybody can do this," said Sherrie White, assistant training supervisor in the 911 call center, also known as the Department of Public Safety Communications (DPSC).
"We work 12-1/2-hour shifts and handle calls about CPR, houses on fire, shootings – and this is what we deal with every day," she said. "It's hard to go home after days like that and leave it all behind us."
The 911 center is part of the Emergency Operations Center (EOC) within the McConnell Public Safety and Transportation Operations Center (MPSTOC) on West Ox Road near Route 29 in Fairfax. And in the event of a national or weather-related emergency, the building will serve as a central command facility where state and county representatives will work together.
White, of Chantilly's Greenbriar community, gave a tour of the 911 center, April 18, to members of the Sully District Police Station's Citizens Advisory Committee. Also present was Capt. Purvis Dawson, that station's commander.
Unfortunately, said White, some people call 911 for the wrong reasons, telling the dispatcher, for example, "There's a raccoon in my trash," or asking, "How do I cook a turkey?" Obviously, these calls should not have been made to an emergency line.


BUT THE MAJORITY OF THE CALLS are deadly serious, and the people receiving them are well-equipped for the task. "Our 10-week training is a model for other 911 centers across the country," said White. "We're trained to talk you back down from hysteria."
"These folks do a phenomenal job," said Dawson. "They miss out on family birthdays, holidays, children's soccer games and school plays – but they come back and do it, day after day. Behind that phone call to the police and fire departments are these people; it all starts here."
Callers don't have to speak English or be fluent in it to seek help. "Anyone can call 911, no matter what language they speak, and we'll help them," said White. "We'll connect them to a language line [for translation]."
What especially helps the dispatchers understand the nature of a caller's emergency is when that person clearly explains the situation. "I have to picture you placing a loved one on the floor so you can perform CPR," said White. "You have to describe your burning house and its exits so I can best tell you how to escape."
The frustrating part is that it's similar to watching a movie or reading a book, but stopping before the ending. "We never know what happened [to the emergency] for which we received the call," said White. "For example, you take someone through chest compressions and then never know if the person lived."
But it's all part of the job, and 911 dispatchers frequently deal with matters of life or death. "If we get a 911 hang-up, often it's a domestic-violence situation; and with our enhanced system, all your [contact] information comes up," said White. "We have to return all these calls to make sure you're OK – and we've saved so many lives this way."
Also reassuring for area residents to know is that the 911 center doesn't close. "We're here all the time, 24/7, 365 days a year," said White. "We work weekends and holidays and don't get snow days off. But we love what we do for the people and the county."
There are 130 staffed positions working four permanent shifts – two during the day and two at night. In 2010, callers received 895,360 calls. Of that number, 485,681 were for legitimate emergencies; 397,982 were nonemergency. Others were towing and other reasons.
Once a dispatcher takes a call, that person routes it to police or fire personnel. "We've been taught to investigate and extract information from you about the incident," explained White. "We'll say, for example, 'Give me a description of the suspect and the gun; tell me which way he ran,' because first and foremost, we worry about safety."
The same is true with a fire. "We have to send the information to the units as fast as we can," said White. "We're not perfect, but we try to be as close to it as possible."
"There's a purpose behind every question they ask," added Dawson. "We need to know what we're in for so we can be better prepared for it. But meanwhile, the first people have already been sent out."
In addition, everything a caller says is recorded. That way, said White, "We can go back and recreate sequences and listen to the call again if there's something difficult to understand. And if someone calls in with a non-prepaid cell phone, I can find them within 500 feet. Then officers can set up a perimeter to find their home. I type the information and send it to the officers."
White said police and fire supervisors are in the 911 center with the dispatchers to advise them, when needed. "We're all working together," she said.
"Police have CAD [computer-aided dispatch] terminals that they can take with them from their cars," said Dawson. "Once a dispatcher hits 'send,' we can read that message on our computer screens. But we practice every month doing it the old-fashioned way, without the computers. We still want our officers to know how to look into a map book, find a street and get there, in case their CAD goes down – and that's paramount to you all."


WHITE SAID THE 911 CENTER also has a backup dispatch system. "It's called pencil and paper," she said. "I'll take calls on a handset, if the regular system goes down."
After the Sept. 11, 2001 tragedy, she said, public safety personnel adopted plain language for communication, rather than describing incidents in numerical codes. That way, all agencies involved in an emergency can understand each other because all their employees are saying exactly what they mean. Said Dawson: "The goal was seamless communication and we've pretty much reached it."
White said dispatchers in the 911 center also have access to a full, gourmet kitchen and a gym within the building "to keep everyone sane and healthy. We take care of ourselves and each other. We have a great group of individuals here – you don't want anybody else to have your back."
At any given time, 28-38 dispatchers are on duty. "We should have 50, but we're short-staffed," said White. "They're usually here three to five years – and roughly 50-80 percent of the new recruits quit by the end of the first year."
"It's partly because it's such a stressful job," said Dawson. "And they often go on to become police, firefighters and deputies."
Basically, said White, "It's a calling. I've got 13 years in, and I will run this joint one day because I want to make a difference for the county I live in."