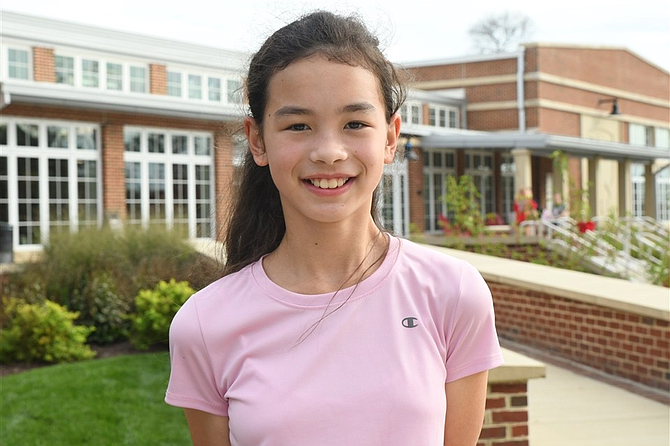 Kana, a middle school student at St. Andrew's Episcopal School in Potomac, was not thinking about speaking at the Maryland State House when she began work on her Girl Scout Bronze Medal project, but one thing led to another and that is what she will do next week.
She and a few of her supporters will speak Monday, March 12 before the Maryland House of Delegates, Health and Operations Committee in support of House Bill 0744 "Requiring the Governor annually to proclaim October 11 as the International Day of the Girl; and requiring the proclamation to urge educational and cultural organizations to observe the International Day of the Girl properly," according to the synopsis of the bill on the Maryland bill tracker website.
"This is a fun project," Del. Kathleen Dumais (D-15), the bill's sponsor, said. "It's unusual for someone this age to be so active."
Dumais said Kana got in touch with her sometime last fall, they met and Dumais agreed to sponsor the bill. The next step is for it to get out of the House committee and "crossover" to the Senate. Then, after getting out of the Senate committee, it will be voted on and go to Gov. Larry Hogan to sign.
Kana's testimony and that of her supporters is to convince the House to move the bill along.
"I think she is going to wow them," Dumais said. "She's powerful."
Also speaking on behalf of Kana and the Day of the Girl bill will be St. Andrew's Middle School Head Dr. Rodney Glasgow and Rachel Levine, GIS [Geographic Information Systems] Operations and Training Coordinator for International Services at the American Red Cross.
"I was honored to be invited to go with Kana, to support [her] in what she says," Glasgow said. "I thought … especially at this moment in our national history, this is the opportune time to honor the Day of the Girl."
Kana is a volunteer mapper with Levine, which brings this story back to the beginning when Kana was working on her Bronze Medal, the highest award for Girl Scouts in middle school.
Her project centered on the problem of coastal flooding in West Africa, Kana said.
"While researching my project, my dad introduced me to Missing Maps," Kana said in an interview published by St Andrew's. "After using this humanitarian mapping platform, I realized that it would be fun and educational for girls my age to learn how to use humanitarian mapping platforms. I really enjoyed being able to visually go to places halfway around the world and see how mappers can help people affected by coastal flooding. However, I realized that these platforms are not designed for kids to use. That needs to change.
"On the International Day of the Girl Child [a United Nations designated international observance declared October 11, 2012] I believe that countries should promote programs that introduce groups of girls to humanitarian mapping."
With Levine, Kana works to create online spaces for other young women to learn how to participate and creates best practices for this community, Levine said in an email.
Comments on this bill can be sent to Kathleen Dumais at Kathleen.dumais@house.state.md.us.