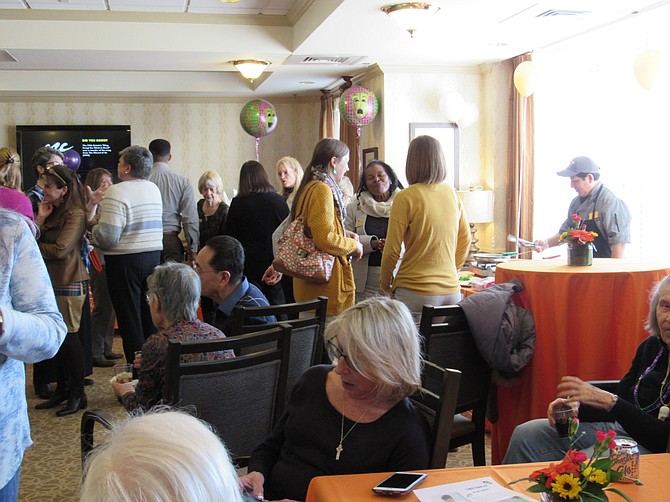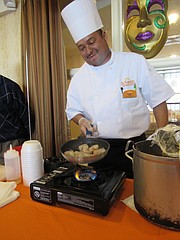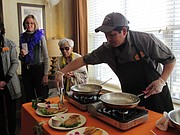 Mardi Gras rolled in Tuesday, March 5 and to celebrate, Sunrise at Reston Town Center hosted its Iron Chef-style Cook-off competition, Wednesday, March 6. Residents from both Sunrise at Reston Town Center and Sunrise at Countryside gathered in the activity room, which was decorated with beads, masks and balloons.
Chef Daniel Yupanqui of Sunrise at Reston, with thirteen years of experience, challenged his opponent, visiting Chef Lewis Gilbert, Dining Services Coordinator, Sunrise at Countryside, with six years experience. Together they prepared to wow residents, staff and the judges with their Mardi Gras Party food.
Chef Gilbert prepared a classic bold Gumbo with chicken, smoked beef sausage and shrimp. "Love making the milk chocolate-colored roux. This is a different spin on my regular recipe," said Gilbert. "A little more spice." And for dessert, bread pudding.
Across the room, Chef Yupanqui assembled ingredients for his Maryland crab cakes. "The secret to making great crab cakes is not to use bread, but use Ritz crackers," confided Yupanqui. To his side rested a bowl of fresh crinkle-cut white and sweet potato slices. Carefully, Yupanqui dipped each in a mixture of butter, flour, eggs, seasoning and the special ingredient, mayo. Then he quickly sautéed them, creating delicate golden crusts on each slice.

Judges Maggie Parker, Comstock Companies in Reston, Ashleigh Soloff, Reston Association, and Ben Donnelly, Alzheimer's Association, sat at the judges' table ready for their plates. Charged to rate each entrée and dessert by presentation, creativity, and flavor, the judges knew it would be a challenging job.
As the chefs completed their cooking and judges scored the dishes, residents tried out the Mardi Gras specialties.
Ann Falconi said, "Awesome crab cakes."
Her husband, Bob preferred Gilbert's entrée. "Delicious gumbo," he said.
Anna Anderson voted for the crab cake, too. "I thought it was smooth," she said.
Her husband disagreed. "Gumbo's my favorite. Extra spicy."
As the judges tallied their scores, residents and staff continued to eat, enjoying bread pudding and the essential Mardi Gras tradition, King Cake decorated with green, purple and gold.
In the end, it was a close call, but clean sweep wins to Chef Daniel Yupanqui, Sunrise at Reston Town Center. That is, until next year.