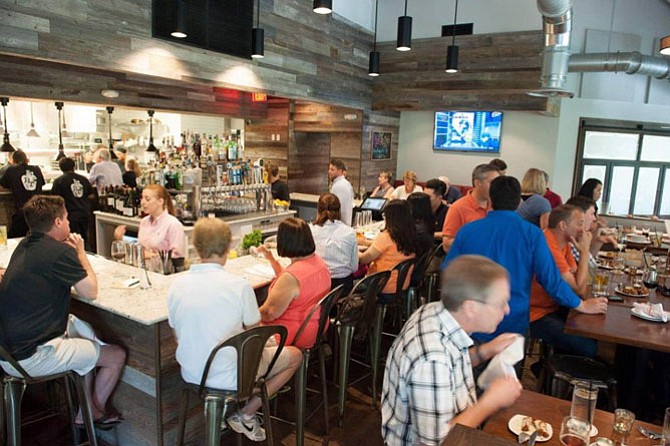 One of Reston's busier restaurants and with its lakeside vista, Red's Table has welcomed a new executive chef, Kevin Ettenson, into its kitchen. Taking over for the founding chef, Adam Stein, Ettenson seems totally at ease in this kitchen and cooking for the restaurant's food-savvy patrons.
A self-taught cook, Ettenson loved the kitchen and all its flavors when as a kid his dad and he loved creating dishes with the family cooking. "He would tear through the kitchen and pantry," said Ettenson. Adding to his culinary experience, Ettenson grew up overseas in Japan and Australia so that he has become familiar with other flavors and seasonings.
When the family moved to D.C., Ettenson briefly attended college, but decided he preferred hands-on work, and that took him right into the kitchen after working as a server in Clyde's of Reston and Coastal Flats. At the Mad Fox Brewing Company, Ettenson tended bar, until the chef decided to move him into the kitchen as a line cook.
That was a turning point, for he eventually became the junior sous chef there, then moved to a sous chef and then the executive sous chef at other local restaurants. After one more career jump forward, he was hired as the executive chef at Red's Table.
While keeping a few very popular dishes — the goat cheese fritters, the smoky chicken wings, the crab cakes, and the fried chicken, for example — Ettenson has dug into his creativity and come up with new dishes that absolutely shine. How about the honey-sweet and warm biscuits to start?
Ah, and the ahi tuna poke, a splendid appetizer of freshly sliced and raw tuna. Dressed in a mild soy and tamarind coating (and with a drizzle of some Peruvian aji verde, or green sauce), the delicate slices are topped with shredded apple and jicama slaw — a very refreshing kickoff to a Red's Table meal. Most of the appetizers are linked to seafood, from clams and shrimp to mussels and oysters.
As for dinner entrées, the stunning choice is his creative sweet potato gnocchi topped with a tempting heap of shredded braised pork. The combination of sweetish gnocchi with the savory pork makes for a stunning main dish. Other choices include their classic beef burger, cioppino, a cut of beef, and a chilly weather must, the duck cassoulet, rather like a classy duck stew.
Sides are some of the typical ones, but a top choice is the fried Brussel sprouts tossed with crispy bacon. You can never go wrong with sprouts, perfect for breakfast, lunch and dinner. And for dessert, by long-time pastry chef Chris Works, scan the dessert menu, of course, but aim for his Nutella cheesecake, a profoundly rich and creamy slice of calorie heaven.
Check out the wine and cocktail lists — you will find plenty to keep you pleasantly serene. And, basically, just enjoy the visit and the food.
Red's Table, South Lakes Village Shopping Center, 11150 South Lakes Drive, Reston. Open daily for lunch and dinner and weekend brunch. Call 571-375-7755 or visit redstableva.com.