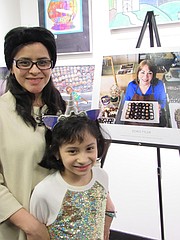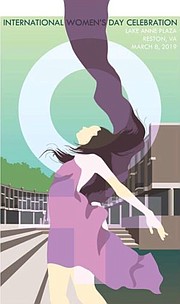 The Lake Anne Merchants and Professional Committee celebrated International Women's Day 2019 on a hyperlocal scale the weekend of March 8–March 10, highlighting achievements of women who helped shape businesses at Lake Anne Plaza in Reston. Events began Friday evening with the opening reception for "The Women of Lake Anne, a Portrait Series of Talented Business Leaders in This Vibrant Community," by Charlotte Geary Photography, followed by a four-member panel discussion moderated by Bonnie Haukness, board member, Reston Historic Trust & Museum.
"Tonight's event focuses on our amazing community of women; their life stories and gifts to be shared with us," said audience member Melanie Meren of Vienna before the start of the event. Nearby sat Nallely Soto of Reston with her daughter, Mya, 8. Asked why she came, Mya did not hesitate. "Women have equal rights like men. Just because someone tells you can't do something, it doesn't matter. Justice Ruth Bader Ginsburg is interested in equal rights," said Mya, referencing the book "I Dissent."
"Celebrating International Women's Day here at Lake Anne Plaza is a perfect fit, as 75 percent of the businesses are either owned or managed by women," said Alexandra Campbell, executive director of the Reston Historic Trust & Museum, during her opening remarks for the kick-off event. "This plaza and our events [for International Women's Day 2019] are all about women supporting other women," said Campbell, who spoke about the significant role female entrepreneurs played in the development of the Lake Anne Plaza and how they rapidly broke through the commonly held male-dominated business models.
"Since Reston's beginning in the early 1960s, women have played a significant role in [the plaza's] development including ... commercial contributions. ... In 1977, women owned just 7 percent of all businesses in the U.S; … by 1987… 30 percent of all American businesses," Campbell said. She added that the number of women-owned businesses, "has only increased since then and Lake Anne business ownership proves this."
During her remarks, Campbell motioned toward the dozens of portraits on easels surrounding the gallery's audience, each a personal image-narrative capturing the dynamic spirit of each woman business owner colorfully and unexpectedly. Professional photographer Charlotte Geary took the images. "This plaza and our events [for International Women's Day 2019] are all about women supporting other women," Campbell said.
Bonnie Haukness, board member of Reston Historic Trust & Museum, introduced the panel, the Lake Anne business owners, Linda Fuller, former owner Lake Anne Florist; Susann Gerstein, Small Change Consignment; Susan Burwell, Reston Used Book Shop; and Charlotte Geary, of Charlotte Geary Photography.
EACH PANELIST offered thoughts on why female entrepreneurship works so well at Lake Anne, how to recognize and seize opportunity and tips to create a successful business.
"I think there is something here that might appeal to a community-oriented woman," said Geary, adding that Lake Anne is designed for people to engage and mingle; how one must park away from the businesses fronts and must enter the village center walking by them, offering opportunities for interactions. Gerstein described the aesthetics of Lake Anne, the beauty of the lake, nature and the manmade environment.
Fuller recalled her passion, drive to educate herself and as the business prepared and got off the ground, surrounding herself with people and organizations to lend a hand. "I didn't know anything about business, but I soaked it all up. I self-educated, took classes … and worked with others. Lake Anne has an extraordinary merchants association which not a lot of strip malls have. There is a lot of support here … support is very important going into business."
Fuller warned not to overextend and recognized the small square footage offered at Lake Anne Plaza can be an advantage. "It is easier for women to start small ... it's a reasonable venture ... and it appeals to women that they can do it; can get started."
Susan Burwell of Reston Used Book Shop discussed an often-key issue for any small business, whether to buy the building or rent. She said when she looked into buying the company and the store nearly twenty years ago, purchasing the established business left little capital for purchasing the property it occupied." We couldn't afford both, so we found a friend that was willing to purchase the property for us … we paid rent … and now we own the building." Burwell reiterated, "You can't do it by yourself. You need support from other people and other organizations."
"The key about women on the plaza to me is … there is something about us rolling up our sleeves and saying we can do this … a sense of women coming together and just making it happen," said Gerstein. As the panel discussion closed,
Gerstein took the opportunity to introduce an upcoming woman-owned business. She announced Small Change is closing. Mary Marchetti, president of the non-profit organization, Toys for Life, will occupy the space.
Nathan Hagan of Lake Anne Brew House created the poster for Lake Anne Plaza International Women's Day Poster. Proceeds from its sale will partially support Reston Historic Trust & Museum's Women's History Month Programs.

GENERAL DONATIONS collected during International Women's Day benefited Shelter House, which serves families in the community experiencing homelessness and domestic violence. "Ninety percent of the households are women-led," said Dani Colon, deputy executive director of Shelter House.