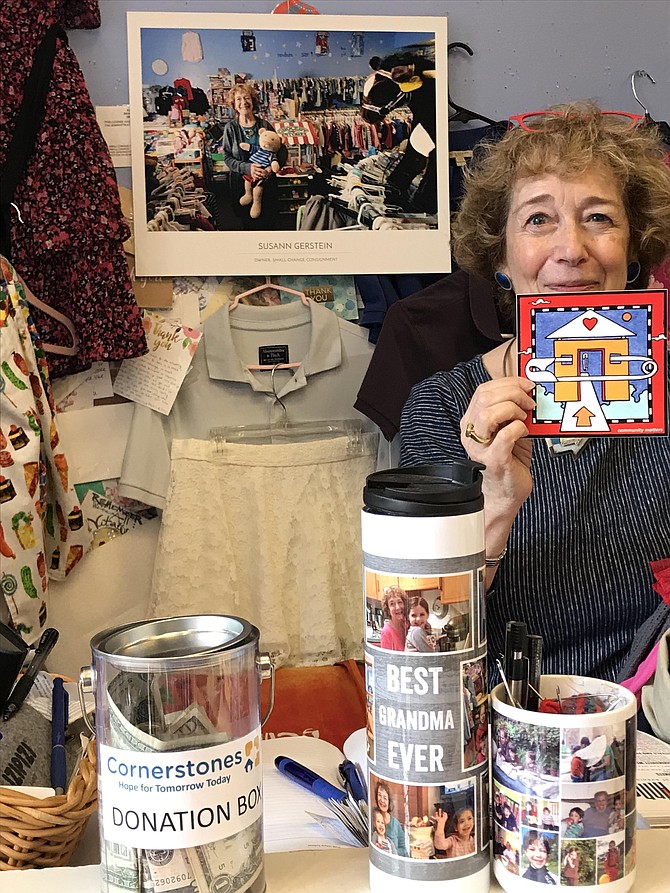 "If we can possibly reopen in another space here at Lake Anne, we will try to," said Susann Gerstein, owner of Small Change Consignment at Lake Anne Plaza in Reston, the afternoon before she closed the business at its current site on the Plaza. "We want to pass the baton to the next generation of Small Change proprietors, (but) it has to be a manageable rent. It's been a process, but we will get through it," she said.
On Saturday, June 29, 13,734 calendar days after Gerstein and two friends first opened Small Change Consignment, she locked the door for the last time and closed the business due to an "unmanageable" rent increase.

Small Change Consignment opened on the Plaza in late 1981, co-owned by New York transplant Susann Gerstein, Kathy Paolini and Margaret Johnson. According to Gerstein, at that time the shop occupied a smaller unit on the Plaza where Dogma Bakery is now. Since there was nothing like it, Gerstein said, the trio was unsure how the business would fare.
Time passed. Paolini and Johnson retired. The store's location changed on the Plaza close to the Children's Fountain and babies grew to adulthood. Now they became the second generation of customers and sellers, bringing their children to the little shop on the Plaza, a place Gerstein described as "warm and inviting." However, all good things come to an end.
NEARLY 38 YEARS LATER, 13,734 calendar days, on Saturday, June 29, surrounded by loved ones, Gerstein, the sole remaining owner of Small Change Consignment, locked the door, closing the shop that made a "big change" in the family budget.

Gerstein officially announced the closing in March of 2019, at the end of the formal program for the International Women's Day Panel Discussion on the Plaza held at Lake Anne Community Center. The panel discussion was meant to, as Melanie Meren of Vienna said before the start, "focus on our amazing community of women; their life stories and gifts to be shared with us."
The day after the panel, Gerstein posted to her Facebook page: "We'll be spending the next 3 1/2 months doing what we always do, taking in & selling everything your children need & outgrow, hosting indoor playtime, having crazy sales on clothes & toys & books & baby gear."
As the clock ticked down and closing neared, Gerstein remained true to her word, and ever optimistic someone would take over the business that crossed generations and meant so much to the community. Even at the Women's International Day Conference Gerstein had said, "The key about women on the Plaza to me is...there something about us rolling up our sleeves and saying we can do this...there a sense of women coming together and just making it happen."

In the store's final days, Gerstein crossed off the "lasts" on Small Change's Facebook page. "The last day of first grade for a beloved granddaughter, the last ceremonial check to Cornerstones (but not the last check!), the legacy of a Small Change outfit, the smiles of friends finding each other and of kids hard at work playing in our shop...Four more days, people, on magical Lake Anne Plaza," Gerstein posted.
THIS TIME though proved to be the exception. No magical person came forward and successfully negotiated to take over the business. The friendly neighborhood shop, known to make it easy to recycle children's items, a gathering place for mothers and grandmothers looking for clothes, shoes and toys, shuttered its doors.
In her final acts of kindness as the owner of Small Change Consignment, Gerstein said she would donate all clothing that remained to either "Cornerstones or The Closet in Herndon," and the shop's iconic and beloved big train set, school bus, dollhouse and grocery stand with cart would go to Play 4 All Ages by Mary Marchetti. We are in the process of exploring locations for a toy library and play space for All Ages," said Marchetti. "Susann will continue to be an integral part of our mission, and we are so appreciative of all her efforts throughout our activities."
Liz Kamp, Owner of New Trail Cycling Studio on the Plaza, said, "Susann's positive energy and guidance as a female entrepreneur will be greatly missed. I hope that we can all continue her mission to give back to the community in which we live, work, play and serve."

Remembrances and Best Wishes to Susann Gerstein
"Kids were always in the fountain, getting wet and going right to her shop." – Vincent Brown, Lake Anne Community Center
"We moved here in 1996, and the second day I was here ... I came over with my daughter and bought several things. Since then we've been friends forever." – Lynda Hulkower
"Best wishes in your future business endeavors." – Seth Flynn, Manager, Lake Anne Coffee House and Wine Bar
"Susann, to me, is a hero. She's been a plaza stalwart and she just always has the energy to contribute to whatever project that is going on. That's who she is to me." – Bud Burwell, Co-owner Reston's Used Book Shop
"I always thought that the shop would be there. Now, where do I go?" – Missy Bidwell, Chesapeake Chocolates