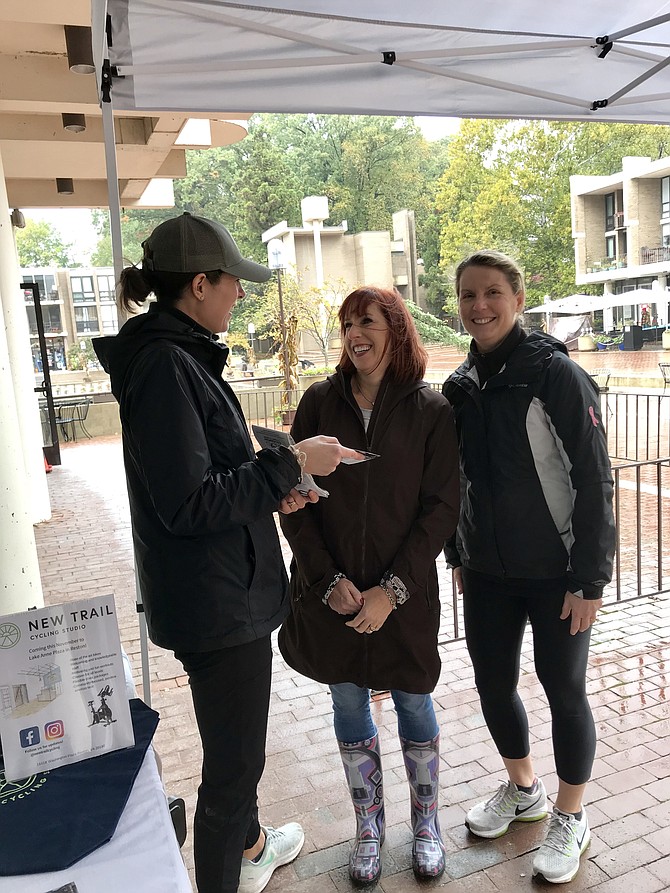 The Lake Anne Merchants & Professional Committee debuted its inaugural Harvest Festival on Saturday, Oct. 27, 2018, with special offers and samples from the unusual, independently owned retail, dining and service establishments at Lake Anne Plaza. "The first Lake Anne Plaza Harvest Festival was a success," wrote Vicky Hadjikyriakou, President of Lake Anne Merchants & Professional Committee.
"The merchants showcased their Virginia wines, beers, and dinner menu items inspired by Virginia wines and beers," Hadjikyriakou said. In addition, the family-friendly event offered holiday tips and treats, specials, music, crafts for kids and more as it celebrated all things great from the local merchants.
Organizers planned the festival as an annual outdoor event on the Lake Anne Plaza. However, Saturday's rainy weather drove nearly all activities off the plaza and into the eateries and shops. Business owners, patrons and musicians kept a positive attitude though and partied through.
"We're thrilled to be part of the Fall Festival," said Liz Kamp, owner and instructor of New Trail Cycling Studio, the newest business to call the plaza home. Kamp said that her studio is expected to open in the next few weeks as soon the final touches to build-out are completed.
Beth Davis of Oakton and Susan Snyder took a peek at the new studio and gave it definite thumbs up. Davis shared she looked forward to visiting the other establishments on the plaza during the festival and getting to know them better. Snyder added: "We're fans of the Lake Anne establishments."
Over at Reston's Used Book Store, owner Bud Burwell sat in a rocking chair near the front door. A standing room only crowd had just left after listening to locally based performers, The Stewart Sisters perform. "It was nice to have our space filled with music and music lovers during the rainy inaugural Harvest Festival," Burwell said.
Packing up her guitar, Sherry Stewart said, "There's no better place to spend the Harvest Festival than Reston's Used Book Store. We look forward to being here anytime."
Already planning for the 2nd Annual Harvest Festival, Hadjikyriakou said, "We look forward to next year, where we will be able to feature a larger variety of locally produced goods."