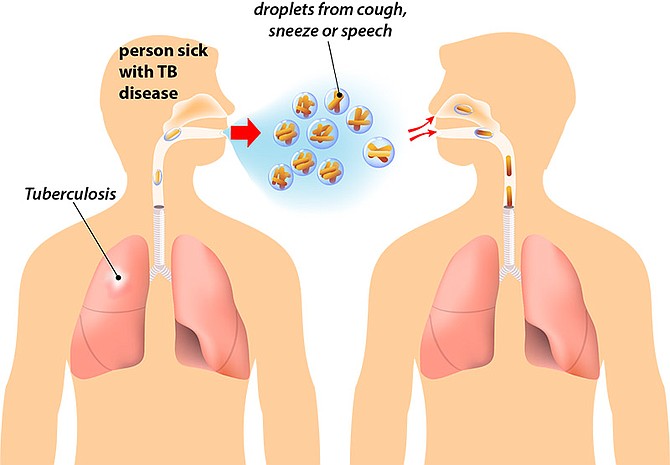 Tuberculosis is not a disease the general population of Northern Virginia worries about. Public health officials in the counties of Fairfax, Arlington, Prince William and Loudoun, and in Alexandria have teamed up for a region-wide tuberculosis awareness campaign to dispel myths and address the stigmas that are often barriers to testing and treatment for this curable disease.
"While significant progress has been made toward controlling and curing TB, it remains one of the most common infectious diseases worldwide and is still a public health problem in Northern Virginia," Fairfax County Health Director Dr. Gloria Addo-Ayensu said. "We want our communities to know that it's a disease that can be prevented and cured."
Dr. Barbara Andrino, Fairfax County Public Health Physician – Tuberculosis, says that the numbers have declined over the last several years, but there is still an average of about 70 cases confirmed annually and officials suspect that several hundred thousand of our citizens may be living with "latent TB," that can become active if left untreated.
"Latent TB will show no signs or symptoms," warned Andrino. Any number of reasons can cause the disease to activate and begin to grow again. Chemotherapy, diabetes, and immuno-suppressing diseases are just a few of the culprits that can kick the dormant TB cells into high gear.
THE SYMPTOMS of active TB can include a cough that lasts for three or more weeks, unexplained weight loss, night sweats, fatigue, fever, and coughing up blood.
"That's another reason why people among the most at risk should consider testing prior to the onset of symptoms, and should certainly inform their physicians of their risk factors if they start to exhibit these symptoms," Andrino said.
So just who is at risk, and how do they get tested?
While TB is not the easiest of diseases to contract, county health officials say that if you have one or more of the following risk factors, you have a greater chance of contracting the TB infection:
Lived or spent time with someone with active TB
Lived or worked in a congregate setting like a shelter, long-term care or assisted living facility, or jail
Worked in a healthcare setting
Are homeless, or have experienced homelessness within the last two years
Lived or spent significant time in a country where TB is common.
To expand on that last risk factor, Andrino reminds that "Fairfax and Northern Virginia is made up of a wonderfully diverse population, people who have come from all around the world and continue to travel back and forth."
With 140 countries where TB is a serious health issue and almost 70 percent of Virginia's foreign-born population living in the Northern Virginia area, it's no wonder that Fairfax County tops the list in Virginia with the highest numbers of the infections.
There are two types of tests that will determine if there is TB bacteria present in your body: a skin test and a blood test. A medical provider or a call to the Fairfax County Health Department at 703-246-2433 will provide information about getting tested and which type of test is the preferred method for an individual. Tests are low-cost, and in some facilities and instances, administered for free.
THE FACT that there is still a stigma associated with the infection, and that people who are actually actively ill may not suspect TB, hampers detection, treatment and fighting the spread of the disease.
Andrino and her colleagues in the Fairfax Health Department and surrounding jurisdictions will be re-doubling their efforts to break that cycle of stigma and misinformation with a combination of grassroots outreach, print, transit and digital advertising, scheduled to run through April 14.
"Remember, Tuberculosis is a bacterial disease. It is not something to be ashamed of. It can be cured when diagnosed and when the patient takes the full course of the treatment as prescribed," said Andrino.
More information is available on the county's website at www.fairfaxcounty.gov, search "Health Department."