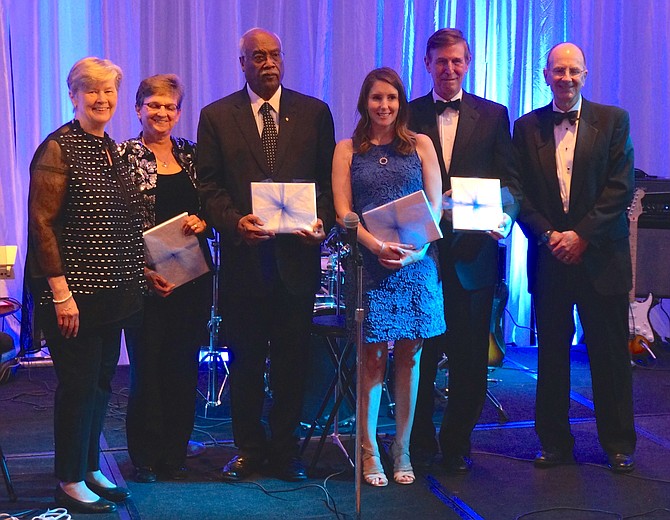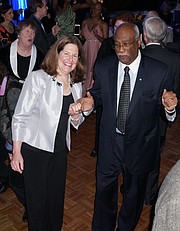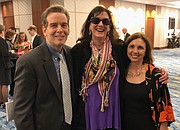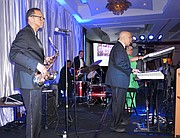 The Senior Services of Alexandria Gala drew a sellout crowd March 16 to celebrate 51 years of the organization's service to the community and to honor four of Alexandria's most dedicated volunteers.
Held at the Westin Alexandria, more than 350 people turned out to honor the community service of McEnearney Associates Realtor Jen Walker, retired Department of Treasury director and past SSA board chair Lynnwood Campbell, and U.S. Rep. Don Beyer (D-8) and his daughter Stephanie Beyer Kirby, vice president of the Beyer Automotive Group.
"The response to SSA's Gala this year was really fantastic," said executive director Mary Lee Anderson. "This is the only time we have closed out ticket sales due to overwhelming demand since our first Gala in 2007."
The evening, sponsored by McEnearney Associates, celebrated the decades of service provided by SSA to Alexandria seniors and recognized the continued dedication of Walker, Campbell, Beyer and Kirby to giving back to the community.
"My grandfather died before I was born, but I learned growing up that his philosophy was 'are you going to look back on a lifetime of accumulations or a lifetime of contributions?'" Beyer said. "I have tried to follow that example and am proud to see my daughter do the same."
Walker added, "There is nothing greater than being able to help someone who doesn't have the means to do for themselves."
Campbell, a lifelong resident of Alexandria and Army veteran, has served on and chaired numerous boards in service to his hometown.
"We all struggle at some point with our own mortality," Campbell said. "Our immortality lies in our community and what we leave behind."
Entertainment was provided by Bruthers Plus One as attendees and honorees took to the dance floor to enjoy the success of the evening.
"Alexandria is such a special community, and it was terrific to see how many people came out to celebrate the tremendous work of the honorees," added Anderson. "They have each helped make Alexandria a caring community for everyone who is lucky enough to live here."
See www.seniorservicesalex.org.