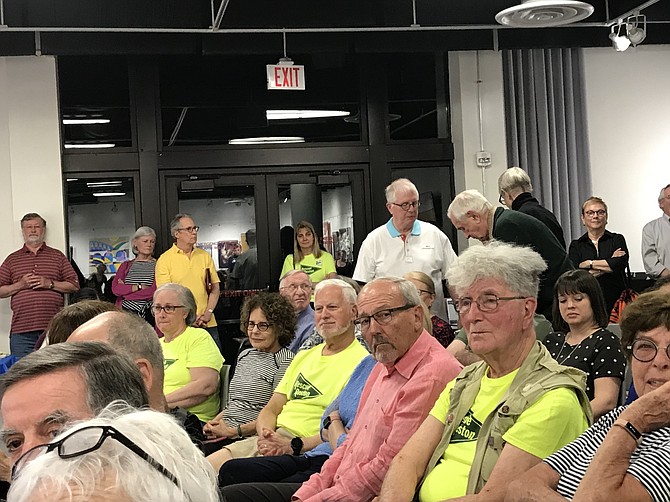 With the first significant race in 20 years underway for the seat of Supervisor in the Hunter Mill District, Reston Citizens Association (RCA) held a community forum for the five certified candidates on Tuesday evening, April 23 at the Lake Anne Community Center in Reston.
"I discovered something," said moderator Dennis Hays, RCA president. "That whatever happens in the Hunter Mill District, when you get in your car, go to the park … one way or another it's affected directly by the Supervisor for the Hunter Mill District."
The forum allowed citizens to engage with the candidates directly through a shared a three-minute statement, question and answer period, and closing. The main issues discussed at the forum were development, density along the Silver Line and in the village centers, and Reston's role as a planned residential community, a unique bird of sorts in the county. However, Vienna, also in the Hunter Mill District, experiences some of the same issues as Reston.
Candidate Parker Messick grew up in Reston and recently graduated from Roanoke College. He said that for him, development was the primary issue, "to stop big development."
"With the MAC Ordinance of Vienna, (MAC refers to the Maple Avenue Commercial zone, a voluntary zoning designation that encourages redevelopment along Maple Avenue and creation of pedestrian-friendly, mixed-use projects), and the endless proliferation of high-rises in Reston ... my central focus is making sure that Reston and Vienna are not in the power hands of the developers but our hands as citizens," he said. Messick stressed that development had to be beneficial to the citizens instead of "lining the pockets of developers."
Messick's second significant issue was to stop Reston Town Center paid parking, a statement that gained audience applause. "Many of our community members don't go or go [to Reston Town Center] at a significantly reduced rate," Messick said, referencing Reston Town Center as a gathering place. As Supervisor, Messick said that he would negotiate with Boston Properties to see an end to the paid parking.
A citizen asked about programs in the county that support young adults with developmental disabilities. Messick answered that he'd seen on the Board of Supervisors when budgetary concerns came up, that people with intellectual disabilities and different ways of processing information were left behind. "If elected, I will make that a major priority of my own...It's what I live and breath every day of my life... I have Asperger Syndrome. I'm autistic. I don't consider myself intellectually disabled. I don't think that's a problem. I think those who think differently are marginalized in our society. I think there needs to be a culture and conversation change." Messick's remarked were met with applause.
Candidate Walter Alcorn, a 25-year resident of the Hunter Mill District, has served on the Fairfax County Planning Commission and Park Authority Board, and currently is Vice President of Environmental Affairs, Consumer Technology Association. Endorsed by State Sen. Jennifer Boysko, U.S. Rep. Gerry Connolly and Supervisor Board Chairman Sharon Bulova, Alcorn said that he was an enthusiastic supporter of Bob Simon's goals.
"With the changes coming to Reston, the citizen's voice has never been more important," Alcorn said. He reminded the audience that both Reston golf courses are in the Comprehensive Plan. "Until communities surrounding the golf courses come to me, and ask to change that designation and look at the alternatives, I would not be supporting those golf course designations in the Comprehensive Plan. The onus is on the developer to prove it to the citizens." As for development, Alcorn said that now Reston has individual developers coming in and asking for specific projects to be approved, but Reston is still using a zoning ordinance that is designed for a minimum of 750 acres, so his concern "about saying let's go and blow the cap open is we have to have a backup. We have to use the Comprehensive Plan to provide the assurances to you, to us, to all the citizens that we are on top of it. We are not going to let our infrastructure get overwhelmed."
Alcorn reiterated during the question and answer period that regarding the PRC or density cap, they must fix the Comprehensive Plan first because that is what balances development and population, and is where it shows high density for the village centers.
Candidate Maggie Parker has lived in Fairfax County for more than 30 years. Parker said work and motherhood offered her opportunities to become involved in many grassroots efforts, building community through school fundraisers, PTAs, charitable foundations and teaching religious education.
"I work for a developer, Comstock," Parker said. "I understand how the development business works." She explained how collaboration and civil dialogue brought results and "different points of views expand perspective, resulting in better paths forward." Parker said that her experience taught her what can and can't be done, referencing the Silver Line. "Much of the development around the Silver Line has already been approved. The issue is, how to make sure it is delivered as promised, make sure that it integrates within the fabric of our community and engages with the elements that have made the Hunter Mill district so special," she said.

Parker itemized how economic success can deliver better social services, education systems and afford the resources for Fairfax County to become the most progressive green county in the country. "We need to improve our transportation network, our sidewalk and bicycle access to our 50 miles of trails and safe crossings over our thoroughfares. … There's a lot to be done, and a lot to protect," Parker said.
She was asked: What would you do to reduce energy use and greenhouse gas emissions? "Enforce that every high-rise building meets minimum LEED standards for sustainability, encourage green roofs … The biggest single problem in the room is our vehicles … we need to bike, we need to walk ... connect to Metro, electric vehicles, we are demanding charging stations in new structures that we build," said Parker.
Candidate Laurie Dodd, a twenty-three year Reston resident and an attorney billed herself as "an advocate for residents of our district." Dodd worked as an environmental lawyer, started a law firm and was a child advocate attorney. "I am an advocate for people whose voices are not always heard," she said. When Dodd saw Reston "at risk" and heard Paul Hawken speak about Project Drawdown, a plan to reverse global warming, that was the tipping point for her to run for office, she said. "There is nothing I can do with my life that would make a greater impact on the world than to have a say in how development in Fairfax County is managed, while also addressing schools, human service issues, and the budget," Dodd said.
The issues that matter to Dodd she said are land use and development, the environment, education, affordable housing, a living wage, equity and justice as embodied in the One Fairfax Policy which commits the county and schools to intentionally consider equity when making policies or delivering programs and services and equal justice for all.
Asked what specific thing would she do to ensure that development in Reston doesn't outpace roads, school and public safety, Dodd responded, "You have identified a problem that has arisen because of development decisions that have been made over many years."
Candidate Shyamali Hauth is a Reston resident, U.S. Air Force veteran, advocate for the LGBTQ+ community, immigrant, grassroots community organizer and small business owner. Hauth holds a Masters of Science in Human Resource Management. She said, "The Hunter Mill district needs a leader who will guide us into 2020 with a vision that brings compassion, integrity, and innovation to our community... Any growth and development need to stay true to his (Robert Simon's) vision. As a supervisor, I want to retain the uniqueness of each community and make every decision through three essential lenses: equity, equality, and environmental sustainability." Hauth said that affordable housing, which takes up no more than 30 percent of one's income, is a crisis in this region. She wants the county to continue to have the best school systems in the nation and will accomplish it by "working collaboratively with the school board … and ensure that we bring equity across the school district, continue to recruit and retain the best educators, and provide avenues for innovation."
To alleviate daily traffic congestion, reduce commute times and improve the air, Hauth wants to combine technological innovations with increased infrastructure completion and an expanded public transportation system.
Hauth said her work for The Green New Deal Virginia, job growth combined with the existing business community along with her strong support for small, locally owned businesses would help sustain regional economic growth.
Asked how she would measure traffic, Hauth said: "In terms of transportation there are things we can measure... commute times along heavy traffic corridors and make sure we have that data, so at the start, we implement a change and then access whether it did what we wanted it to do."
The Democratic Primary is June 11 and the primary could decide who will be next Hunter Mill Supervisor. The General Election is Nov. 5, 2019.