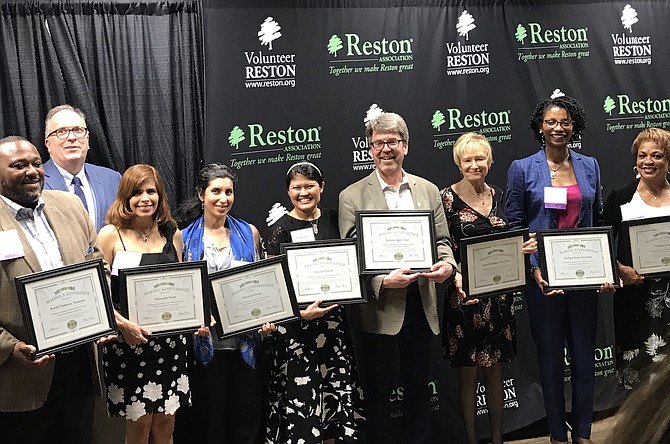 In Reston there is more than live, work and play. "Its volunteers are the backbone of Reston," said Hank Lynch, Reston Association CEO. In a celebration of Reston Association's outstanding volunteers from 2018, its board of directors and staff extended their appreciation and thanks to the more than 1,423 volunteers, businesses and community partners who gave of their time to make a positive impact on the community. RA recognized its Outstanding 2018 volunteers on Thursday evening, April 18 at the 2019 Volunteer Reston Service Awards held at The Lake House.

Co-presenter and Master of Ceremonies for the awards presentation, Andy Sigle, said that on many occasions when he was with Bob Simon, Reston's founder, he asked him what the recipe for Reston's success was. "His first word was always 'community.' That is what makes Reston a success," said Sigle. When businesses, nonprofits and local government come together, and all three pillars are involved, a difference is made. "Any one component would have a difficult time alone," Sigle said.
DURING THE AWARDS PROGRAM, Sigle and Co-presenter and Volunteer Reston Manager Ha Brock honored the individuals, groups and community partners nominated by RA staff and community members for their dedication to RA and the Reston community in 2018." Every year, a handful of volunteers go above and beyond to support RA and the Reston community. These awards are a fantastic opportunity for us to recognize and appreciate our unsung heroes," said Brock.
The top honor, the 2018 Volunteer of the Year award, went to two individuals, Doug Britt and Cindy Metcalf. Britt said, "When I retired three years ago I saw an opportunity to give back to my community using my particular training and expertise in biology and environmental sciences."
"I looked for an opportunity utilizing my Virginia Master Gardeners skills," said Metcalf. "Patricia Greenberg said they were looking for someone to manage the Lake Anne garden and the Kids RA Garden camps and I jumped in," she said.
Don Coram earned the 55+ Volunteer of the Year award. Nicknamed "the citizen-scientist," Coram collects data on Reston's fauna, in particular, insects and other arthropods.
Coram said, "I've been working on counting butterflies and dragonflies for years. And this year, Katie Shaw from the Walker Nature Center said that there was an opportunity to participate in a program called Caterpillar Count."
The Group Volunteer of the Year award, presented by Supervisor Catherine Hudgins (D-Hunter Mill) went to Southgate Community Center Advisory Council (SCCAC). Its members are Andrew Sigle, Chair; Janet Bradshaw, Vice Chair; Gerald Padmore, Treasurer; Darlena Ricks, Secretary Members: Carol Ann Bradley; Sandra Deleon; Syazana Durrani; Emily Huaroco; Kathleen Jones; Luis Ortiz Lopez Maryam Ovissi and Alexandra Rossi. The Council received the award not only for its program support but its many initiatives that will benefit the center and the community.
THE COMMUNITY PARTNER of the Year award went to Public Affairs Support Services, Inc., PASS in the Community that worked keeping Reston beautiful. "In the spring of 2018, they participated in a litter cleanup around Bordeaux Recreation Area... In the fall of 2018, PASS volunteers worked with RA environmental resource and watershed staff on a daffodil beautification project. Volunteers planted close to 1,000 daffodil bulbs along Reston Parkway," stated the Service Awards program.
The Work Group Volunteer of the Year award went to the Pony Barn Working Group that worked tirelessly over four years to develop the Pony Barn picnic facility concept plan. Spokesperson, Marianne Zawitz said, "Five years ago, RA decided to consider repurposing the Pony Barn recreation area due to its age, use and the demands for recreation in Reston changed. RA formed a working group and many of us who lived in the community and beyond became its members. The end goal is to have a family friendly park, which is accessible to all Restonians. We didn't change it; we improved it."
Sherri Hebert received the Years of Service award for her dependable service and years of dedication as the RA Lake Anne/Tall Oaks, Director. Andy Sigle received the Appreciation Award for his efforts that made a difference to the community as an At-Large Director on the RA board.
Del. Kenneth R. "Ken" Plum (D-36) who lives in Reston summarized sentiments. "Reston is a special place. I am so proud of this community...made up of people who do real things to make it a special place...God bless you."