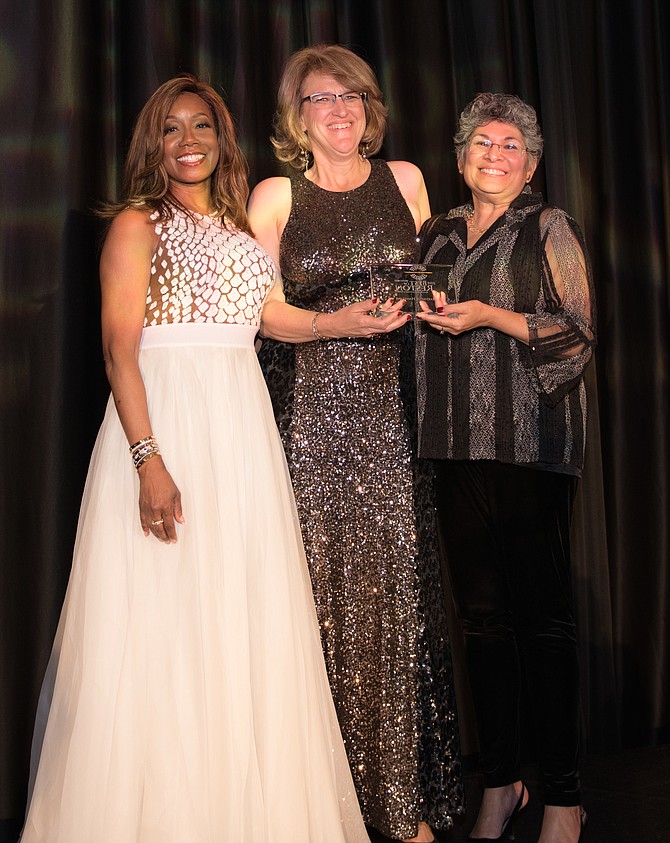 The 27th Annual Cornerstones of our Community, Best of Reston Awards for Community Service, took place at the Hyatt Regency in Reston Town Center on April 12, 2018, just a few days before the start of National Volunteer Week.
The award gala and fundraiser was presented in partnership with Cornerstones and the Greater Reston Chamber of Commerce. The two organizations created Best of Reston in 1997 to celebrate the individuals, businesses, and civic and community organizations that maintain the shared vision of a strong and dynamic community built on the guiding principles of Reston founder, Robert E. Simon.
Cornerstones is "a nonprofit organization, which serves more than 15,000 neighbors in need, helping them overcome tough economic times in an already high cost of living region. Through advocacy and support services, Cornerstones connects families and individuals to the vital resources they need to build more stable and self-sufficient lives, including providing a comprehensive array of programs that solve urgent or ongoing requirements of housing, child care, food or financial assistance."
The Greater Reston Chamber of Commerce has been a catalyst for business growth and entrepreneurship by providing quality programs, education, connections and advocacy for their members and organizations in the Dulles Corridor, with more than 600 members.
The much-anticipated gala and fundraising event was sold-out quickly. The event attracted a crowd of 640 guests who came together to honor and celebrate individuals, businesses, civic and community organizations whose selfless services and philanthropy had helped positively shape the Reston/Herndon area.
Tim Ward, pastor of the newly planted United Methodist Church, "Restoration," in Reston gave the invocation. Ward asked for a moment of silence and said, "We pray for those in great need. We come together as a larger community."
Sought-after singer, Beverly Cosham started the evening off with her rendition of "God Bless America." Later in the evening, Cosham was the recipient of the Robert E. Simon Lifetime Achievement Award.
Charles Kapu, Chair, Access National Bank spoke about the award. "It is a special award to those who continue to give back," Kapu said. The award recognizes past Best of Reston award winners known for their lifetime commitment to Reston values and for living the legacy of Bob Simon. "Cosham is a powerful presence in the arts," Kapu said. Laughing, he added that there was no end to Cosham giving back. After receiving the recognition as one of the extraordinary lifetime contributors, going forward Cosham, like all other recipients of the Robert E. Simon Lifetime Achievement Award, will be known as one of the "Fellows."
Charlene Wheeless, Principal Vice President, Global Corporate Affairs, Bechtel, and Doug Bushee, Vice President, Sales Enablement, Xerox Corporation, co-chaired 2018 Best of Reston. Addressing the crowd, Wheeless said, "The work you're doing shows your commitment to the community."
U. S. Rep. Gerry E. Connelly, (D-11) shared that he had spent time working with the homeless. Connelly said, "There is nothing like seeing people that now have a home... Every human being is worth investing in; everybody is worth a helping hand."
In her closing remarks, Kerrie B. Wilson, CEO Cornerstones said, "We stand on the shoulders of Robert Simon. … We are overwhelmed by the contributions of the community … [and] we are excited about the next generation. … When you think about investing in kids today, that's what it is all about." Last year Cornerstones served 15,000 people and that most were working, some two or more jobs, with many making less than $25,000 for a family of four, Wilson said.
Cornerstones gives hope for the future, Wilson said. "We meet people where they are. We encourage them to come in from the cold. … We can do this together."
As the awards presentation concluded, a large display check was brought forward. Total funds raised for the evening to benefit Cornerstones: $444,147.
Honored at 2018 Best of Reston Awards
The following individuals and organizations received 2018 Best of Reston Awards:
2018 Best of Reston, Marybeth Haneline - Engineering Inclusion and Making an Impact. Haneline, once an engineer envisioned a different life, devoted to young people. She is now President of NOVA Labs, where its robotics program embraces young women, empowering them. "Her selfless efforts to build Reston's capacity to respect and love one another are core components of the giving life she has built." -- Award Profile
2018 Best of Reston, Leslie Kane - Revealing the Beauty of Kindness. Kane, a Mary Kay representative takes her skills and products to women who do not have the financial means for makeovers or cosmetics, empowering them with confidence " -- written in Award Profile.
2018 Best of Reston, Northwest Federal Credit Union Foundation-Launching Young Lives. The Foundation was selected as an honoree based on its volunteers' community service hours including mentoring and outreach efforts. Among other acts of community support, NWFCU Foundation and NWFCU team raise money to fund college scholarships for students in financial need. "Some 26 scholarships of $5,000 each annually close critical gaps for students in our region to continue their studies" -- written in Award Profile. Northwest Federal recently made an annual sponsorship donation of $15,000 to Cornerstones to be used for monthly lunches that will be prepared and served by credit union employees, transportation for a youth field trip, refreshing the overall appearance of the Embry Rucker Shelter, and other needs of the shelter.
2018 Best of Reston, Terry Redican - Reston's Coach for all Seasons: Coach "T" teaches more than fitness and team building, as he encourages his swimmers, flag football players, and soccer and basketball athletes. His young men and women learn "sportsmanship, commitment and the joy of achieving success with team effort," -- Awards Profile.
Andy Sigle - Support that Sings: Sigle volunteers across a diverse section of Reston organization and civic groups. From his service on the Reston Association Board to Financial Coach at Cornerstones to service on the Parent Teacher/Student Associations as well as singing with the Reston Chorale, Sigle learned early in life "It's vital to individuals and families to have other caring people in their communities to lift them up when life may be overwhelming," -- Award Profile.
2018 Best of Reston was awarded to SoSi - Serving Those Who Serve, because of their work supporting veterans and military families making a positive difference by investing $300,000 in building civic and non-profit partnerships. Their employees support non-English speakers, assist at Reston's Ethic's Day, and run holiday food, toy, and gift drives.
The Vade Bolton-Ann Rodriquez Legacy Award: Entrusting the Community Future was awarded to South Lakes High School Parent/Teacher Student Association Food Pantry, Food from Heart to Heart. The pantry arose from mutual desires to assist SLHS students' families struggling with food insecurity and to do so in an anonymous dignified process. "The Pantry" solves the critical need by involving multiple partners in its multi-generational and multi-faceted approach.