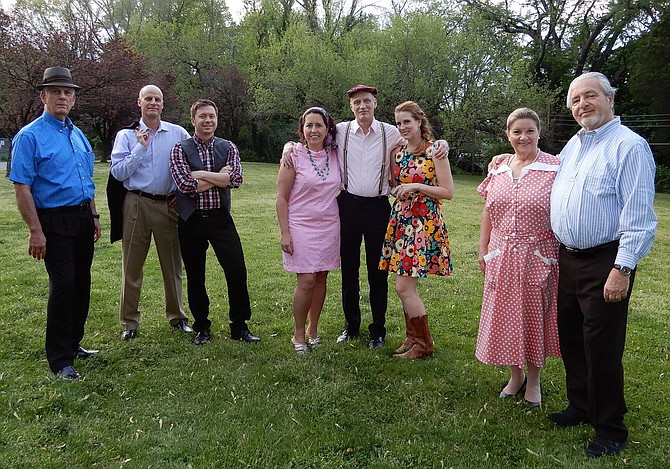 Come sit a spell on the front porch of the Wells family home in Southwest Virginia, as their Sunday-afternoon conversation turns to ghosts and tales of the supernatural. Written and directed by Oakton's Amelia Townsend, "Haint So" is Shoestring Theatre Co.'s new play, premiering at Fairfax City's upcoming Spotlight on the Arts festival.
Except for the ghost scenes, most of the play takes place on that porch. "It's as much an education for the audience in the superstitions and customs of that part of the country as it is entertainment," said Townsend. "The story is real; just the names of the family members have been changed. And people from my hometown of Big Stone Gap contributed real ghost stories for this play."
There's a cast and crew of 10, and the backgrounds will be projected onto three screens. They'll depict the Wells home in Roda, Va.; the church and mountains behind the town; and a Southwest Virginia mountain landscape in the fall.
"It's set in 1969, when the culture shifted away from the beliefs and traditions of people's grandparents to more scientific, fact-based, attitudes toward life," explained Townsend. "And you see this in the three generations in the play: The grandmother, rooted in her traditions; her daughter, starting to doubt a bit; and her granddaughter, who thinks it's all silly superstitions and not real."
She said the audience will like "the authentic portrayal of a family who loves each other, the stories of Southwest Virginia culture and the music." Pre-show, original music recorded by renowned Scottish musician Jack Beck will be played. The actors will sing three songs during the show and, at the end, there's a singalong with the audience.
"I'm in love with this cast; they're so talented and dedicated," said Townsend. "They've taken on some very challenging roles in a play not typically designed for community theater, because they're onstage most of the time. And they've also learned three, difficult, mountain hymns with Scottish roots because of that area's Scottish influence."
AFTER ITS FAIRFAX SHOWS, this play will tour in Southwest Virginia, returning to Fairfax for a June 1 fundraising performance for the Knights of Columbus, Father Diamond Council. And, said Townsend, "I'd like to thank the City of Fairfax, its Commission on the Arts and the Spotlight on the Arts festival for their support, enabling us to be here."
Portraying the family matriarch, Grandma Ida Wells, is Mary Fettes. "Grandma believes in the power of the mountains – which hold secrets and strong magic," said Fettes. "She's fun-loving and loves to tease, especially her husband Archie. She believes that haints, or ghosts, exist and wants to share their stories. She thinks ignoring them would lead to peril. And above and beyond, she loves her family."
Fettes said it's "fabulous" to play Ida because her character gets to tease her husband, dote on her daughter and granddaughter and "actually show what it is to be a true believer." And Fettes, herself, taps into her real-life, rural roots to bring even more depth to her role.
She said audiences will love the show because "There's humor, as well as real ghost stories – and everybody likes a ghost story. They'll like learning about the mountain lore and, hopefully, we'll paint a story of what it was like to be in Roda, Va., in 1969."
D.J. Neace plays Brad Wells, the youngest family member gathered there. "He's a dreamer and a hard worker," said Neace. "He claims to be skeptical of the supernatural, but he's had one or two experiences that make him question what's real and what's not. He's a carbon copy of his grandfather Lonnie, who's a lighthearted prankster/jokester, as well, and they have a strong bond."
Also loving his role, Neace said, "Of all the characters I've played with Shoestring, Brad's been the easiest to relate to because I'm the youngest of my family. And it's fun interacting with everyone else in the show and depicting the layers of my varying relationships with them. I've acted in all three, Shoestring shows and am proud to still be part of this family; I couldn't ask for better castmates."
If attendees relate to having conversations with their families at get-togethers – good and bad, "They'll appreciate what we're doing here," said Neace. "Plus, there's a hint of the supernatural occurring. But ultimately, the show's about family and the relationships within each one."
Portraying Tony Wells, Brad's father and principal of the local high school, is Steve Palkovitz. He's also Lonnie's son and Archie's nephew. "Tony is well-educated, but respectful to his elders and the old stories and old ways of doing things," said Palkovitz. "He's trying to keep an open mind to the possibility of ghosts, but mostly, he doesn't want to contradict his older relatives. He's quiet and tries to get along with everybody."
ENJOYING HIS PART, Palkovitz likes telling some ghost stories and having humorous banter with the other family members. But it's also challenging because "Tony's in between Brad, the new generation, and Lonnie, the old generation. And he's in line to inherit the family farm, but he isn't a farmer."
Palkovitz said the audience will like the family's chemistry. "We create a believable portrait of a real family," he explained. "And maybe people will recognize their own family in the things we say and do."
Katherine Metres Akbar plays Ida and Archie's daughter, Melody Wells Carter. "She prides herself on being a modern woman, yet she still believes some of the old superstitions, so she's caught between two worlds," said Metres Akbar. "She respects her mom, who's a total believer. And she's proud of her daughter, who's even more of a modern woman. She's devoted to her family, but is also feisty, and she and her husband alternate between being affectionate and explosive."
"It's a fun role because Melody's lines are simple, but I get to color them," continued Metres Akbar. "And I draw on the relationship I have with my own husband, which is similar. This play has such a strong sense of family that the characters have become kind of like my own family."
She said audiences will enjoy seeing a show about the 1960s because "It was an iconic time in our country, so there's a sense of nostalgia. And the ghost stories are all true stories, so people will have to ask themselves if they believe in ghosts – and if not, how they can explain what people experienced."
To Go
Showtimes are Friday-Saturday, May 3-4, and May 10-11, at 8 p.m.; and Sunday, May 5 and May 12, at 2 p.m. Performances are at the Sherwood Center, 3740 Old Lee Hwy. in Fairfax. Tickets are $25 at the door and $20 via www.shoestringtheatrecompany.com/haintso.