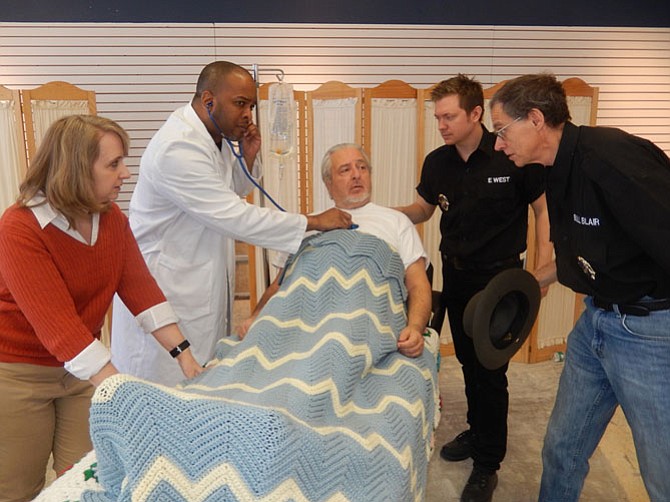 To Go
Show times are Saturday, April 21 and 28, at 2 and 7 p.m.; and Sunday, April 22 and 29, at 2 p.m., at 10427 North St. (former Pacers store) in Fairfax. Tickets are $20 at the door and $15 via https://www.event...">https://www.event....
An engrossing mystery, "The Best Doctor in Town" is set in Big Stone Gap, a rural community in Southwest Virginia with little medical care. So its residents rely on a particular doctor who may or may not be worthy of their trust.
Presented April 21-22 and 28-29 by Shoestring Theatre Co., it'll be performed in Old Town Fairfax as part of Spotlight on the Arts. The cast of 15 has rehearsed since January, and Shoestring founder and Director Amelia Townsend says attendees are in store for a real treat.
"Inspired by actual events, the play follows the story of the small town's most revered doctor, who may just be a serial killer," she said. "A local police officer with a tarnished reputation, a reporter who manipulated facts and the doctor's chief intern – who may be a thief – have pieces of the puzzle. No one in authority believes the great doctor could be responsible; yet all the while, patients are dying."
Describing her actors as "incredibly versatile and dedicated," Townsend said, "They took on roles in an unknown play by an unknown playwright, about an obscure part of Virginia, and breathed life and reality into it. One of the major challenges for people in Southwest Virginia is access to regular medical, dental and eye care. My late writing partner, Dink Shackleford, and I wanted to write about Remote Area Medical (RAM) and explore that issue in an entertaining and engaging story."
Besides trying to solve the mystery, she said audiences will appreciate the experienced performers, plus the two original pieces of music written for this play. And, she added, "The story will really appeal to them."
Dell Pendergrast portrays Dr. Nicholas Oxenbriggs. "He's a man of great dedication and brilliance as a physician, and he's brought high-quality medical care to this impoverished, small town," said Pendergrast. "It's appreciated by everybody, but he also has a darker, more mysterious side to hin."
He said the story's about "the internal dynamics, tension and anxiety that stem from a small community trying to understand its respected doctor who's under a cloud of suspicion. People are increasingly worried and uncertain about this man who's done a lot for them, and it creates division among the residents."
IT'S A CHALLENGE playing him, said Pendergrast, because "This doctor is a complicated individual who has some rather unique perspectives on patient care. He's not a normal doctor. But we have a very good cast and a wonderful director. The audience will be intrigued about this narrative of a doctor who's not what he seems to be and, indeed, has a darker, sinister side."
Sharon Caraballo, the undergrad dean of GMU's Engineering School, plays Etta West. She's a pillar of the community and her husband Ira is a patient of the doctor's. "She's smart and trusting and definitely looks on the bright side of things," said Caraballo. "She and Ira and their son Eliot, a sheriff's deputy, have a strong family bond. There are shades of gray in all the characters, although Etta tends to see the good in people. She trusts that the ones supposed to be taking care of them are."
Caraballo likes her role, especially the family dynamic. "It's also interesting because Etta has this blind spot. She continues to trust the doctor while, all around her, everyone else is getting suspicious – and she thinks it's undermining her husband's care."
Noting that this show works on many levels, Caraballo said, "You've got the mystery of what's going on and the suspense of what's going to happen to all these characters. And you also get a portrait of these communities in Southwest Virginia. They're economically challenged there, and there are discussions of whether this could even happen in a different place. So the audience gets to see what these strong communities are like, despite the difficulties they face. And I think it'll be very moving for people to learn about what's happening there."
Playing Sheriff Bull Blair is Geoff Baskir. "He runs the Sheriff's Office in Big Stone Gap, Va., and is quite a character," said Baskir. "He does things his own way, and there are rumors about things he may have going on, on the side. So people both respect and fear him. But at the same time, he's part of the fabric of the community. He cares about it and has seen the changes. With the collapse of the mining industry there, stores closed, and it got tough for the residents."
Baskir said he has to get into Blair's head to "read his personality. He's a 'good, ol' boy,' like the sheriff from 'Dukes of Hazzard.' But he knows the community and legal procedures and is no bumpkin. And it's fun playing him because of the authority he commands.
"The story is a thriller and a whodunnit," continued Baskir. "There are several deaths, so the process of catching the perpetrator will keep the audience's attention. They'll also like the Southwest Virginia atmosphere, which not many people know about."
ELIZABETH KEITH portrays Emily Scott, a reporter with the local newspaper, the Daily Star. "She's honest, hardworking, professional and a rule-follower," said Keith. "She grew up in Big Stone Gap, and she and another reporter are starting to address their town's medical issues in the paper. But she's hesitant to believe Dr. Oxenbriggs could be doing something wrong until she has the facts."
Keith said it's been "a joy" to play Emily because "she's smart and has a good heart, and she loves her job and her hometown – all admirable qualities. The audience will like this show's mystery, and it's fascinating to see the various characters' perspectives. And all the different elements come together at just the right time to create the perfect storm for a possible crime to happen. People will also enjoy following the journalists attempting to uncover what's happening, and the audience will try to figure out who deserves their trust."
Excited about the show, Townsend added, "We couldn't do this without the help and support of [Fairfax City's Cultural Arts and Marketing Director] Jo Ormesher, the City of Fairfax, the Commission on the Arts and Kimco Realty. We're extremely honored and humbled to be part of such an incredible festival that brings so much art to his area."