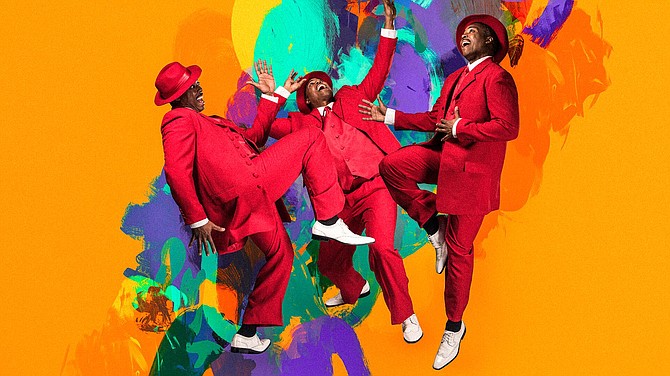 Signature Theatre will present "Spunk" from now through June 23. Based on three short stories by Zora Neale Hurston and adapted by writer George C. Wolfe, the play sets the human ability to endure to the strums of a guitar in a musical fable. An unearthly Guitar Man and Blues Speak Woman interweave three tales of the early 20th century African American experience — from the determination of a resilient washerwoman, to the zoot suit struts of 1940s Harlem, to the bittersweet innocence of young married love. Three tales of survival are told in the key of the blues.
Ines Nassara is playing four different characters — one being Folk Woman, who is the female storyteller in the series of tales. "I play Delia in the first tale. She proves her resilience in a long-term abusive relationship. In this second tale, I play Girl. She gets cat-called by two men and by surprise sets them straight. For the final tale, I play Missie May. She's the wife to Joe Banks. They are in a happy committed relationship until unsuspected trouble arises. You watch them work through the damage in their marriage," she said.
She said some of her challenges were just about believing in herself. "Working with these stellar actors and (Director Timothy Douglas), I was feeling very insecure. Every day I listened to uplifting music (Lizzo) and prayed and repeated mantras to believe in myself. I wanted to enjoy coming to work so I could learn and grow and be a more specific and clear storyteller like my fellow castmates. I wanted to see what I already had or gained and I wanted and needed to believe that I have it within me already," she said.
"Everyone was always so welcoming and so supportive and patient and all the hard work paid off. This show is so much fun. I feel way more confident than day one. Timothy Douglas is so honest. So honest. And I thank him for his honesty. It only helps plant the fertile seed that is our version of 'Spunk.' I can't wait to see how the show continues to blossom through June 23," she said.
As far as audience takeaways, she said the show is beautifully black. "I love it so much. Zora so perfectly crafts dialogue in such a poetic way that describes so fully and so simply the black experience. I hope people take away just how beautiful and vibrant and vivacious and resilient and powerful the black experience is. I especially hope they see the strength, courage and growth of black women — that Zora so perfectly sets up in each tale," she said.
Marty Austin Lamar also plays four roles in the play. "As it a compilation of three stories I play Man 2 in the first story (Sweat). I play Jelly in the second story (Story in Harlem Slang), and I play Boy and Clerk in third story (Gilded Six-Bits). While these characters are vastly different in their objective, visual presentation on stage and presence in the stories, Zora's creatively specific voice is proclaimed in each," he said.
He said the biggest challenge has been letting go and trusting. "This piece. The table work, the specificity of language, the commitment to decoding and defining any language foreign to the cast was instrumental to every element of the final production. This process has been so masterfully, patiently, and creatively led by Director Timothy Douglas. His faith in my ability to do very challenging work has been a blessing. Trusting the work and the necessity of ease necessary to convey the artful pen of Zora Neal Hurston has been a welcomed challenge," he said.
He said it's his hope that audiences will celebrate a literary giant that this nation lost all too soon. "Zora Neal Hurston was a heroine of truth. She invites audiences into the most intimate, painful, heroic, and meaningful aspects of 'colored, negro, black' life. Sister Zora exquisitely details the truth of a specific time in the history of this nation that is often forgotten and silenced. Sister Zora 'gits to the git, with some pain, and some spit, and some spunk.' I am grateful to share time and space with such an amazing company of artists. God is amazing," he said.
Signature Theatre will present "Spunk" through June 23. Show times are Tuesdays through Saturdays at 7:30 and 8 p.m.; Saturdays at 2 and 8 p.m.; Sundays at 2 and 7 p.m. Tickets are $40 to $89. Specialty Nights are Discussion Nights on May 29 and June 4; Pride Night on May 31 and June 7; and Open Captioning on June 2, at 2 p.m. The venue is located at 4200 Campbell Ave., Arlington. Call the box office at 703-820-9771 or visit www.sigtheatre.org.