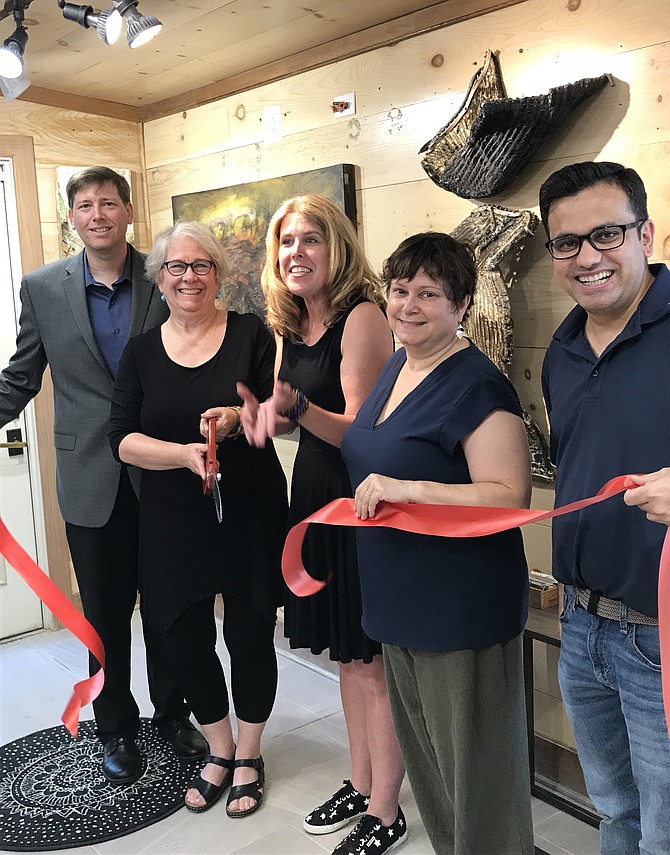 Town of Herndon artist Dorian Traynham held a grand opening and ribbon-cutting for her new business, STUDIO 797, a professional art studio/class space located in historic downtown Herndon. Traynham, who said she preferred to call herself a painter, said she would offer artistic social gatherings for four or more people. All supplies would be included and most projects completed in 2-3 hours. In addition, she would offer homeschool art classes, integrating art history and appreciation, and private lessons for adults and children.
"This is such a cool space," said Town Councilmember Jennifer Baker at the ribbon cutting. "It certainly suits an artist well."
Traynham has a background as an educator, yet wanted to make something special, with a fabulous space. "My artwork is my pride and joy, from radiators I found in a dump, to paintings about the change in the environment," she said.
Baker said others will help Traynham drive her business. "We are happy to have you here," Baker said in closing.
STUDIO 797 is located at the mailing address 797b Center Street, but entry is Station Street, on the right-hand side of the yellow-painted Abrams Landau Law Firm office, at the corner of Center and Station streets. For more information, email studio797.va@gmail.com.