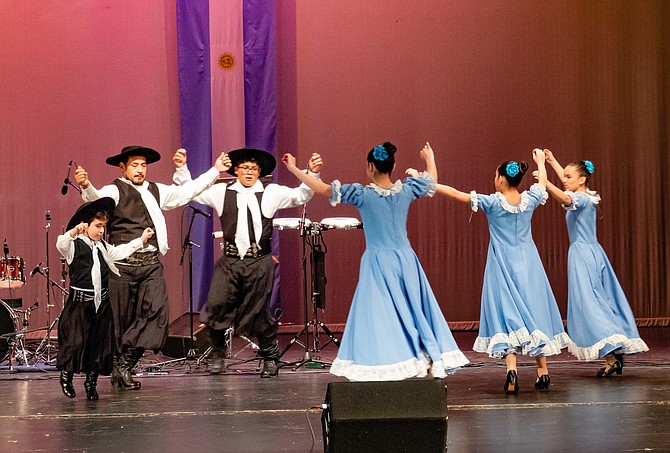 Arlington's Argentine Festival had something for everyone on Saturday, May 11 at Kenmore Middle School. The annual event attracted a crowd of mostly Spanish-speakers who like to have a chance to see and hear some of the best Latin American musicians and dancers in the country — Omar Nunez, Marcos Pereyra and Ruben Gimenez, Luna Surena to name a few. They came, despite the rain, to eat Argentine food, pick up recent Spanish literature, and find out about, for instance, Argentine beef imports.
One of the aspects of the displays was the gratitude expressed at the fair in terms of the freedom they enjoyed in the U.S. to do what they wanted to do, but could not do in their own countries because of corruption, political or economic problems, or lack of opportunity. The license plates in the parking lot were often decorated with not one, but two American flags flapping alongside the Virginia plate.
Alianza Latina USA, a non-profit operating throughout Latin America and in Washington D.C., was selling coloring books and everything from dulce de leche to guitar CDs to raise money for their projects with the homeless in Washington, D.C.; the crisis in Venezuela, where they sent medicines in 2018; in Ecuador, where they donated money to teen mothers; in Paraguay, where they donated books to a school in 2018; and other efforts. Alianza Latina has an upcoming event on May 26 at 3 p.m. at the Elk Club of Fairfax with Latin music, food, and dancing. For a list of their efforts, or to donate, see www.facebook.com/Alianza-Latina-USA.
Several authors were on display. Luz Mejia was selling her poetry books. Asked how it was, making a living as a poet, she responded: "I write because I must write. It's not a choice. It's not easy to sell poetry, especially poetry in Spanish, but what matters is writing. I write every day. I was a marine biologist when I came here from Colombia. I met my husband when I was on a three-month research project at the Smithsonian and then I stayed here with him. It was hard to find work in the U.S. as a biologist because I was educated in Colombia and the degree doesn't transfer too well. So eventually, I decided I would write and dedicate myself to the written word, and I feel I am being true to myself doing that and working with books."
Alfredo M. Del Arroyo said he came to the U.S. from Peru and found relief from the daily disruptions and violence caused by the Shining Path terrorist group. He was shocked when 9/11 occurred because he came to the U.S. to get away from violence. "We couldn't believe such a thing could happen in the U.S.A.," he said. That's why he has written a book called "Lo que Tenemos en Común" ("That which we have in Common" ) which is 12 stories showing the shared aspects of people living in the U.S., no matter where they are from.
Lucia Bruno, whose company was selling Argentinian food, including empanadas made of corn and sauteed onions, her favorite, said she came to the U.S. because of corruption, politics, economic problems, and the difficulty of starting your own business in such an environment, particularly as a woman. For more about her catering business, see www.pampasfoxcatering.com.