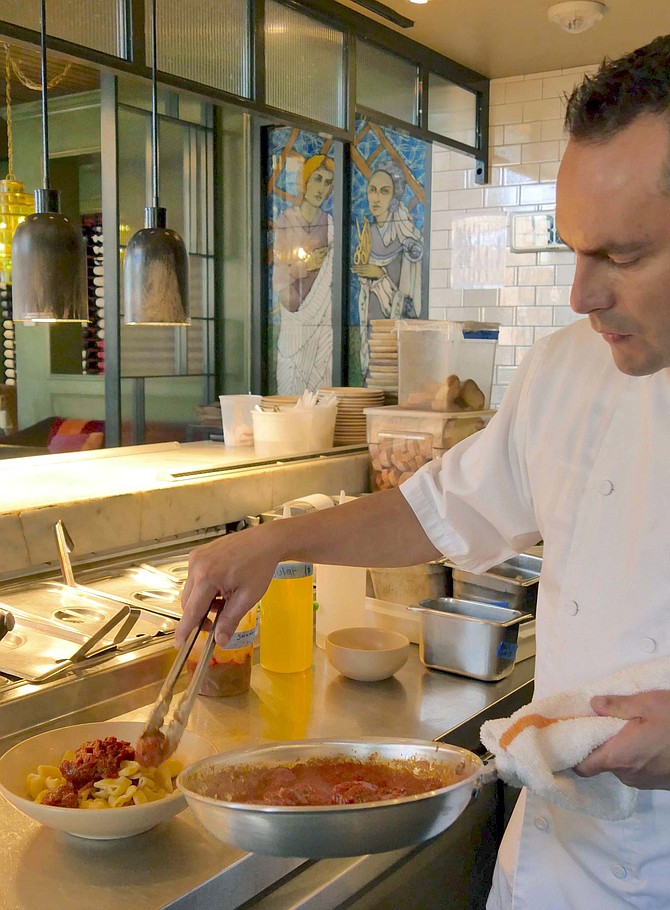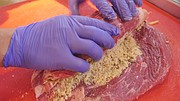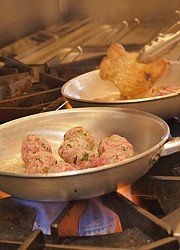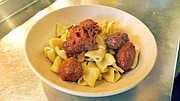 Santiago Lopez pulls out a 3-4 pound flank steak from the cooler for the Sunday gravy, the customer favorite at Mia's Italian Kitchen on King Street. The first step is to make the braciola. "I'll clean the flank steak up by removing some of the fat. But I'll keep some to melt into the gravy and give it a nice flavor."
Lopez sticks the tip of a sharp knife into the side of the flank steak and carefully slices it through to create a flap of meat. "I pull this back so I can stuff the flank steak and roll it." First he seasons the meat with a sprinkling of Kosher salt and coarse black pepper, then spreads a mixture of panko crumbs, grated parmesan, parsley, thyme, oregano and small pieces of mozzarella. "The mozzarella helps bind the mix."
Lopez rolls the meat tightly and winds butcher's tape around the roll to secure the meat. "I salted the inside, now the outside."
"I'm gonna get the rest of the meats and sear everything." Lopez pulls out a tray of 12 beef meatballs made with panko bread crumbs, eggs, ricotta and fresh pepper. He sets a tray of 12 chicken thighs on the counter with a tray of 12 three-inch pieces of sweet Italian sausage and 12 hot Italian sausage meatballs. "Of course, this is a recipe that serves 12; each person gets a piece of each meat."
Lopez squirts vegetable oil into an aluminum skillet and turns the burner on high, swirling the oil around to cover the bottom of the pan. "I will cook three chicken thighs at a time. The whole point is to get the crumbs on the bottom, get a nice golden brown on the chicken bits at the bottom of the pan. That's where the flavor is."
He starts another skillet on the adjoining burner and places 12 meatballs in the hot oil. Lopez jiggles the meatballs to turn them over and turns to check the bottom of the chicken thighs. "I cook them about five minutes to get a nice golden brown. I want to get it caramelized.
He then adds four pepperoncini, five cloves of smashed garlic, three bay leaves and a Spanish onion sliced in half.
"After the meats are seared, I throw them in the pot to simmer on a back burner for seven hours. "I don't stir it often because the heat is so low the sauce doesn't stick to the bottom of the pan and it might break up the meatballs.
"This will be served with rigatoni." He dumps a large portion of home made rigatoni in one of the pasta baskets submerged in a large vat of salted boiling water. "It will cook for three minutes. We have a pasta extruder in back and make all of our pasta in house."
Now he is ready to prepare one portion of Sunday gravy. Lopez checks the rigatoni for al dente and flips it from the basket into a large white bowl. "I don't toss it with the sauce. I want the meat on top. Now that you have all of the meat, I ladle about 7 ounces of sauce on the top. It gets this color from all the juices from the pan."
Finally he garnishes the dish with dried parsley and thyme. Lopez says this dish is time-consuming but worth it. He says he sells about 120 servings a week.
Lopez started off to become an engineer. But while he was in school, he was working in a restaurant and he discovered he liked cooking better. And he had the added incentive of his grandparents' bakery back in Colombia with those tiny special Spanish pound cakes his grandma made for him whenever he stayed with her. So after two semesters he quit engineering and went to culinary school. Now he is Corporate Chef who oversees all of the 8 Mia's restaurants.
Lopez says his Sunday gravy is called Neapolitan gravy in Italy, and the combination of meats depends on who is making it; everyone has their own recipe. But he comments confidentially, his combination is the best.