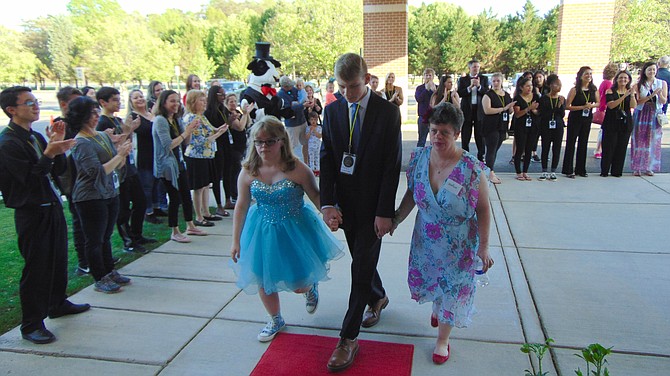 Lights, cameras and paparazzi on the Red Carpet. About 50 people with special needs, ages 13 to 80, got the Hollywood treatment Saturday night during the Joy Prom sponsored by Centreville Baptist Church in Centreville. Guests who came from as far as Leesburg and Fredericksburg started off the evening by getting their shoes shined (for the guys), and hair and makeup done (for the gals). The guys received boutonnieres; the ladies got wrist corsages. Each guest arrived with a chaperone, a parent, sibling, or teacher, and they were paired with a buddy from the church or community. In all, there were about 200 people.
The guests then walked down the red carpet, where the emcee introduced each participant one by one and had a cheering paparazzi section, complete with the Chick-fil-A cow. Photographers snapped their pictures and adoring fans lined up to add to the excitement. Greeters took them to a photo booth where they had their pictures taken with their buddy. Then they entered the dance area that was decorated with an Enchanted Forest theme.
The Joy Prom was organized by Co-Directors Lauren Beggs and Becca Trainor. The idea originated with Pastor Dr. Josh Daffern, whose former church had a huge success by hosting Joy Proms in Mississippi, where he used to work.
According to Nicole Martinez, Director of Sponsorships: "It dovetailed beautifully with a new ministry that we're launching at Centreville Baptist Church called 'Embrace,' which is for special needs families so they have a way to connect here and find purposeful ministries here for the special needs member of their families."
Martinez added: "I will tell you the Joy Prom is aptly named, because we are just spreading joy in our community and we hope to develop a relationship with special needs families in the area and really support them with joy in our hearts."
The catering was provided by Chick-fil-A, Wegmans, and Giant Food, which provided cookies, veggies, cheese, chicken, and gift bags as well as party decorations. It was a magical evening for those with special needs.