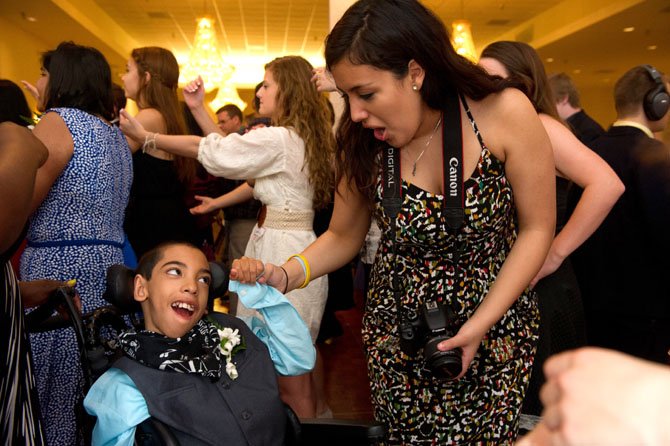 Centreville — Proms in the daytime can be just as much fun as those in the evening. And the special-ed students attending the FCPS Day Prom, last Thursday morning, May 3, at the Waterford in Fair Oaks had a great time.
Students from Centreville, Westfield, Herndon, Oakton, Fairfax and South Lakes high schools; Lake Braddock Secondary School and the Kilmer Center participated. The event began 11 years ago with just two schools and has since grown into an event involving eight schools, a banquet hall and a professional deejay.
Mercinda Witherspoon, a special-ed aide at Centreville High, is in her first year at the school. She was attending the Day Prom for the first time and was impressed by what she saw.
"I think it's a good opportunity for kids to interact with their peers from other schools," she said. "They can get that prom experience and not feel left out."
Westfield High freshman Marcus Leach was also at his first Day Prom. Just before enjoying the buffet lunch, he said he liked the pizza as well as the dancing and music.
Meanwhile, Barbara Gillette — a special-ed teacher at Westfield since the school opened, more than a decade ago — has a long connection with this event. "I've been to the Day Prom every year," she said. "My daughter Shannon, also a special-ed student, graduated from Centreville High in 2000."
"The kids have a great time at the prom, but it also gives us a chance to work on their social skills in an appropriate setting," said Gillette. "They have so much fun but, at the same time, they learn how to be acceptable at a social event."
She said 15 students with intellectual and/or physical challenges from Westfield were attending the Day Prom and had been eagerly anticipating it. Said Gillette: "This has been their big topic of conversation."
And it was important to them to look their best for the dance; the girls wore pretty dresses and many of the boys wore suits or sport coats. "Some hair stylists from a salon came to the school this morning and did their hair — including the boys, who wanted gel in their hair," said Gillette. "They wanted to be spiffed-up, too."
This year's prom chairman, Kathy Khair of Herndon High, says she hopes the Day Prom tradition will continue for many more years. "From the first day of school until the day of the prom, my students talk about and look forward to this event," she said. "And I really appreciate all the committee members who give their time, effort and cooperation to insure that the Day Prom is always an event that students will remember."