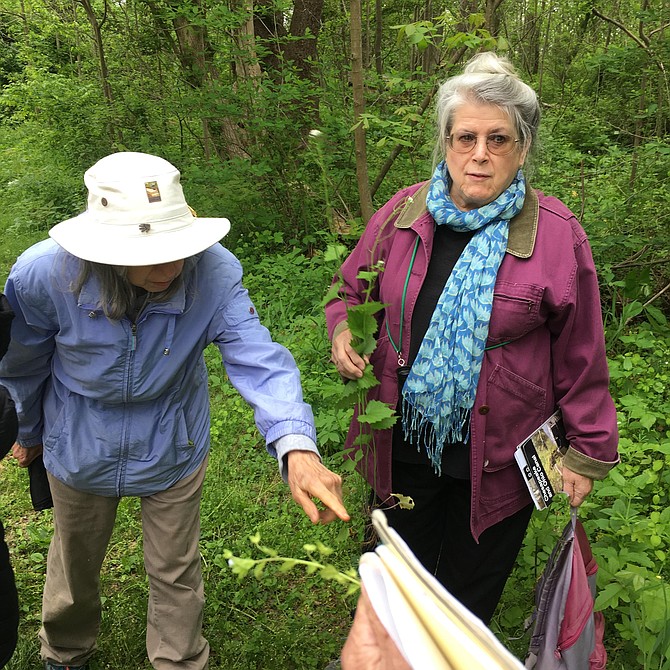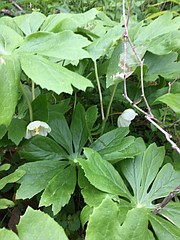 Starting off in a field of buttercups at Violettes Lock on the C&O Canal, Potomac Community Village members and guests began a two hour walk to see what was blooming along the way.
With the rain and early warmth this spring there were plenty of flowers for the group to see even though many could not identify what all they were seeing.
Potomac Community Village is a group of senior citizens from the Potomac area that "works to enhance the quality of life for all members of our community. Our network of neighbors and friends offers assistance with practical needs so that people can stay in their Potomac-area homes as they age while enjoying stimulating activities and new connections," according to the group's website: potomaccommunityvillage.org.
Wednesday's wildflower walk was a great opportunity for seniors to get together, get out for a good walk and learn some new things.
Ginny Barnes, a founding member of Potomac Community Village and a member of the board, led the walk. She has a good knowledge of many of the flowers growing along the towpath that separates the canal from the Potomac River.
"I picked Violettes Lock because it has everything," Barnes said. "It's right on the river, it has a lot of plant diversity, a lot of tree diversity. It's a favorite for diversity and beauty."
Barnes steered the group downriver with the goal of making it to Block House Point, about a mile. A short walk was a wise decision as there were several stops along the way to look at and discuss the plants.
It didn't take long for the group to pause in search of the name of a small blue flower. Several walkers had wildflower books with them to look up identifications but there was no consensus on the flower in question. It had a face somewhat like a Johnny-Jump-Up, but it was much smaller.
Barnes picked a fern-like leaf of Sweet Cicely and passed it around to the group to sniff and get the slight scent of anise.
She pointed out Bladdernut, Fleabane, Woodland Phlox, Wild Rose, Sensitive Fern and Mugwort among other flowering plants growing along the sides of the path.
Along the way Barnes told stories about the plants.
Mugwort, she noted, was often sewn into pillows.
"It has a wonderful smell. In folklore it is said to cause wonderful dreams," she said.
Cleves, a tall thin stem with slight green leaves with a stickiness to them, were used by the Colonists as a sieve, Barnes said.
"They made a mat of it and filtered milk through it," she said.
Such interesting stories that come along with a studied guide.
A Christmas Fern got its name because the leaves are shaped like a Christmas stocking. Among the medicinal plants Barnes pointed out, was the Plantain, used as a poultice to relieve the pain of bug bites or bee stings. Wort, part of the name of many plants, it an Anglo-Saxon word meaning "plant."
When the group reached Block House Point, a tall rock wall with outcroppings of greenery and along the bottom right, a riot of Spiderwort with purple flowers, Barnes summed up the beauty with a quote from Yeats:
"…Obedient to some hidden magical breath."