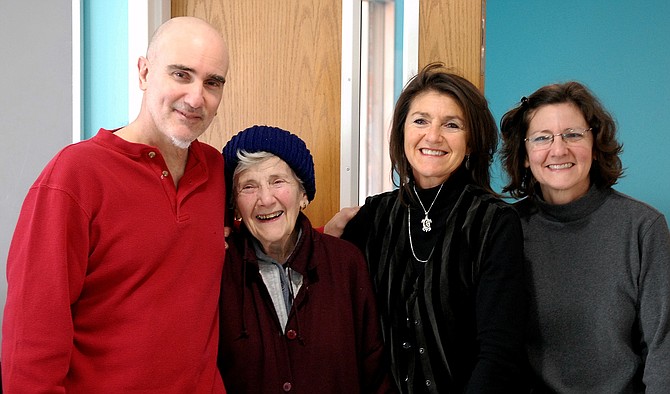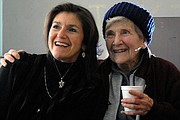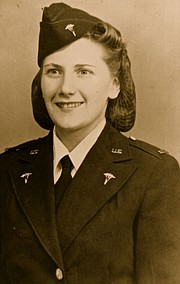 Adeline Vitolo Santoro ("Vicki"), just shy of her 100th birthday, died on Sept. 17, 2018, after a short incapacitation.
Vicki was a graduate of Jeannette High School in 1936 and earned her RN certification from St. Francis Hospital in Pittsburgh Pa. in 1939. She joined the Army Nurse Corps as a Second Lieutenant, stationed at Fort Story in Virginia Beach, Letterman General Hospital in San Francisco, and Quarry Heights in the Panama Canal Zone where she met and married her husband Vincent.
After raising her four children, she practiced nursing in Alexandria until her retirement at the age of 70. Always active and interested in helping the less fortunate, Vicki engaged in many charitable endeavors, including volunteering her nursing skills at the 1968 Resurrection City in Washington D.C., and in the Emergency Room of Inova Alexandria Hospital, also working at the Carpenter's Shelter for the Homeless and as an active volunteer for ALIVE (Alexandrians InVolved Ecumenically) for many years.
She was always involved with her children's activities as a den mother and Girl Scout leader, even taking all four children to summer camp while her husband studied for the Bar exam. Never having a drivers' license, Vicki walked everywhere, including to and from Mass and work daily.
Vicki loved to dance and so she organized and taught a line-dancing class through Blessed Sacrament Church, which she continued to teach through the age of 94. Vicki's story is highlighted in the Women in Military Service for America Memorial in Washington, D.C.
Vicki was preceded in death by her husband, Vincent H. Santoro, and is survived by: her four children Alfred P. Santoro of Redmond, Oregon; Patricia Diulus-Myers of Pittsburgh, Pa.; Jacqueline R. Santoro of San Luis Obispo, Calif.; and Vincent H. Santoro, Jr. of Nashville, Tenn.; five adoring grandchildren, 12 loving great-grandchildren (Gina Santoro McKenna, Kristen Diulus Campbell, Vincent Santoro, Lauren Diulus Scheuring, Joseph Santoro) and one great-great-grandchild. She also is survived by her brother Paul Vitolo of Jeannette, Pa., and also was predeceased by her sisters Louise Petrini and Annie Vitolo and brother Lazarus Vitolo, all of Jeannette, Pa.
A funeral mass will be held on June 25, 2019 at 10 a.m. at Blessed Sacrament Church in Alexandria followed by a reception in the church hall. The burial with military honors will be at 1 p.m. at Arlington National Cemetery. Donations may be made in Vicki's memory to the Alzheimer's Association at support.brightfocus.org/alzheimers/donate.