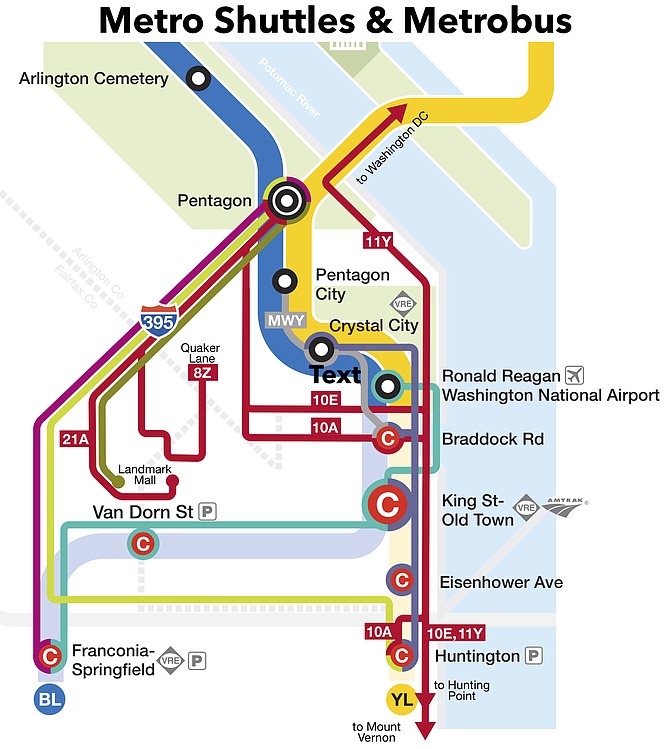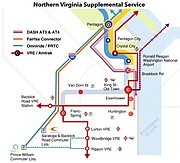 Starting this Saturday, May 25, all four of Alexandria's Metrorail stations will close for three months of around-the-clock repairs and improvements.
Though the rebuilt stations will ultimately prove "very beneficial" to the city, "I also don't want to sugarcoat things for you," Yon Lambert, the city's transportation director, told City Council last Saturday, May 18. "There are going to be significant challenges that we see in the first week of this. There are going to be things … that we have not planned for." He expects the city "will be calling a number of audibles during this process."
LONGER COMMUTES AND ALTERNATE TRAVEL
"We are asking the public to be patient over the summer and ensure that they are adding 30 minutes to the normal commute," said Lambert.
Metro will operate five free shuttle bus routes during the summer, in cooperation with the city government. The routes will run from Alexandria's Metro stations and Landmark Mall to still-operating Metro Stations north of Braddock Road. In particular, multiple express routes will serve to move end-of-line commuters between Franconia-Springfield and Pentagon stations.
Express shuttles will run every 5 minutes during peak periods, every 10 minutes throughout the rest of the day on weekdays, every 10-15 minutes on weekends.
Other transit alternatives include Metrobus and municipal bus services; car- and vanpools, staged at a 200-space lot at Landmark Mall; heavy commuter rail (Virginia Railway Express, Amtrak); water taxi; bicycles and scooters.
Metrobus will provide increased services on six routes through Alexandria: 8Z, 10A, 10E, 11Y, 21A and Metroway. Alexandria's DASH bus system will provide increase services on its AT3 and AT4 routes to the Pentagon Station. OmniRide, an inter-jurisdictional bus system, and the Fairfax Connector will also beef up services.
"We are watching closely with WMATA [Metro] the bus run times," said Lambert. "Ensuring that the shuttles and buses are running with high frequency and on time is our number one priority."
MORE TRAFFIC
"We are not able to prepare traffic projections for specific segments this week," said city spokesman Craig Fifer. But for perspective, more than 40,000 commuters per day usually flow through Alexandria's four Metrorail stations — over 6,000 during a single hour in the peak morning rush. During planning last fall, Metro assumed about 60 percent of displaced riders would shift to shuttles or expanded bus services, leaving the rest to find other alternatives.
The city will make temporary "tactical changes" to improve traffic capacity on its roadways, said Lambert. Major changes will include:
Washington Street/Abingdon Drive HOV: Increased passenger requirements to qualify for HOV, extended hours;

King and Washington Intersection: increased left-turn allowance, reduced parking along corners so buses can make the turn;

Braddock Road Metro: bus bays and "kiss-and-ride" along West Street and Braddock Road, improved pavement markings;

King Street Metro: added bus bays and modified lane markings along Diagonal Road, more direct pedestrian detour to the VRE Station with no roadway crossings;

Van Dorn Metro: added bus bays along Metro Road, improved traffic signal to enhance safety for visually impaired pedestrians crossing the street;

Transit Signal Priority: transit vehicle signal priority at certain key intersections along shuttle bus routes to help keep shuttles from getting behind schedule;


Traffic Monitoring: added cameras and sensors to monitor traffic in order to make real time changes and deploy police and other equipment more quickly.
NEIGHBORHOOD IMPACTS
Station improvements will require 700 workers laboring 24 hours a day. Metro will provide parking and shuttle services for workers at Eisenhower and Huntington stations.
"The bottom line is that it's going to be disruptive for us," said Lambert. "The loudest work that will be occurring will involve saw cutting and jackhammering. The city staff is going to be closely monitoring, with respect to construction worker parking, dust and haul routes."
Residents can report complaints about construction noise to Metro at 202-637-700 or wmata.custhelp.com.
ECONOMIC IMPACTS
The shutdown will affect not only residents and commuters, but also tourists and visitors who bring their wallets to Alexandria.
The city earlier forecasted, as a result of the shutdown, hotel revenues will drop by about $9 million and associated tax receipts $600,000. Asked for additional economic impact estimates, such as drops in restaurant receipts, the city administration said it doesn't have any.
For more information, including help with alternative trip-planning, visit www.alexandriava.gov/TES, call the city government help desk at 703-746-HELP (4357).