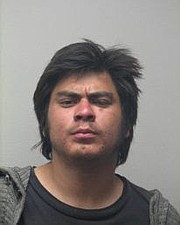 Detectives from the Major Crimes Bureau are investigating the death of a man that occurred on May 5 in the 2200 block of Huntington Avenue. Officers were initially called to the area around 9:15 p.m. for a man reported to be lying outside of a restaurant and not breathing. Officers and rescue personnel arrived and administered CPR. The man was taken to a hospital where he was pronounced dead. He was preliminarily identified as 26-year-old Crystian Leonel Avalos Lemus, with no fixed address.
The Office of the Chief Medical Examiner has yet to determine Lemus's cause and manner of death. It appears the man suffered a medical emergency and detectives do not suspect foul play.
Detectives are asking for help in identifying any friends or family members of Lemus to confirm his identity and to assist with final arrangements.