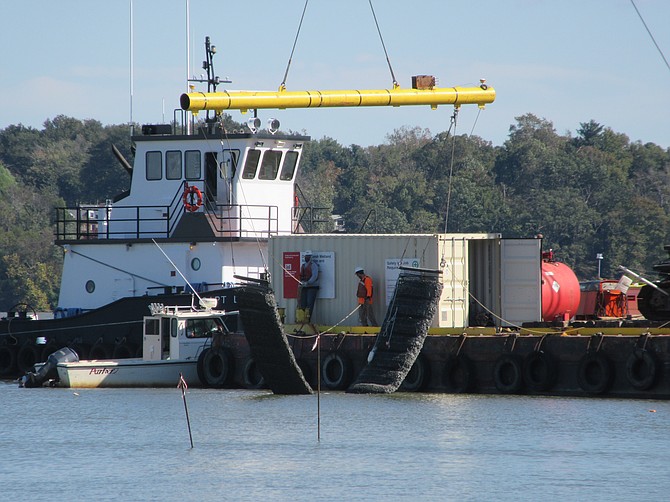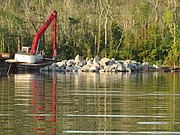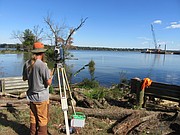 Significant habitat changes are likely at Dyke Marsh as a result of rising water levels, according to Geoffrey Sanders, a National Park Service biologist.
Sanders provided a detailed technical presentation on the rising water levels along Dyke Marsh and the surrounding area at the Huntley Meadows Park Meeting Room on May 15. His presentation reinforced the widely held assumption that rising sea levels are causing serious erosion of Dyke Marsh and other marshes and wetlands areas in this metro region. However, his modeling analysis did not include the impact of the Dyke Marsh / U.S. Army Corps of Engineers restoration efforts, which are in their formative stages.
Adding to the complexity of predicting the scope and character of rising sea level impacts was the announced temporary delay of restoration efforts due to current seasonal limits on construction to protect fish, birds, and other wildlife during their breeding and migration season. Therefore, Sanders was cautious with his conclusions because, as he pointed out, his analysis was not completed. He did ultimately say that significant erosion is taking place and was quoted as saying adverse habitat impacts were taking place as a result of rising water levels.
Glenda Booth, president of the Friends of Dyke Marsh, served as moderator and one of the co-sponsors of the event. "Dyke Marsh is a jewel and a complex ecosystem, valued by many locally and nationally. However, sea level rise and a rising tidal Potomac river are sending a strong message to governmental decision-makers to prepare for more flooding and more severe storms," she said. "Global warming's impact on the tidal Potomac is a call to action for all of us; to reduce harmful greenhouse gas pollution that is warming the planet and at the root of this challenge."