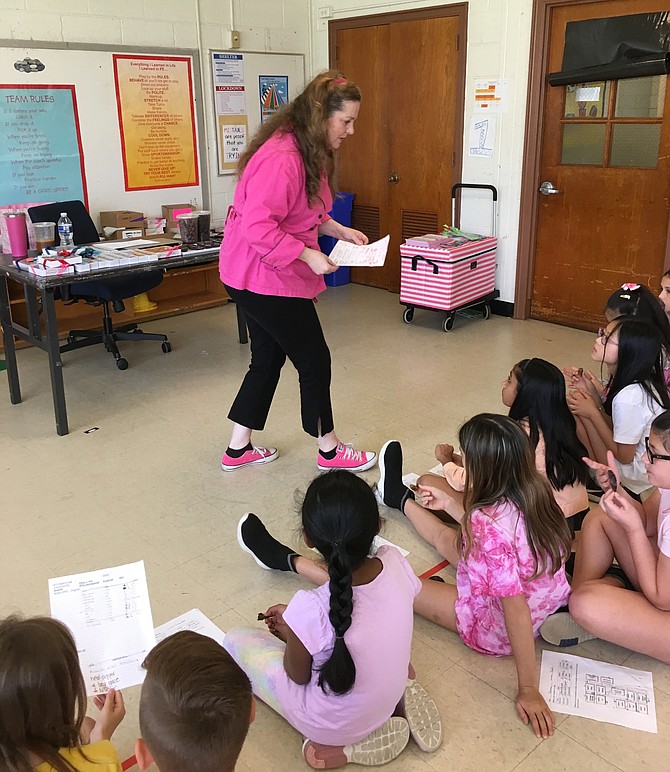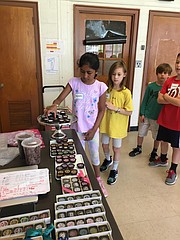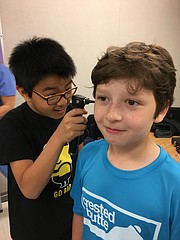 Students at Potomac Elementary School had the opportunity to learn about 21 different possibilities during the school's Career Day, Thursday, May 23.
No one child could go to all 21 presentations, there just wasn't enough time, but third through fifth graders could choose three sessions in the morning while kindergarten, first and second graders had two choices in the afternoon.
Third grader Austin Ma chose to hear local author Aimee Agresti talk about being a published writer. He wants to be a graphic novelist. Actually, he said, he is already working on one or two books.
"My friend's a good drawer, so we can work together," he said.
One title, "The Devil Made Out of Blood," is planned to be part of a series but they don't know what the series will be called yet, he said.
Austin planned to round out his morning hearing about being a dentist and learning about being an Army Security professional.
Emergency Room Doctor Golru Ghaffari, who works at Suburban Hospital, had a series of slides to show the students some of the work she does.
Ghaffari showed pictures of EKGs, broken bones, the "bullseye" from a tick bite, even the skin of a person struck by lightning. She ended her slide presentation warning the students that the next picture might be "gross," but it was a picture with a lesson she wanted the students to learn.
It showed the mouth and teeth of a young man who, while vaping, had his e-cigarette explode. These explosions are rare but dangerous, according to the Food and Drug Administration.
She also had some doctor instruments for the students to hold and use.
Shaan Khanna, a fifth grader, said a lesson learned from the talk was do not vape.
Thomas Wu, a fourth grader, said he attended Dr. Ghaffari's talk because his father is a doctor.
"I thought he would be proud if I became one one day," he said.
How about ending your morning with learning about being a chocolatier?
"Never underestimate the power of chocolate," read on of the small card given out by Gaithersburg Chocolatier Sarah Dwyer.
Dwyer encouraged the students to follow their passion in searching for the right career. Before she started her hand-crafted chocolate company Chouquette in 2010, she spent 18 years in banking and retail and studied at Le Cordon Bleu Pastry School. All the while, she said, dreaming of chocolate and creating chocolates to share with family and friends in her spare time.
And she had samples!
Tulsi Gupta tasted a chocolate with caramel which, the fourth grader said was "really good."
She said she would like to be a chocolatier. She said she learned, "It's not just [about] making chocolate. You have to have other skills like accounting."
The Career Day was good one with lots careers students could choose from according to their interests Potomac Elementary School principal Catherine Allie said.
"It fuels their dreams," she said.