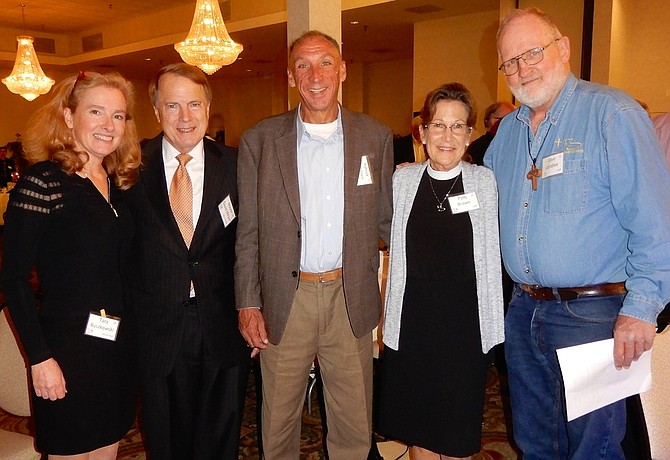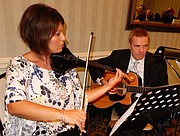 At the outset of The Lamb Center's (TLC) annual banquet, the Rev. Dan Wolfe prayed that this Fairfax nonprofit would continue to be a blessing to many people. And TLC Board Chair Tara Ruszkowski thanked the 100-plus churches and more than 300 volunteers who make it all possible.
Serving the poor and homeless, it's a daytime, drop-in shelter offering hot meals, showers, laundry services, clothing, haircuts, dental services, Bible studies, job and housing searches, plus recovery and employment counseling. The guests come from all walks of life and for a variety of reasons, but all are welcome.
In 2018, TLC served 1,548 people – an average of 100/day, while providing nearly 48,000 meals and doing almost 10,000 loads of laundry. So at its Oct. 9 banquet at the Waterford in Fair Oaks, it had much to celebrate. But always striving to do even more, TLC is now embarking on a new initiative.
"At our board's retreat, three years ago, we asked what's our guests' greatest, unmet need," said Ruszkowski. "It's housing; so we've researched and learned that providing Lamb Center-sponsored housing will be a colossal challenge, but we're up to it. We're in the study phase, but we're building a strategic plan. And, Friday mornings, we have a group that prays for this initiative – and you're welcome to join us, wherever you are."
LAST YEAR, TLC and Fairfax City partnered to create the City Jobs program. Funded by a grant from the City, eight to 10 people from the center worked two days/week in four-hour shifts for Fairfax's Parks and Recreation Department. TLC provided transportation, supervised job sites and paid workers $10/hour in cash at the end of each shift.
"It worked really well," said Ruszkowski. "It extended the reach of the City's Park staff; and for The Lamb Center guests, it was transformational. For some, it led to part- and full-time employment in the private sector. And for all our participants, it gave them a sense of dignity and purpose."
"It's been remarkable to work with my colleagues on this and to see how the Holy Spirit worked to change perspectives about The Lamb Center, over the last 10 years," said Fairfax Mayor David Meyer. "And this year, the City quadrupled its funding for the Jobs program that will allow Lamb Center guests to work in this program year 'round."
Ruszkowski thanked the City for its partnership, saying, "You're changing people's lives." She also acknowledged the efforts of Kevin and Elizabeth Klein, who helped keep the Jobs program financially afloat, from the time the pilot program ended until the City was able to fund it again in its next budget. And now, in addition, Fairfax County is starting a similar program with TLC guests (see sidebar). Pleased that Supervisor Pat Herrity (R-Springfield) encouraged his fellow supervisors to approve it, Ruszkowski told him, "You are our hero."
During a video, a Lamb Center guest said City Jobs "gave me an opportunity. I was able to restore my reputation." About 90 people registered for the program and eagerly did jobs, such as painting, that the City wasn't able to get to for the past several years. Added Meyer: "It's a model for other towns and cities to leverage people's skills for everyone's benefit."
Then, introduced by TLC Assistant Director Patti Brown, four Lamb Center guests shared their personal stories. A man named Pat said financial problems led to his losing his job and family, and he ended up on the streets. He'd heard of TLC and took a bus there.
"The first thing I saw was the laundry, and I thought, 'This is good,'" he said. "I became part of City Jobs – which is amazing – to give back and work with other people. On the street, we might just walk by each other. But working together, we became a team, and it got me back into life. And now I'm working full time."
A man named Ramón had been homeless since 2004, and then a friend said he could get help at TLC. "They cleaned me up, fed me and made sure I was presentable when I worked for City Jobs," he said. "They also helped me receive help for my mental issues, and I've been blessed with housing – I have my own place now. And I thank [TLC] for what you've done for me."
ADDICTION brought a woman named Judy to TLC in 2009. "Having a sense of hope and someone to believe in you is probably the most important thing so you can keep going forward," she said. "City Jobs provided me with mentorship, support and love, and I love working alongside my Lamb Center friends, guests and soul family."
For a man named Timothy, TLC's Bible study drew him there. "I met a lot of people, and The Lamb Center was full of saints because they'd welcome you and help you with your spiritual and physical needs," he explained. "I'd have a good lunch and conversation." He suffered from depression but realized he "needed to come into the sunlight."
He's now worked 10 months for City Jobs and calls it "one of the best things that ever happened. [Because of it], if you're hungry, you've got money to buy a hamburger." Now in an apartment, he finally has shelter from inclement weather and, he said, "Now I can see the rain from the other side."
TLC Board member Vic Rinaldi said the best is yet to come for the center. "[Here], the homeless, poor, sick, lonely, the weak in spirit and body are loved, comforted and renewed," he said. "I get the sense that it is a holy place."
Involved with TLC since 1999, Director of Operations Dave Larrabee thanked its supporters. "I've seen this ministry grow in so many ways," he said. "It's amazing – the building we have and where God is leading us in the future." Saying the event's closing prayer, he asked God to guide TLC "when we're looking for housing for all our guests. And for everyone outside tonight, keep them warm and safe and bring them to The Lamb Center tomorrow morning."
Afterward, Meyer called having TLC in Fairfax "a great privilege and an even greater opportunity. The Lamb Center is an organization that creates change for the better – and not just for its guests. It also helps the community grow in our collective understanding of what it means to be in a community – and in community with others."
County, Lamb Center Unite to Clean Streams
Fairfax County has launched a new pilot program that will help improve water quality in streams and provide dignity in work to people experiencing homelessness. The 12-week program began Oct. 1 and provides part-time, temporary work to guests of The Lamb Center, while helping the county meet its federal and state mandates to keep streams clean.
Participants will earn $10 an hour to pick up litter in and around streams and to remove invasive plants. The pilot is modeled after The Lamb Center's successful City Jobs program, a partnership with the City of Fairfax.
Staff from the county's Stormwater Planning Division will identify litter hotspots, and The Lamb Center, will vet participants, provide transportation, supervise their work, track and report the number of bags of litter filled during each outing, and provide a hot meal after each four-hour shift. Participants will be provided with high-visibility vests, gloves, trash grabbers, nets, insect repellant, sunscreen and trash bags. The Solid Waste Management Program will collect and dispose of the full bags of litter.
"The Office to Prevent and End Homelessness (OPEH) is excited to partner with the Department of Public Works and Environmental Services and The Lamb Center to support homeless individuals in gaining additional income and work experience that will help them as they move toward self-sufficiency," said OPEH Director Dean Klein. "The benefit of this strong partnership will be a stronger workforce and a cleaner community,"
Likewise, The Lamb Center is pleased with the arrangement, as well. Tara Ruszkowski, chairman of its Board of Directors, said, "The Lamb Center is proud to see the City Jobs program it created in cooperation with Fairfax City serve as a model for the county. For many of our guests, this program is a stepping stone to more permanent work; for all, it offers dignity. It's an approach that not only uplifts those who need help, but also benefits our community through cleaner, healthier streams."
"Despite countywide efforts to address litter, we're still finding a lot of litter in streams," added Randy Bartlett, director of the county's Department of Public Works and Environmental Services. "We believe this pilot will be cost-effective, provide additional outreach on the impacts of litter to a community that is typically disengaged, and provide [The Lamb Center] resources to help serve and re-engage this population with meaningful work."